Dear Seamwork Team,
I am sewing a winter Camden cape with very thick wool. Heavyweight fabric always seems to give me trouble. Do you have any advice?
Please help!
Bewildered by Wool
Dear Bewildered by Wool,
Sewing winter apparel can seem very daunting. The fabrics are deceptively tricky and outerwear projects are typically very involved. Yet, as many sewists know, it is extremely rewarding to create a beautiful and practical garment that can be worn each winter for years to come. Before sewing with thicker fabrics you should always be sure you are well equipped with all of the right tools.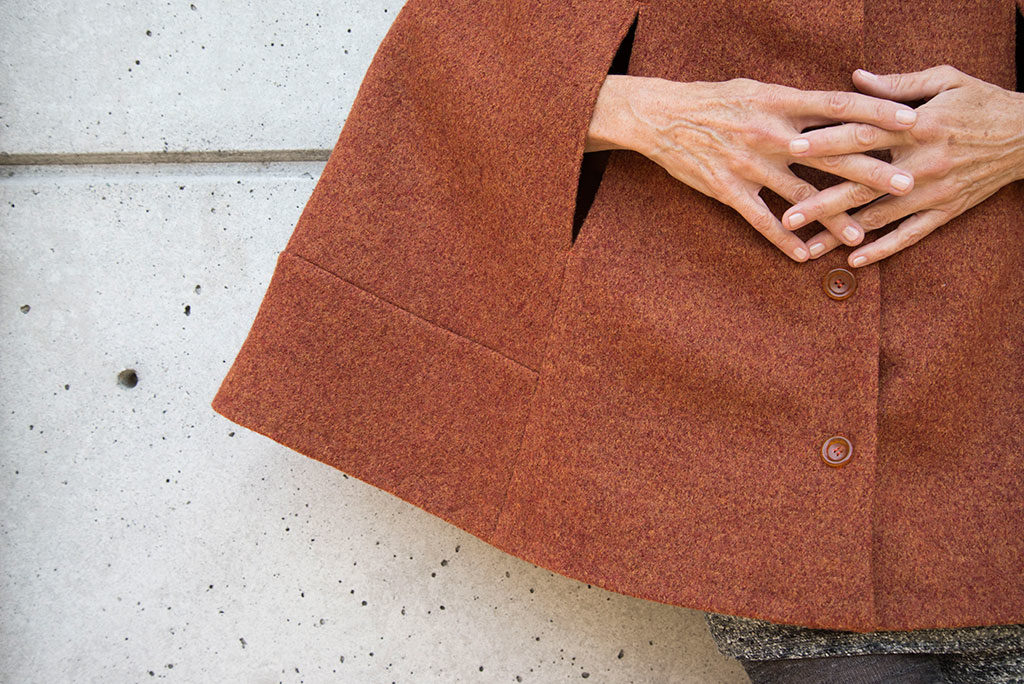 The first step to sewing with wool is to pre-shrink your fabric. Wool has a tendency to shrink 2%-4%, and the easiest way to have it pre-shrunk is to take it to a dry cleaner. Sure, 2%-4% may not sound like much, but you wouldn't want to labor over an outerwear project for weeks only to have it shrink after dry cleaning. Some wool fabrics come pre-shrunk, so always check the label on the bolt when purchasing.
One of the most important tools for sewing outerwear is your needle. You'll need a heavy needle. I recommend starting with a 90/14 for wool and moving up if necessary. Most needles have a sewing life span of about eight hours, but I find it's better to switch after four hours for heavy fabrics.
Be sure not to skimp on the quality of thread; I know it's always tempting to try to save a couple of bucks wherever possible when sewing an expensive garment, but you'll regret it when the threads break or the tension is consistently off. Silk thread is quite durable and works well with wool. Always test your stitches on a scrap piece of fabric before sewing your garment, double check that you are using the appropriate stitch length, and make sure that the tension is not too tight.
Be diligent and press all of your seams as you go, but don't directly iron your wool! It will cause shiny streaks to appear. Use a wool press cloth instead to protect your fabric.
Camden has several panels, which can mean bulky seams when using a heavy fabric. Consider pinking the seams to avoid extra bulk since they'll be hidden under the lining. Lining is a necessity for any garment sewn in wool; you would be cray to allow it to touch your bare skin all day! If your pattern doesn't include a lining you can read over this Seamwork article to learn to draft your own.
Lastly, it is time for the finishing touches of your Camden! Often domestic machines will have trouble creating a buttonhole through so many layers of wool. Instead, consider bound buttonholes. I know, I know—they can seem tedious, but this technique will give you one more reason to feel proud of your me-made outerwear.
Pugs and kisses,
Wally