My daughter is twirling in a cloud of tulle, arms uplifted in an epiphany of color. She's skin and cloth, bone and button, a hurricane of hair. She could billow like the wind or rage like a storm.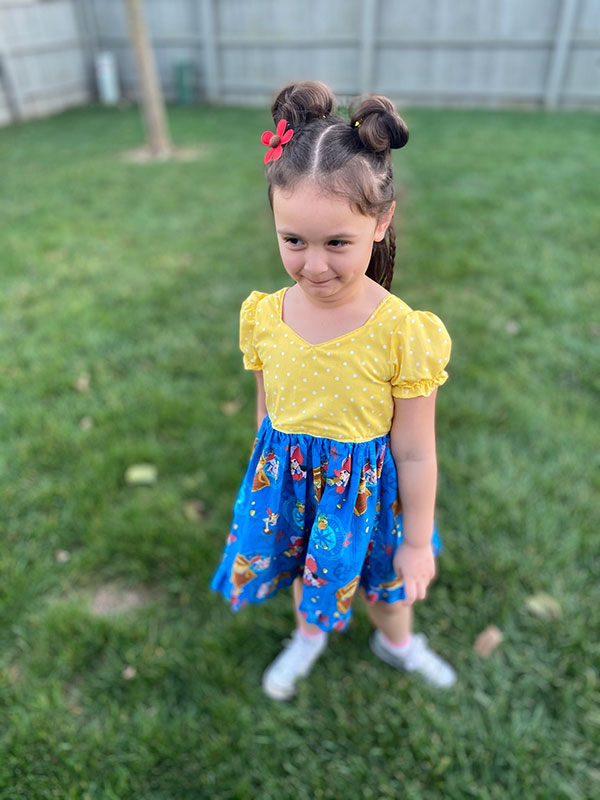 The dresses are short on her this season. Side seams crane against her rib cage, pinch her armpits. Those four-year-old legs seem to lengthen overnight, barely covered by skirts that unfurl when she runs. She refuses to wear pants inside the house, even though we're in the bristly heart of a Midwestern winter. What would she do without a modern heating system? She laughs and balls up her leggings anyway, stretching her bare legs against the floor like a middle-aged yogi.
I can't say why, but her bare legs break my heart.
I contemplate her from my place at the sewing table, absentmindedly running my hands over a rainbow of fabric. Under my fingers, marigolds brush against a seed-speckled watermelon patch. Little Red Riding Hood cavorts with Peppa Pig, their cheeks flushed pink. There's so much pink in this pile, even though purple is my daughter's favorite color.
She stops her dance. "Mommy, it's time for you to make me a dress."
My Wonder Girl has never been one for uncertainty. She came out of the womb on a schedule all her own, unbothered by due dates, her first cry more a roar than a newborn's whimper. When she says it's time for a new dress, I can't help but agree.
All her life, I've marked the passage of her years by the contents of a Tupperware bin in the basement. Baby Clothes written in yellowing masking tape, the edges unsticking from the plastic. They aren't all baby clothes, but the vast majority are from her first year: ruffled diaper covers that seem too small to be true, a onesie that reads Baby of the Year, socks barely worn but folded all the same, like tiny dumplings on a tray. Each season, more items go into the bin, nestling down next to their predecessors. I can almost hear them sigh against each other.
At first, I cried when putting her worn clothes away, those familiar resistant tears that plead with time. Stop moving forward. Let me stay here a little longer. Then, when my daughter was older, I grimaced. The years were moving so quickly that I trailed after them, uncertain of how to hitch myself again. A passenger without a vehicle. Now I feel a certain inevitability in her seasonal wardrobe switch-out. Each touch is a quiet goodbye.
See you, polka-dotted swimsuit. Thanks for the water-logged memories.
So long, fourth birthday dress. You skimmed the floor like a princess gown, though she only wore you once.
I'm maudlin, I know. What mother hasn't looked at her child's overgrown wardrobe with some heaviness, or at least, a sort of disbelief. No one is confused about the way children grow, but still, we never believe that it's upon us, happening right now, as we breathe and live and sleep through this whirl of life.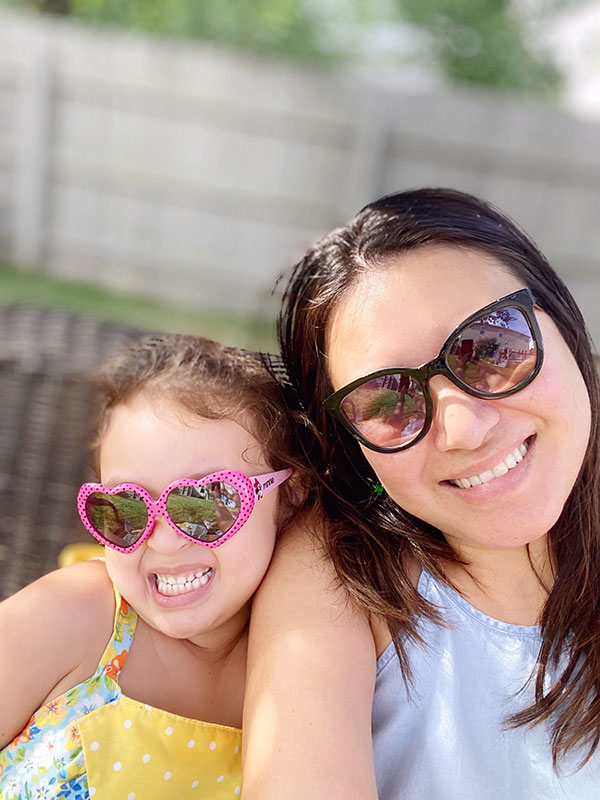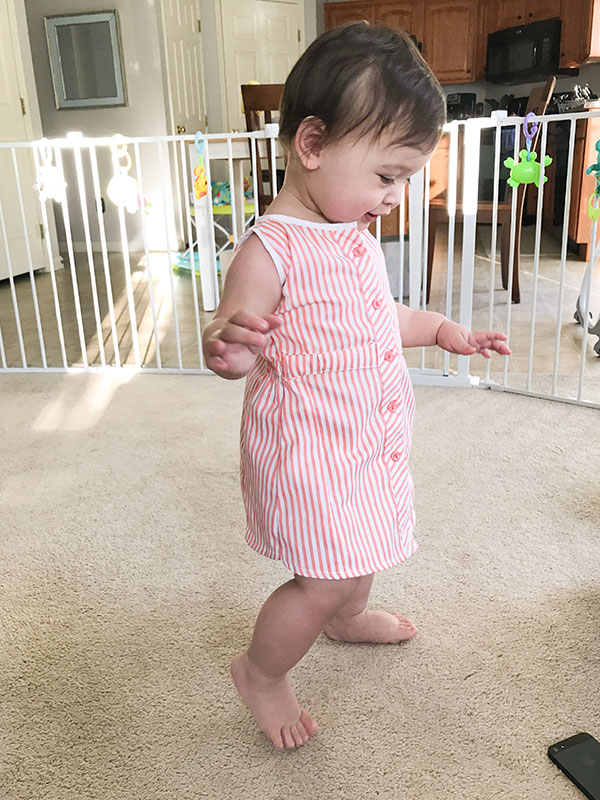 "What kind of dress do you want, honey?" I ask.
When my daughter thinks, her lips purse like she's working her mouth around a thought. "I want a pretty spring dress. One without sleeves."
"It's really cold out, though. Look. It's not even Valentine's Day."
She rolls her eyes. "For later, Mommy. For when I'm a big girl."
Outside, the snow makes wet streaks against the window. Wonder Girl and I call it snain; neither snow or rain, but some mush of the two. Oatmeal weather. There isn't even a whisper of sound, aside from the hum of the heater, roiling like a just-awakened beast. It's a good day for sewing.
We mull over our choices, pairing colors until we settle on an ombre, mermaid-scaled print with a deep blue cotton for the bodice. I know just the pattern for it: a circle skirt with a wide ruffle, and a halter-neck top. A dress they called The Mallory. Not so much made for spring as summer, but Wonder Girl goes with it.
She settles in front of the electric fireplace with her sketch pad and exactly one hundred thin-tipped markers. I stare at my pattern, then realize that she's outgrown this size already. One integer up, a new set of cuts to make.
Wonder Girl has always been tall for her age, often scaling sizes years ahead of her peers. Neighbors often stop us on walks. They say, "Oh. She's so tall, but she has that baby face." The baby face is lengthening over time, cheekbones emerging like smooth little hills. Those larger-than-life eyes now settling into proportion; still widely attentive, but no longer dominating her expression the way they once did.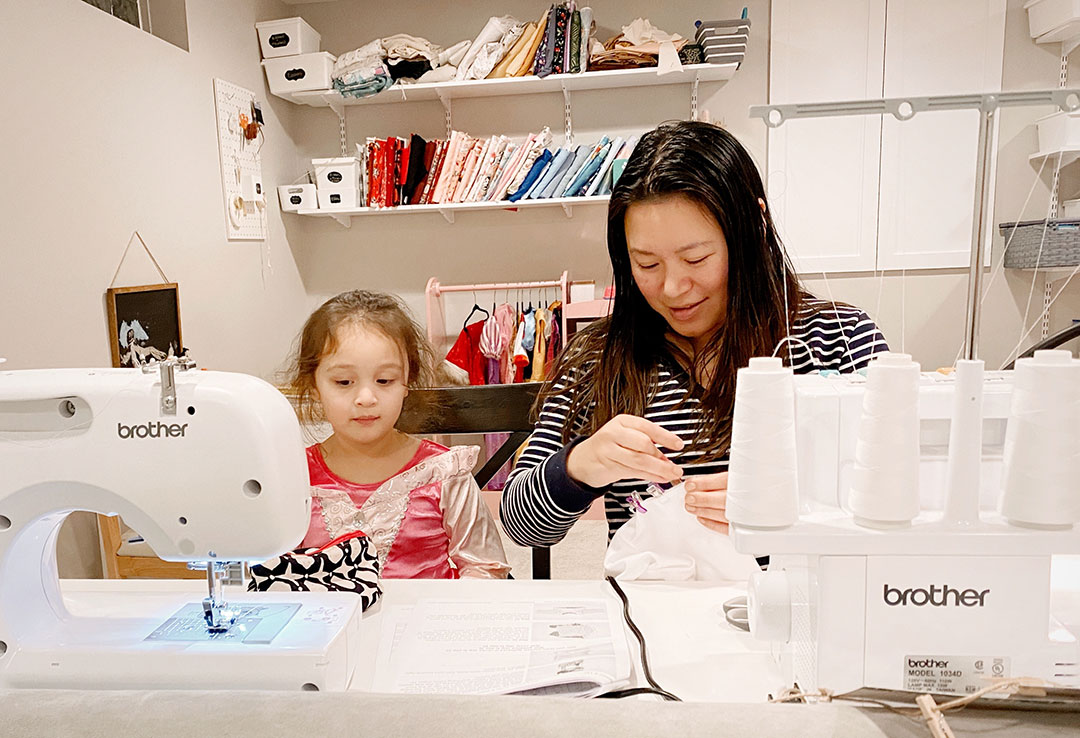 I'm annoyed that I have to reprint and cut my pattern again. We only used it once or twice. The dress takes ages to make, not because it's particularly complicated, but because I get called away often. Wonder Girl leads me upstairs for grilled cheeses. Then there's a stack of library books to read. We go out to touch the snain, our tongues arching for a taste of heaven, and we hide behind trees, giggling because there's really no place to hide in our barren front yard.
The dress takes ages to make, because I don't want to think about my daughter being yet another size larger, another year grown. Sometimes, I look at her and I see a shadow of the woman she will one day be. The way she'll tuck her hair behind her ear as she climbs into a friend's car. The low sob of her first heartbreak. The rushing air surrounding a free-falling dive into a river. She has years ahead to live. As far as I know, I'll be here for most of it, so my sadness feels frustrating, like a self-inflicted pain I have no business of granting.
One night after Wonder Girl is asleep, her body curled like a prawn in her bed, I finally finish sewing the mermaid dress. As a last step, I rip the basting stitches and shake the stray threads off. The dress still has a hint of stiffness, and I picture how it'll relax and unmold after a summer of rough wear. I can almost see the chocolate stains, smell the coconutty sunscreen, that gutting whiff of summer. A dress unworn is a moment of possibility.
"Mommy!" Wonder Girl cries the next morning. "I love it."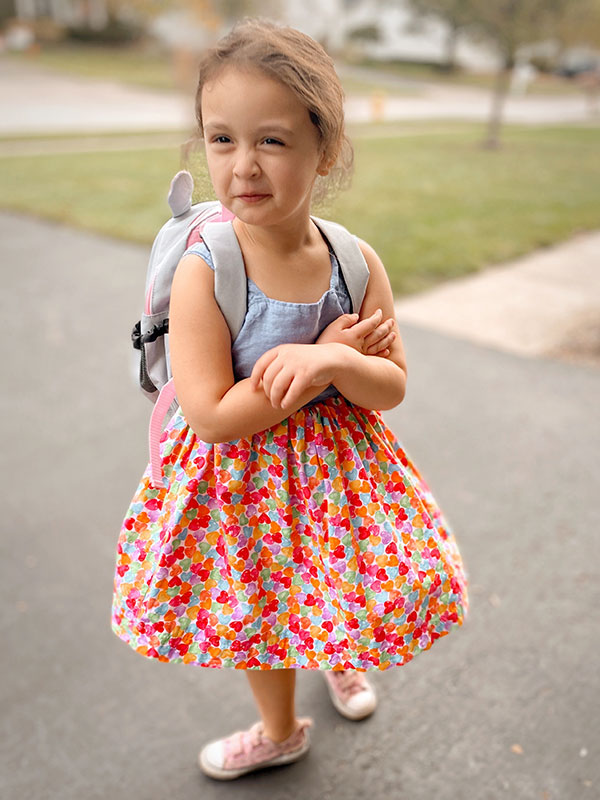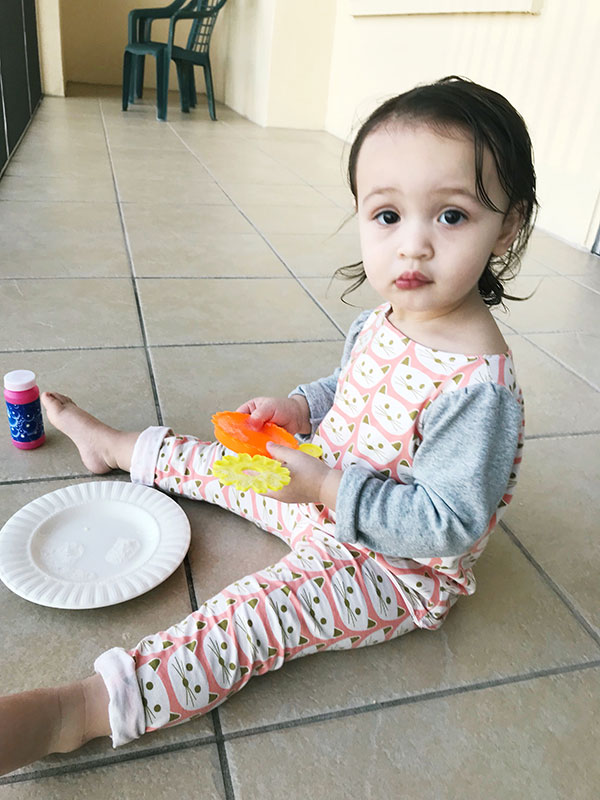 She holds it against her body like a bride with a wedding gown, jutting her hip out to test the drape. Her mouth falls into a pebble-toothed smile. Delight punctures the moment, a silver-streaked cut of pure joy that leaves me silent, awed, and a little shamed. While her unlived moments fell from my imagination like pearls from a broken strand, she is still here. Not the future-girl of my dreams, but my actual girl. Skin and cloth, bone and button. A hurricane that spirals me back to the present.
I know this: there are dresses still to sew and seasons yet to live. The Baby Clothes bin will be full before too long, but there's no use in thinking about that now. I pledge to let myself surrender to the joy, the fearless unknowing. To live for a few moments without grieving that which has not yet been lost.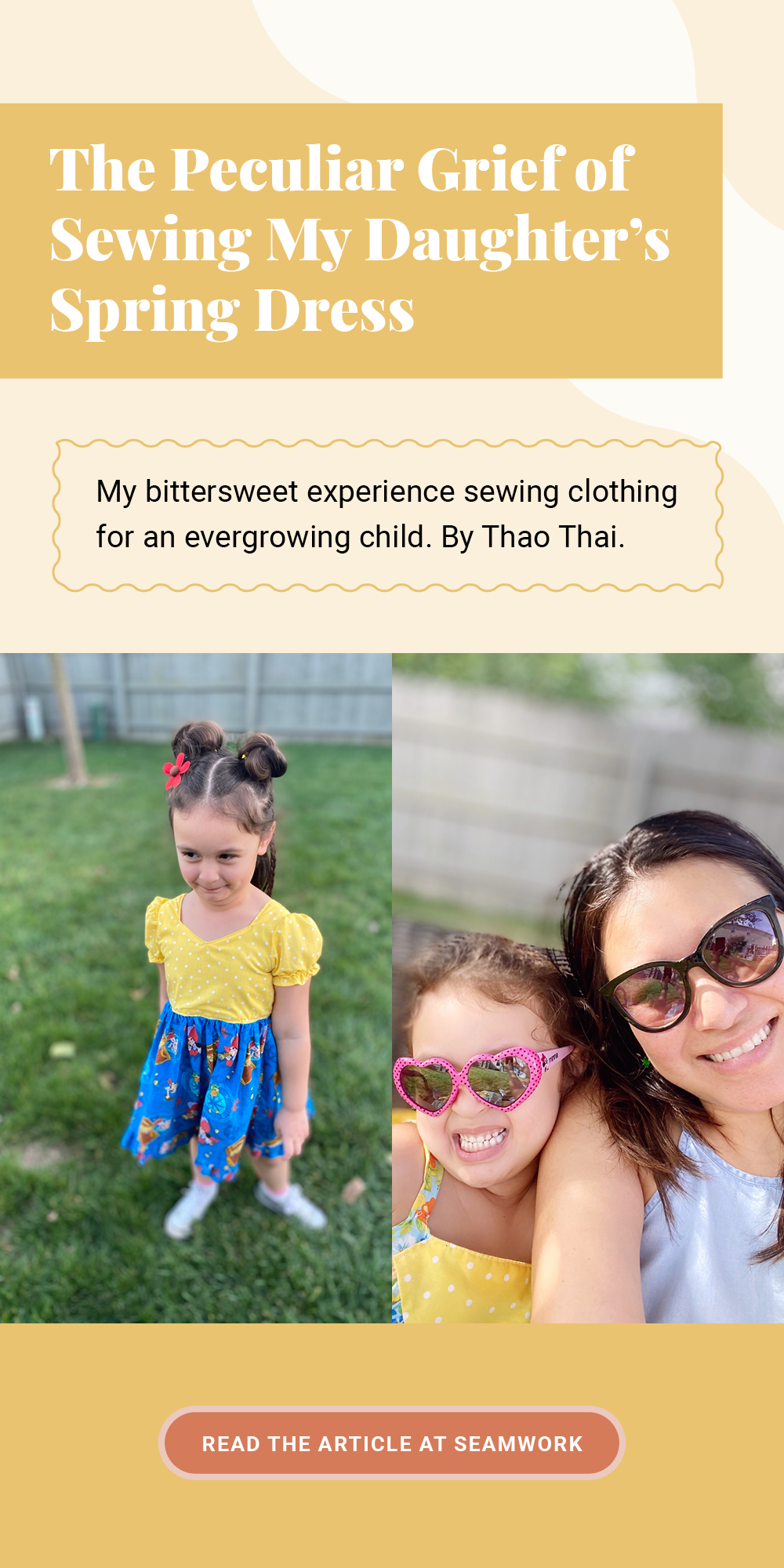 Download new patterns each month starting at $5.83
Use the techniques and ideas featured in each month's issue to create these and other quick & lovely projects.
Get Started