It's the third week of Design Your Wardrobe! Sarai and Haley are doing DYW right now, too, and they're sharing their experiences (and tons of tips) with each module in the course.
This week, they're sharing tips for defining a color palette. They'll talk about the palettes they picked for this season and what they found in their fabric stash and closet.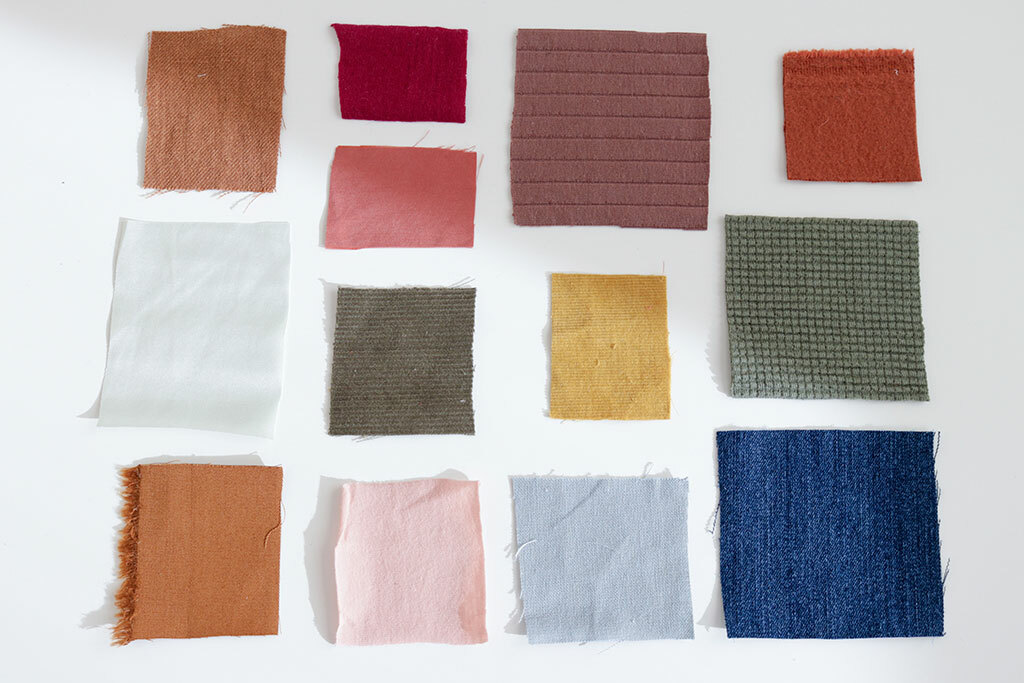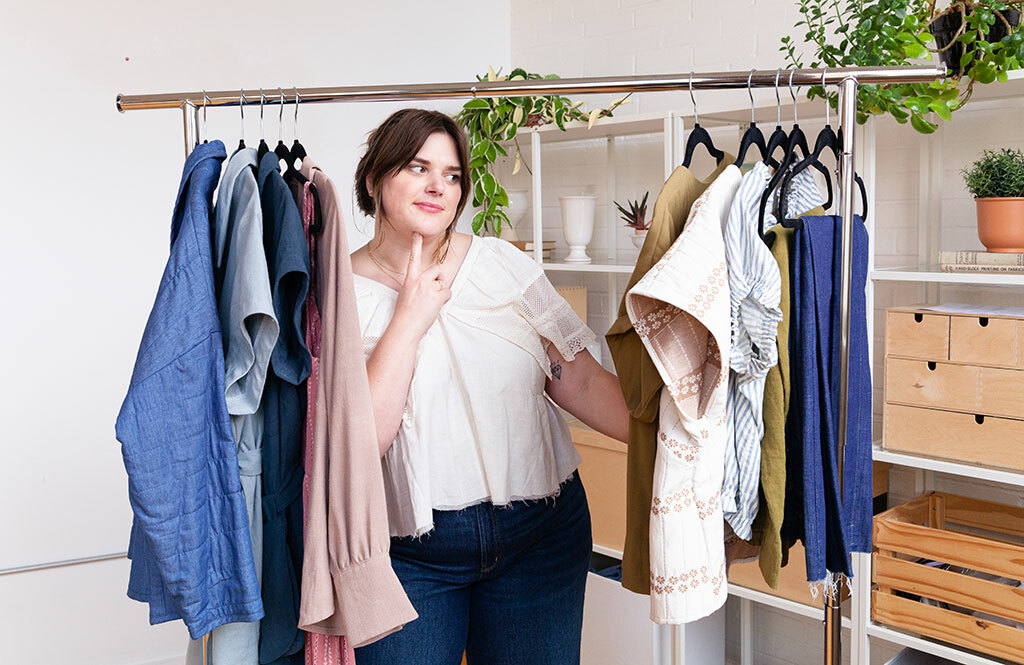 Tips for Design Your Wardrobe Week Three


Think about the colors you actually enjoy wearing. Not just what colors suit you, but the ones you like. Then think about where you like them, is it in accessories or in garments?


If the color isn't "right" for your skin tone or hair, remember you can always wear it away from your face.


This season, Sarai is working with neutrals like black, cream, and white, and basics like navy and denim. For her statement color, she added a shade of red.


Haley is working with basics and a few statement colors, like chartreuse and brick.


If you're struggling with prints, choose one print and build solid colors around that. Textures are a great alternative to prints if you don't like wearing prints. And here's a pro tip! Cheater prints are a good substitute for quilted fabric. What's a cheater print? It's a print designed to look like patchwork.


Remember the rule of three. When you go into your closet, think about how your new sewing plans can work with what you already have. Can you find three outfits to make with a new piece?


Podcast Transcript
Sarai
I'm Sarai.
Haley
And I'm Haley.
Sarai
And this is Seamwork Radio.
Sarai
Welcome back to Seamwork Radio, where we share practical ideas for building a creative process so you can sew with intention and joy. And it's August, so that means it's time for the fall session of Design Your Wardrobe.
So, over the next four weeks, Haley and I are going to be taking you along as we do the entire Design Your Wardrobe program, so you get a peek inside our personal design processes.
Today, we're talking about week three of Design Your Wardrobe as we define our color palettes. So if you missed the first two episodes, you can check those out. They are the two episodes you should see above this one in your podcast platform of choice. So we did week one, which was all about gathering inspiration, and week two, which was about setting the context and creating the mood board.
Before we dive into today, let's start with an icebreaker. Do you feel like the color palette you've chosen, Haley, is reflected in your stash of fabric that you already have?
Haley
Yes and no. It's complicated because I've been collecting fabric for a very long time, and so the fabric I have in my stash is a reflection of Haley from ages 17 onwards.
Sarai
Yeah, very true.
Haley
I definitely have some of it there, for sure, but I have some holes. That is for certain. What about you?
Sarai
I think, yes, for the most part, I think I've been gradually collecting more and more fabrics that kind of fit into the palette of colors that I wear the most.
I do feel like most of the fabrics I have do generally fit within the palette I've established for myself. I think the more difficult part is finding the right fabric, the right weight, the right texture, and the right palette to fit into what I'm envisioning for the season. So I think that's the hard part.
But I'm going to do my best to use what I have as much as I can. So it's an interesting process to go through just to look at your stash in light of this whole concept of creating a palette for yourself.
All right, well, if you have an icebreaker that you'd like to ask us for a future episode, Seamwork members can leave them for us at seamwork.com/go/cebreakers. And that'll take you to a thread on the community where you can leave your own idea for an icebreaker question, and we'll use it on a future episode.
Getting into today. So, if you're not familiar with Design Your Wardrobe, what it is is a four week program that we run twice a year that helps you to design your wardrobe for the upcoming season and then create a sewing queue out of that.
And it's this very fun, very comprehensive program. And a big part of the fun is doing it with other people. And we do that twice a year and you get to really experience all of the collective excitement as a community.
We wanted to bring a taste of that to the podcast this month by sharing our own process for Design Your Wardrobe. So between the two of us, we've done this program many, many times, so we're going to be discussing our own plans for the season, but we're also going to throw out some great pro tips along the way.
In week three, we really build out our palette, and our medium for that palette is fabric. So we're going to be digging into color and patterns and talking about our stash today. All right, so, Haley, what did you find in your stash when you went through your fabric stash?
Haley
I think the things that I found in my stash that spoke most to the collection I'm building is I found a lot of knits that would work really well, knits with great textures, like waffle knits and rib knits, and things with a little bit of a nap or texture to it. So I have things that are in that vein that really fit the bill, but I feel like that's kind of where it stops.
Sarai
Yeah.
Haley
Unfortunately for my specific plans that I have for this season, what about you?
Sarai
I discovered a lot of really beautiful prints. I have a lot of great prints. I'm not that drawn to prints this season as much as I normally am. I do want to have more solids, so that was one thing that I noticed, some really beautiful floral prints especially. I want to incorporate a little bit of that, but I have a lot more in my stash than I think I'll be using.
I did find a really great sweater knit that I had forgotten about. Still not entirely sure if I can fit it into my wardrobe plan, but I really like it, and I really like the color, and I even bought the matching rib to go with it, so I feel like I can do something with that. I found not as much black as I wear. I think sewing with black can be a little bit boring, but I like to wear black, so that's something that I feel like is missing a little bit, but that's kind of what I found as I went through my stash.
Haley
Yeah, sewing with black is also hard on your eyeballs.
Sarai
Yeah, it is a little bit.
Haley
And God forbid you have to unpick a seam. Like, forget about it.
Sarai
Yeah, true.
Haley
So you mentioned black. Can you tell me a little bit about your color palette that you landed on?
Sarai
Yeah, it's pretty similar to the one I had last fall. My color palette is, again, black, white, cream, and then I have camel, navy, a light cooler brown, and then a scarlet red, which is kind of like my pop of color in there. Not like a rusty red, but more of, like, a true kind of lipstick red. I guess. Little bit of a blue toned red still. Definitely red, though, rather than burgundy.
That's my palette for the season. What about you?
Haley
So for my palette, for my neutrals, I have black, ivory, and I have a couple of shades of blue, like an indigo blue, and then like a lighter, dusty blue. For my basics, I have a warm, dark green, copper, and blush, and my statement colors are brick and chartreuse.
Sarai
Beautiful. That sounds really lovely.
Haley
I think so I'm excited about it, honestly. This is like an iteration of a color palette that I use frequently.
Sarai
Yeah, same for me.
Haley
So do you find that you lean more towards one category of colors, like neutrals, basics, or statements?
Sarai
I do, for sure. I definitely lean very heavily on neutrals. I like to wear black and white and cream a lot. I like navy, which is I guess that falls into more the basic category. Denim for me is kind of a neutral, so I feel like those colors are just so wearable for me, so I lean really heavily on them along with some of the
basics. Like a camel kind of a mustardy camel, something like that, I think looks really great in the fall. So those are the colors that I lean on, but then I try to incorporate at least one color that's a little bit more either bright or a little bit more statement making. So that's where the scarlet red the season comes in for me. I feel like red is just having a moment for me right now. I'm enjoying red a lot, so that's kind of where I am, but definitely lean more towards the neutrals and the basics.
What about you?
Haley
Yeah, I definitely lean more towards the neutrals and basics. I like utilizing my statement colors for accessories or details. So, like, utilizing one of those statement colors for the lining of a jacket or a scarf or a bag or shoes or nails or something like that is definitely a little bit more in my comfort zone. I'm definitely attracted to little bit bolder color, but just knowing myself and knowing that if I have the choice between a blue sweater and a red sweater, I'm going to probably choose the blue sweater for me personally and then paint my nails red.
Sarai
Yeah. I think that's a good thing to know about yourself. Not just what colors suit you or what colors you enjoy, but how you enjoy them, like, where you want to use them, I think is a really good thing to evaluate because like you said, you might shy away from brighter colors like I do. I don't wear a ton of bright colors. I do like them in shoes and accessories and scarves and things like that. So I think that's a great thing to think about if you're somebody who's a little bit more color shy like I am.
Haley
Yeah. And how much of that color, even if you are someone who likes to wear incorporate a little bit more color. How much of it are you willing to wear? Do you want to wear it from collarbones to knees, or is it something that you actually feel a lot better when the color is away from your face and you want to wear trousers and, like, a really cool color. So thinking about not just what colors is also how much and where is so important, I find.
Sarai
Yeah, I agree.
Haley
Okay. And prints. I feel like this is a place where people struggle a lot.
Sarai
Definitely.
Haley
Did you pull any prints?
Sarai
Yes, I did. Generally, I like prints. I don't have a problem with prints, even though my colors are more neutral. I do like to incorporate prints. I like florals a lot, generally, but like I said, I'm kind of leaning a little bit less towards prints this season, with a few exceptions. So one is kind of a houndstooth plaid, which I really like in the fall. And actually, last year, I bought a houndstooth, a double knit, and I want to use those this season probably to make just, like, a really simple aline mini skirt out of which I think looks great with big sweaters and tights.
Haley
So cute.
Sarai
So that's kind of like one of the prints that I'm really excited about, and I already have. So that's awesome.
I'm really drawn to a small polka dot right now, which I've liked polka dots in the past, but I haven't worn polka dots in quite a long time, with a couple of exceptions, actually. Actually, the dress I wore in our last YouTube video was polka dot, I guess. So maybe I'm just leaning more towards that again. So I would like to incorporate some dots or maybe like a star print, sort of like a dot. So something like that. I also always love a ditzy floral, so something that's in that vein, but maybe a little bit more pared down. Maybe dark colors instead of lighter colors, sort of like a Liberty print sort of thing in maybe black and white. Something like that I think would be really cool. I don't have that right now in my stash, but I think that's something that I might incorporate into the plan.
What about you?
Haley
Yeah, I am also leaning a little bit away from prints this season. I'm noticing that prints are something that I like to explore and play with a lot more in the spring and summer seasons. I love a floral, but I don't feel good wearing it in the fall and the winter. Some of the prints that I'll probably incorporate are plaid. I do love a plaid. I'm seeing more like a low contrast plaid in my inspiration, which I think would work really well with the colors and textures I have going on. Just a lot more texture in general, as opposed to print. One thing that did come up, which isn't really a print, but print adjacent is. I do have a couple patchwork pieces in my inspiration, and I'm kind of trying to decide, mulling over how I'll incorporate that into my plan. Maybe I just need to make a quilt. Yeah, maybe a patchwork quilted jacket. I don't know yet.
Sarai
I've seen some really cool cheater quilt prints on Etsy that I think would be really cool for that I was thinking about this is a little bit of a digression, but I saw on Pinterest an ironing board cover that was made. I don't know if it's made from a quilt or it was just patchwork, and I don't know. I think that would be kind of a disaster because of all the seams. Probably not be great for an ironing board. But if you did, like, a cheater print, if you're not familiar with that, that just means it looks like a quilt. It looks like patchwork just printed. I think that would be such a cute ironing board cover. But also it would be cool for clothes.
Haley
I have a cheater print apron that I made last year that's really cute, and I really matched up the pocket placement and impressed everybody at Thanksgiving with it. But I do love a cheater print. Yeah, I'm just kind of undecided. It also could be, like, a really good lining on a coat. I definitely want to make a couple of jackets or, like, outerwear pieces. So, you know, how full throttle do I want to go with that design decision? I'm undecided. I think that when we start building out our looks next week, that that will become a little bit more apparent for me.
Sarai
Yeah. I guess what I'm noticing is that some of the same prints that I like in the spring and summer kind of are popping up again, but more in a neutral or darker palette. That's kind of where I'm at. Like, I love gingham in the summer, and I do have some black and white gingham that I'm thinking about using for a quilted jacket. Which I think would be really cool. So just something a little bit more subdued or maybe gray and black or something like that. Something a little bit more subdued or brown, maybe, since that's more in my palette for the season,
Haley
That would look good.
Sarai
Yeah.
Haley
I didn't mention stripes. Stripes are always in my print palette.
Sarai
It's always time for stripes.
Haley
It's always time for stripes. I am finding myself more attracted to vertical stripes the last couple of years, though.
Sarai
That's interesting. I don't wear a lot of vertical stripes.
Haley
I just love the menswear influence of that. I love a striped button up.
Sarai
Yeah. Very cool.
Haley
Okay, now my final batch of questions is about digging into your closet. So what items did you end up pulling from your closet that fit your collection?
Sarai
I have a lot in my closet that I think is going to work really well with the things that I'm going to be making. As you know, I wear overalls quite a lot, and black overalls are one of my favorite things to wear because they're so practical, and I think they are they're a little bit of a statement compared to black jeans. I guess by statement, I just mean like, they stand out a little bit more and they're just so comfortable. So I definitely felt like that was something that worked really well with what the things that I had picked out.
I think a lot of my really pretty blouses that have kind of voluminous sleeves that kind of like bohemian look to them are going to work really well with the things that I've picked out. I really wanted to design pieces that would work with those things so that I get more use out of them year-round because I think they're really easy to wear with jeans, but I wanted more ways to wear them. Those are things that really are going to fit in very well.
And then some of my longer dresses as well, which I wear throughout the year, just layered with tights and boots. And I think some of the things that I'm going to be making, like the jackets, the quilted jacket, if I knit a sweater vest to go over them different ways that I can layer them to make them interesting and create new outfits out of the old pieces in the fall.
So that's a big focus for me with this particular collection. And I feel like I have a lot to work with there in my closet, which is awesome. What about you?
Haley
I think that really the beauty of what I've put together so far is that it goes with pretty much the bulk of my fall and winter clothing. I tend to wear a lot of jeans, lots of button-ups and button-downs, sweaters, those kinds of things. So I'm really trying to lean into items that will complement all of those things really well.
Sarai
Yeah. Same. I think that's such an important part of this whole process that often gets missed is just how can I make this work with what I already have? And I think that's part of the beauty of design your wardrobe is that it really helps to resurface some of those things that you already own. So instead of feeling like you always need more stuff, you can work with what you have and build on what you have. For me, that's really important.
Haley
Yeah. I really think that as we start moving into the next week and start creating outfits, start creating our looks and our projects, I really want to lean into the concept we've talked about before on the podcast, which is the rule of three. I don't want to sew anything this season that I can't wear at least three different ways and create three distinct different outfits with just because the fact of the matter is that my time to sew for myself outside of work related projects is pretty limited. And so I want to make sure that things I am sewing, I'm really wearing all of the time.
Sarai
Yeah, that's great. That's a really great way of looking at it, and I think it's a really helpful tool for people to use if that's a goal of theirs. So if you're listening and you really want to make sure that you're getting a lot of use out of it, you can go back and listen to that Rule of Three episode and see if that might resonate with you. I think we have an article on our website as well about it, if you'd rather read it, and that, I think, is a really just lightweight tool for figuring out whether you're going to be able to wear the garment that you're making in a variety of ways and be able to incorporate it with stuff you already have.
Haley
Yeah, because I think sometimes the instinct really can be to make this enormous project queue, and we'll dig into this more next week. But really, in the past, when I've done this, I feel so much more successful when I have a smaller queue that is more manageable that I end up sewing more of.
Sarai
Yeah, definitely. And I think it opens you up to making more complicated projects if that's something that you want to do, rather than always going for things that are really fast and easy, which I can tend to do. If I don't do a lot of planning, then I'll just think about, okay, what can I make that's going to be fun to make and fast and easy, which I think is great. I mean, I think that's really, for me, it's very motivating to incorporate those things, but it's harder for me to make the time to make, like, a pair of pants with a muslin and all that or make outerwear. And so having a plan in place really kind of helps me to set that motivation.
Haley
Yeah, 100%.
Sarai
All right, well, just to recap what we talked about today, we talked about building a color palette out of your fabric. So this is week three of Design Your Wardrobe, and we talked about balancing that between the statement colors, the basic colors, and the neutral colors and where we fall on that spectrum.
We also talked about prints and how we're incorporating prints this season, and we talked about how to work in things that you already have in your closet and what we have pulled out from our closets and how we're trying to incorporate those with our plan for sewing in the fall.
So I think for me, my big takeaway from this episode is really about prints. I think prints are something that a lot of people struggle with. Like you mentioned, it is harder to build a palette around prints, I think, than it is to use only solid colors and if that's something that you struggle with, I think just incorporating maybe one print to start pulling some colors from that print and then building your palette around, that can be a really helpful exercise. And then you can kind of add and call from there.
If you're somebody who struggles with prints or how to build a palette that includes them, I think that's a really useful way to go. A nice little tip for you. What about you? What's your big takeaway?
Haley
I think that my big takeaway, not just from this episode, but maybe from this week of Design Your Wardrobe is I'm really leaning towards a less is more approach, which I think is interesting, coupled with the fact that my goal is to add more playfulness and dimension. So that will be an interesting design challenge to play with next week as we start building outfits and designing our garments. I'm looking forward to it.
Sarai
Yeah, for sure. All right, well, if you didn't have a chance to join Design Your Wardrobe this season, we are midway through, and sign ups are closed, but we do have a self-guided version, so if you're a Seamwork member, you can do that at any time, and you can check it out at seamwork.com/go/DYW and again, it's totally free for Seamwork members.
And if you like this episode, please leave us a review on your podcast platform of choice. We love to read your reviews and hear from you. And today, we have a little change of pace for reviews. We have one that has a little bit of criticism for us. So you ready for a little criticism? Haley?
Haley
Always a little feedback. Give it to me.
Sarai
Okay. This is from Oakland 92. She says, "Great show, but she said, love the content, and the hosts are very knowledgeable, BUT" but isn't all caps, "After a while, listening to nearly every sentence being punctuated with um becomes terribly annoying." So I guess we say, um a lot.
Haley
Sorry.
Sarai
I don't know. Maybe she might have meant to say, "Mmm hmm."
Haley
Yeah, I do say that. Yeah. I think that's one of the occupational hazards of having a less scripted show is you get those little natural filler words and sounds and syllables.
Sarai
Yeah. We're just talking, so it's hard not to have filler words as a human being. But I always think about IRA Glass on this subject because he says a lot.
Haley
He does.
Sarai
And his whole thing was, this is how people speak naturally, and it makes me sound natural because I'm just speaking. And if I cut those out, I would sound like a presenter or a robot.
Haley
I did just catch myself saying, well, thanks for listening anyway.
Sarai
Yeah. And we appreciate the compliment, too, and that you like the content and think we're knowledgeable, so that's very nice.
Haley
Yeah.
Sarai
And we're sorry that we say, I did notice, actually, as you were talking, I was agreeing with you a lot, and I do say you just did it. Well, I don't know. It's going to change if I can change the way I speak, but thank you, Oakland 92, and if you have a review that you'd like to leave for us, we appreciate hopefully it's a five star review that really helps people to find the show.
So if you would like to leave us one, we would super appreciate it, and we'll probably read it on a future episode. I also wanted to mention if you have a question for us, if there's something that you'd like us to answer on the show, you could also leave that in your review. So if you leave a five star review and you leave a question for us, we'll try to answer it on a future show. So we're going to give that a shot and see how it goes.
All right. If you want to follow us elsewhere, you can also find us on YouTube at Seamwork Video. And there you can see Haley and I in the flesh, so to speak. If you'd like to see our faces while we talk. You can also follow us on Instagram at Seamwork.
And if you'd like to join Seamwork and become part of our private community, plus get access to hundreds of sewing patterns and dozens of sew along classes, podcast listeners get a 50% off lifetime discount when you join at seamwork.com/go/podcast50.
And that does it for us this week. We'll be back next week for the final week of Design Your Wardrobe. I'm Sarai.
Haley
And I'm Haley.
Sarai
And this is Seamwork Radio.
Join the Conversation
Sign in or become a Seamwork member to comment on this article.