Meet the Kit Blouse
This blouse is designed to empower your creativity, enhance your style, and teach you some new sewing techniques.
Kit is a woven pull-on blouse with a V-neckline and puff sleeves. It's semi-fitted through the bodice with a back shoulder yoke that is set slightly forward. You'll sew soft gathers below the yoke on the front bodice, finishing it with a topstitched facing. Elastic cinches the hem of the sleeves, and a back tie cinches at the waist.
The Kit bonus is a dress with extended waist ties that wrap around the waist.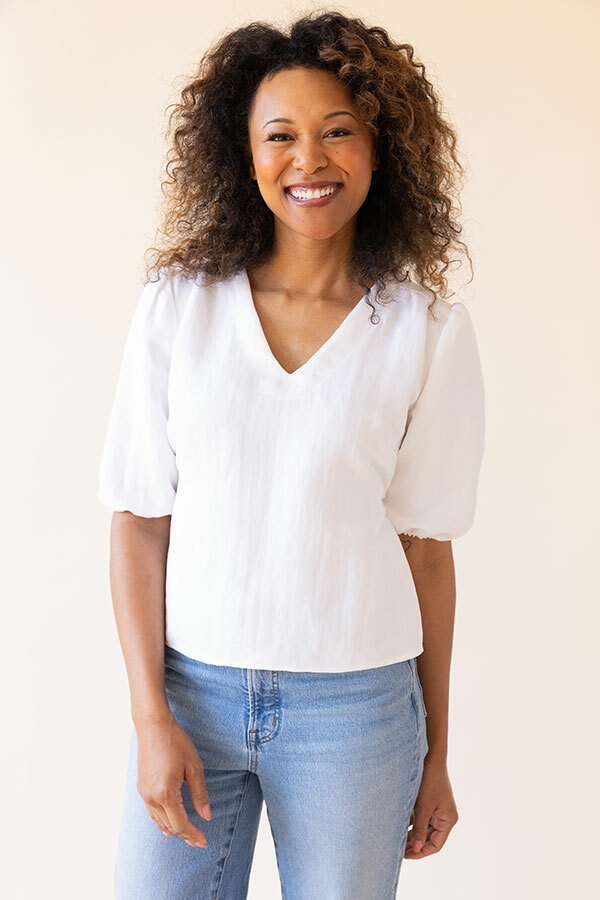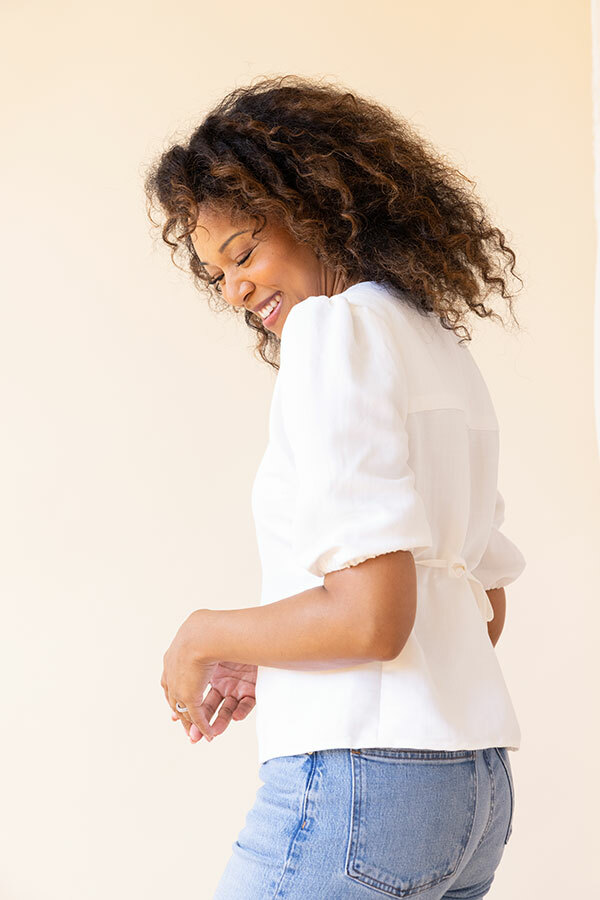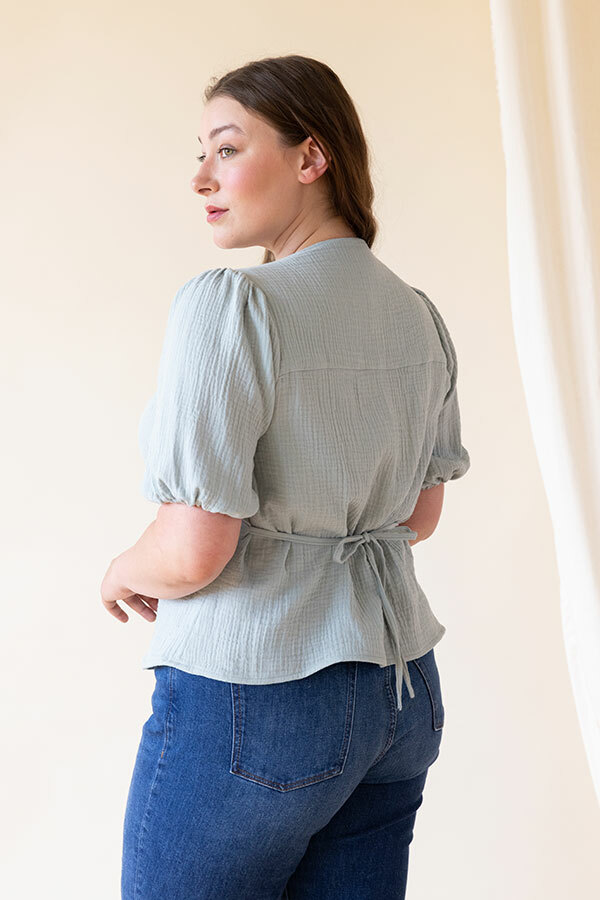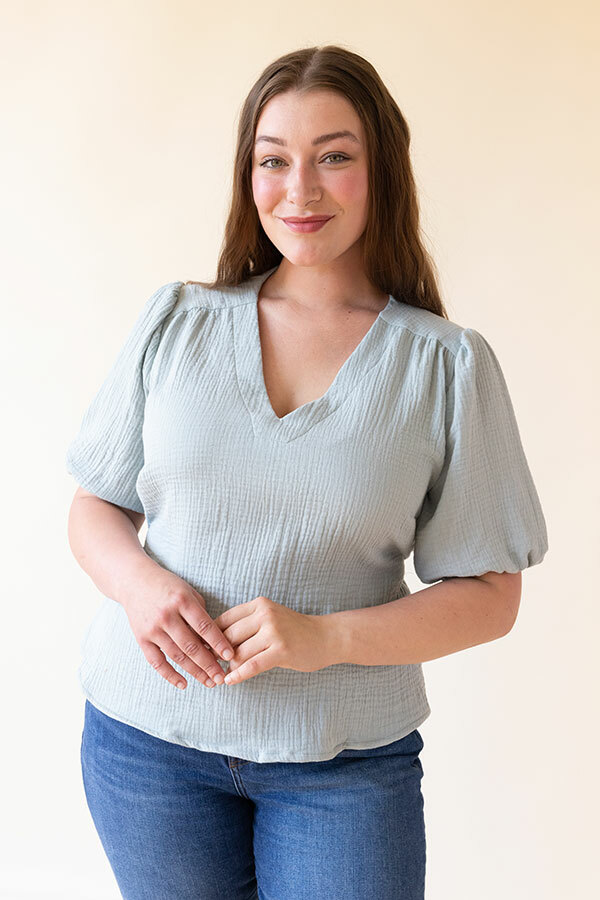 All of the fabric is from Bolt Fabric Boutique. Felicia is wearing a cotton shirting. The bonus pattern is sewn in a cotton slack weave. Crosby is wearing double gauze, and the bonus is a linen blend.
Fabric & Fit
Fabrics to shop: Look for lightweight or medium-weight woven fabrics such as linen, chambray, batiste, lawn, voile, rayon challis, cupro, and Tencel.
Fabrics to avoid: Avoid heavyweight wovens like denim or canvas. They won't gather well at the sleeves and will create a stiff silhouette.
Fit: Here are some fitting tutorials to help you get the best fit.
---
Meet the Jovi Halter
You might not have this wardrobe staple in your me-made closet yet! Jovi is a fitted knit halter with a built-in shelf bra. An optional bra lining with a pad insert cut out provides an opportunity to learn a new construction technique while achieving some extra support (and modesty!). Plush back elastic secures the bra but keeps you comfortable at the same time. Sew this top in a bunch of colors to wear all summer long!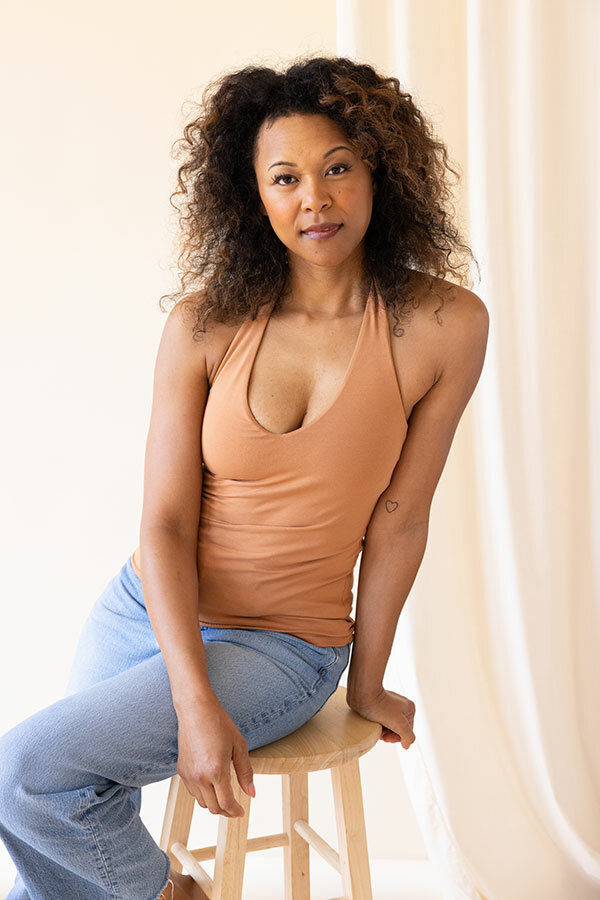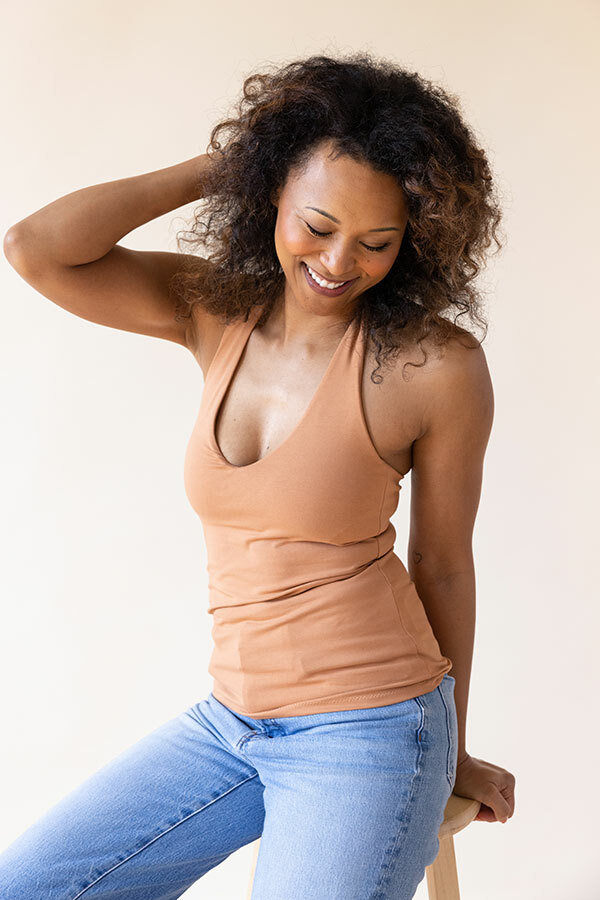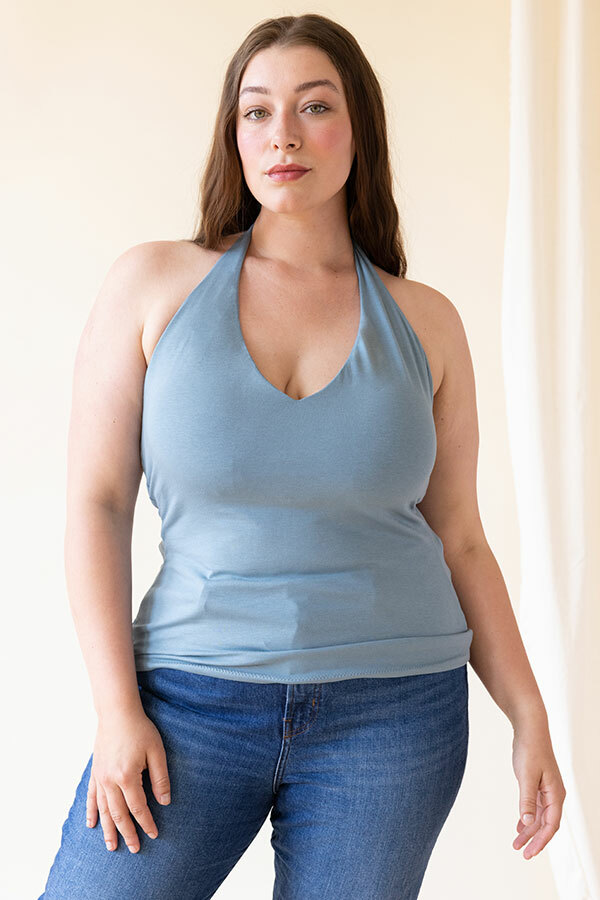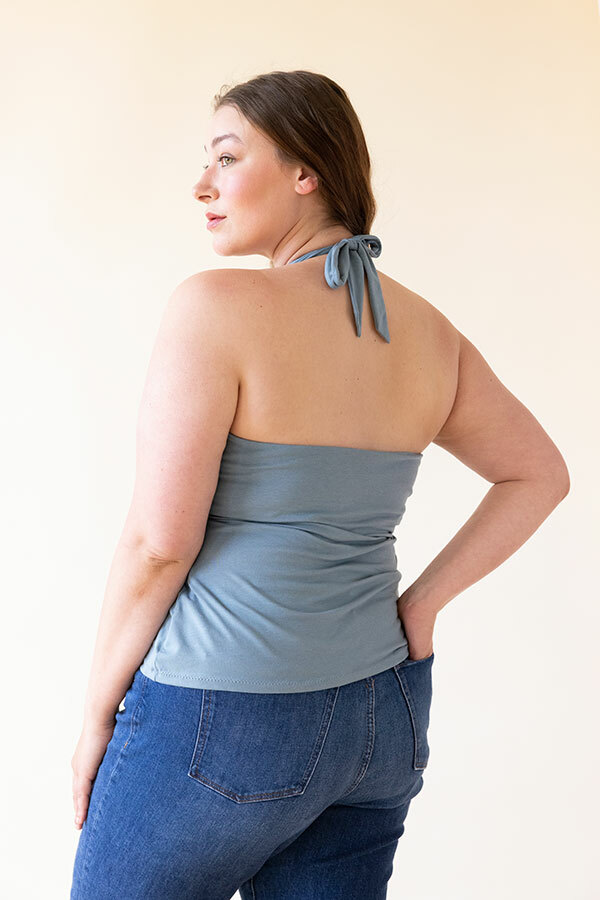 Both Felicia and Crosby are wearing cotton spandex blends from Bolt Fabric Boutique.
Fabric & Fit
Fabrics to shop: Look for medium-weight knit fabrics with 50% 4-way stretch, such as cotton jersey, bamboo jersey, rib knits, double-brushed polyester, and ITY knits.
Notions: You have the option to add soft molded bra cups to your halter top.
Fabrics to avoid: Avoid very lightweight knits, like tissue knits, as they will not have enough body to maintain the halter's shape. This is especially important if you choose to sew the padded cup inserts.
Fit: The Jovi halter has negative ease throughout, so it's intended to fit close to your body. When picking out a size, check the finished garment measurements. It can help to compare the ease to a top that you already own, so you get the fit you'd like. Read this article for tips for perfectly fitting knits.
---
Ambassador Projects
Some of the Seamwork Ambassadors sewed up the new patterns already!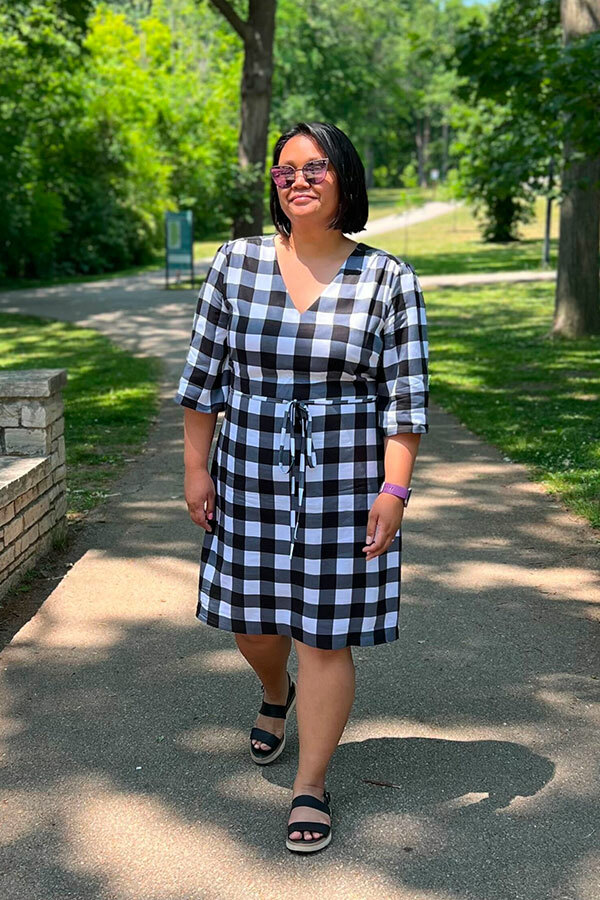 Nicole Angeline made a Kit dress and left out the elastic in the sleeves.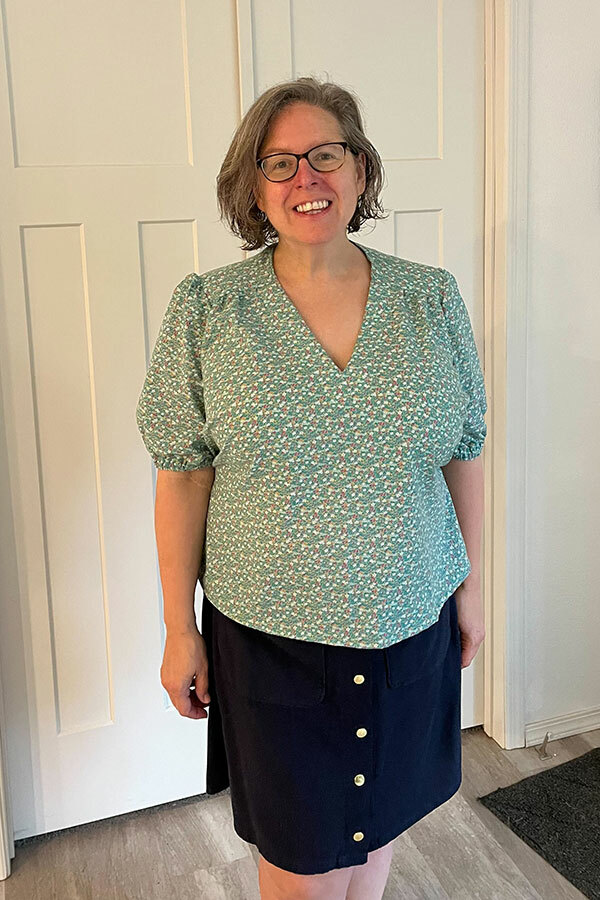 Here's Kathy's Kit blouse.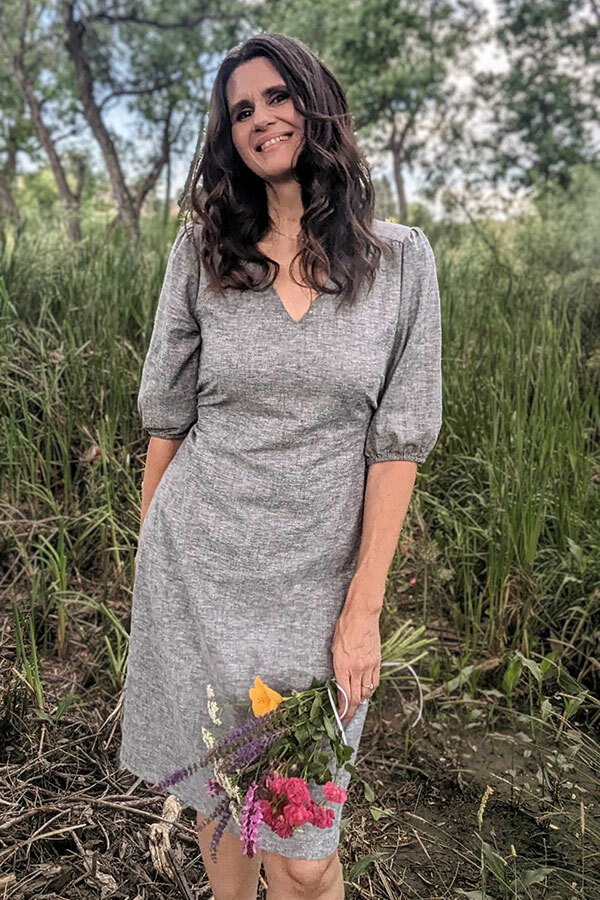 Here's Laurel's Kit dress!
Join the Conversation
Sign in or become a Seamwork member to comment on this article.