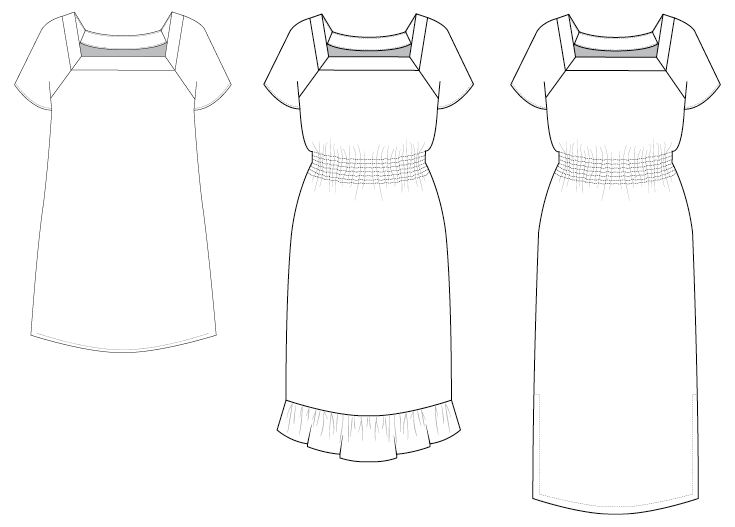 Everyone knows that sewing gives you superpowers. First on that long list is the ability to break the rules and make garments that represent you and your taste. We want to encourage you to think of our patterns as a blank canvas that you can customize to truly suit your style.
Our pattern hacks are designed to teach you hacking basics that help you customize patterns so that you can become a confident pattern hacker. Each month, we will show you how to draft and sew one new pattern hack, and we'll share links to two additional pattern hacks from our pattern hacks library.
These hacks help you give your Seamwork patterns a custom spin—all you need is paper, a ruler, and a pencil!
This month, we teach you how to create a simple shift dress with the Carter pattern by shortening it and omitting the smocking. We'll also walk you through how to use the slash and spread method to add a swingy trapeze shape. You can also check out two additional hacks. One will help you create a ruffle hem, and the other adds a faced split hem.
Note: For best results, be sure to make any necessary fit adjustments before hacking your pattern.
You'll Need:


The Carter dress


Paper


Pencil


Scissors


Tape





Clear ruler

HACK ONE: Simple shift

For this sample, we just omitted the smocking and shortened the dress to an above-the-knee length. But in this article, we will also share how to create a trapeze silhouette.




There are often two types of dress-wearers, the kind that loves all the waist definition and the type that would rather keep it to easy breezy shapes that fit freely at the waist. This hack offers two options for the latter—a simple shift and a swingy trapeze style dress.

DRAFTING INSTRUCTIONS

01 | Using a curved ruler and a pencil, mark a new hemline at your desired length on the front and back dress pieces. Make sure to add an extra inch to account for the hem allowance.

02 | Cut along the new hemline.

03 | Cross out the shirring lines, because you won't need them for this hack. If you want to create a shift dress, you can stop here, but if you're going to create a trapeze shape, move on to the next step.

04 | On the front dress piece, draw a line 2" below the armhole, perpendicular to the center front. This is your baseline. Then draw a series of parallel lines 2" apart below the baseline. These are your slash lines. Repeat on the back dress piece.

05 | Using paper scissors, cut along the baseline from the center of the pattern pieces to the side seam, leaving a small paper hinge. Then cut along the slash lines from the hem toward the baseline, leaving a small paper hinge.

06 | Place a fresh piece of pattern paper beneath each slashed pattern piece. Use the slash lines to create the desired amount of volume, then tape into place. Redraw the center front and back and use a curved ruler to create a smooth hemline and side seam.

SEWING INSTRUCTIONS

01 | Sew the pattern according to the pattern instructions, omitting the elastic shirring.

---

HACK TWO: Ruffle Hem

Try adding a ruffle to the hem of the Carter dress by using this hack from Seamwork issue 35.






HACK THREE: Faced Split Hem

Try creating a faced split hem for the Carter dress by using this hack from Seamwork issue 51.





Join the Conversation
Sign in or become a Seamwork member to comment on this article.