After a few years of being an avid sewist—and a couple of rounds of Design Your Wardrobe—I developed a strong idea of my individual style. Prior to finding my style, I often felt like I had to sew a pattern as it was designed. It didn't really occur to me to hack or change a piece of a pattern.
It wasn't until becoming a part of the Seamwork Ambassador Community that I really gained the confidence to change parts of a pattern to suit my style. Because of this, I now look at patterns for their unique potential—just as starting points.
In this project diary, I'll show you how I hacked the Benning dress to have flutter sleeves instead of drop-sleeves.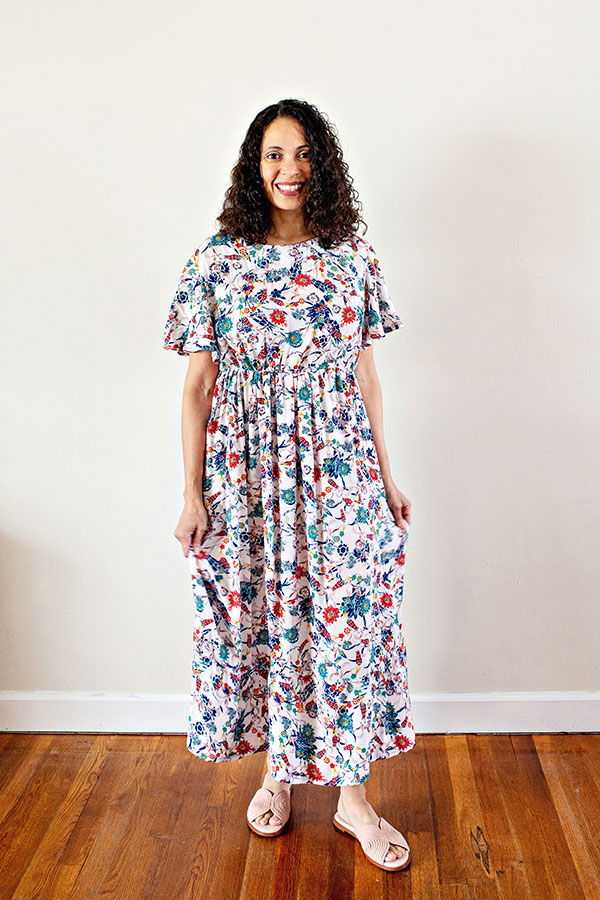 ---
The Pattern
The Benning Dress is a great example of a pattern that I would love to wear, but just not as intended. I am often looking for inspiration for new things to sew, and I usually find that inspiration from ready to wear clothing brands—they just pop up on my Instagram feed!
When I saw the Benning Dress, I thought of spring and summer and the potential for a romantic dress that would flow in the softest of winds. I loved the bonus version of Benning with a higher neckline. However, I didn't want a drop-shoulder sleeve. I decided that a flutter sleeve would be the best option to suit my style, and I sought out a different pattern that could help me achieve a flutter sleeve on the Benning Dress.
---
Choosing the Fabric
Before choosing a pattern to help me change the sleeve, I looked for fabric from my stash. I chose a rayon crepe with colorful flowers and beautiful drape, which provides the romantic and flowy style I was seeking. After picking my fabric, I considered the length of the dress as well as my height. I have noticed that I normally need to shorten patterns since I am 5' 3", but I chose to use the full length of the various tiers to make it long and bring about the mood I was seeking.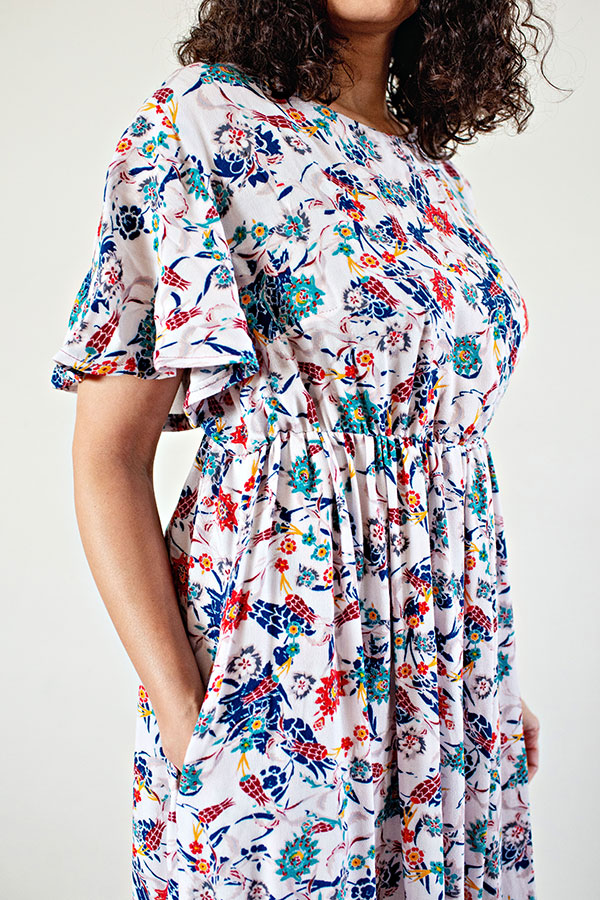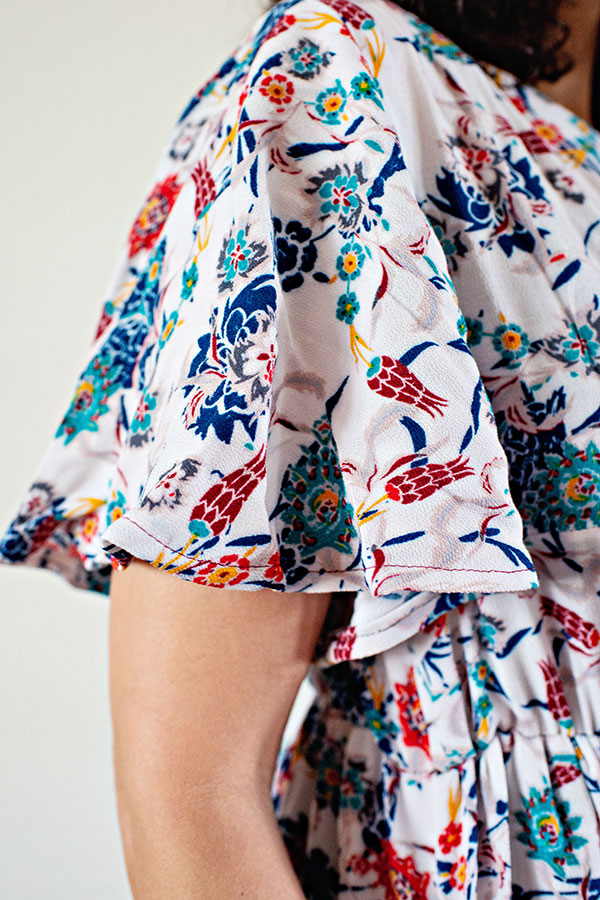 ---
Finding the Right Flutter Sleeve
After I had made those decisions, I set out to find a pattern that had flutter sleeves. I used the Seamwork catalog of patterns to see which patterns featured flutter sleeves. There's the Bobby dress—a knit dress that I made last year—which had a flutter sleeve option. However, I knew that knit and woven fabrics aren't always easily interchangeable in a pattern. That wouldn't work.
The Benning pattern also has a bust dart. I only wanted to make minimal changes to the sleeve opening, but I realized I would have to change the drop shoulder to a curved sleeve to hack the flutter.
Once I knew what to look for, I called upon my fellow Seamwork Ambassadors to help me make the modifications I was after. Several ambassadors suggested finding a comparable piece from my closet to use as a template, while a couple of them suggested I try out the Kenedy or Aster patterns.
I decided to use the member bonus version of the Kenedy dress for the flutter sleeve. The Kenedy pattern has a bust dart and the ease in the pattern was very similar. I printed out the pieces that I needed from Kenedy and compared them to the sleeve opening for Benning so I could blend the two patterns together.
---
Changing the Pattern Pieces
To trace new front and back bodice pieces for Benning, I aligned the two pieces of the different dresses at the side seam, waist, and tried to line up the bust darts as much as possible. Once I did this, I realized that it would be best to keep the bust dart from Kenedy in my version, and maintain the waist shape of Benning.
With my pieces aligned, I traced and created a final version of the new front and back pieces. Since I had changed the armhole on the bodice, I used the flutter sleeve pattern pieces from the Kenedy dress without making any changes. The modifications were relatively easy!
---
Cinching up the Waistline
The final change that I made to my version of Benning was to the waistline. After finishing the dress, the waistline was too baggy for my personal style. My ideal version of this dress included some waist shaping. I knew elastic would be best and the easiest way to make the modification so I went back to the instructions of the Bobby Dress to add the elastic to the waistline.
This slightly shortened my dress at the top, but it worked well for me because Benning was made for a longer torso and adding the elastic helped it sit closer to my natural waist.
Making Benning into a dress I would love and wear was so much fun. Understanding my personal style and using the tools and resources available helped me gain the confidence to change a pattern to suit my body and preferences. Knowing what I was looking for and making a few calculated changes, like changing a sleeve, made the difference between sewing a dress or making a dress that would fit my wardrobe and style for years to come.
Join the Conversation
Sign in or become a Seamwork member to comment on this article.