Are you wondering how to store all of your fabric in an accessible and inspiring way? Whether you have a small sewing space or an entire studio, you will face the inevitable decision about what to do with all of your fabric.
There are 3 main ways to approach storing your fabric. You can choose from these three methods—or any combination—depending on how you want to keep your sewing space and your available options. So determine which of these methods fits your needs, and then think about how you might customize it to suit your exact space.
Oh, and all of these methods work well with our free, downloadable Ultimate Guide to Setting Up Your Sewing Space. It helps you set up a sewing space that makes you feel relaxed and creative—no matter how much space you have.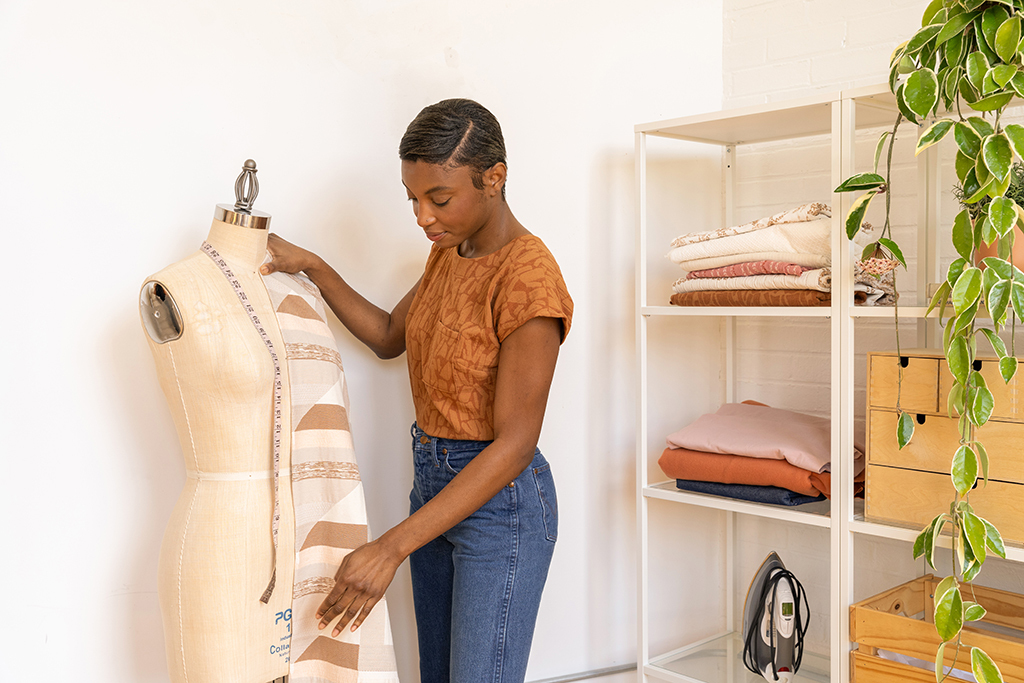 1. Create long-term and short-term storage
The first method involves creating a system of long-term and short-term storage. You'll keep fabric you don't plan to use in long-term storage and maintain smaller, short-term storage for the fabric you will use soon. For example, you can store vintage or out-of-season fabrics in your garage or the back of a closet and keep a stack of fabric for your next few projects in a bin in your sewing space.
Is this the best method for you?


This is a great method if you have access to a storage area, like a garage, basement, extra closet, or even under-bed storage.


If your actual sewing space is small, this is an ideal way to free space for other things you need more frequently.


If you like to plan your sewing, you'll be able to organize your fabric this way because you'll know what you need next and what you might not touch for a while.


This is a nice option if you don't like being overwhelmed or if you get analysis paralysis by all your fabric options. You can narrow your stash into a few options to keep nearby, so you aren't faced with your entire stash every day.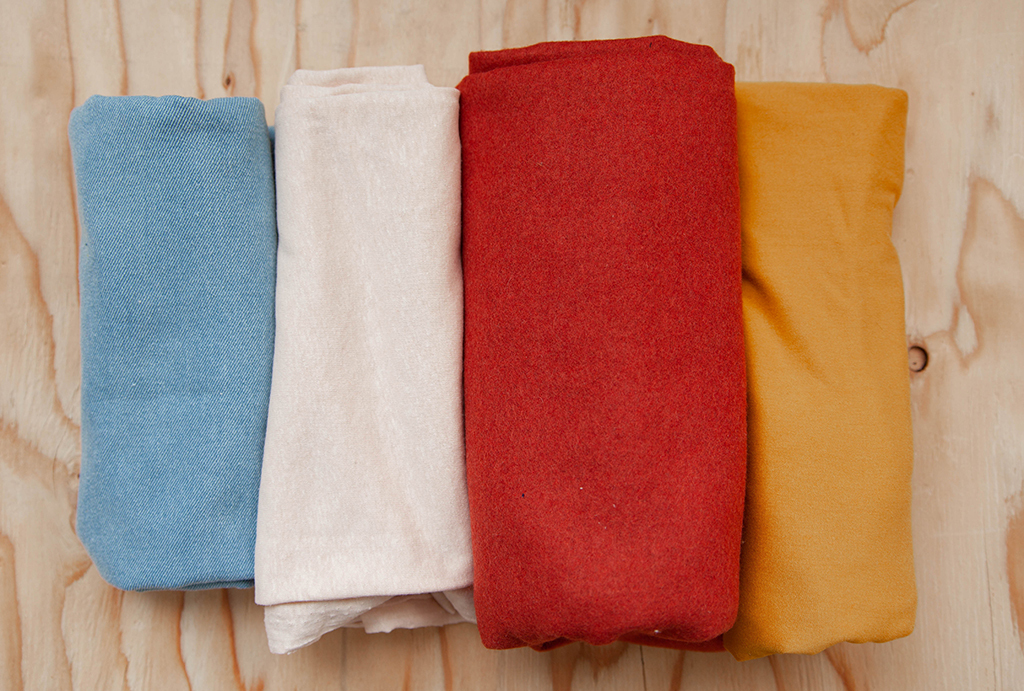 2. Use hidden storage
The second method involves cleverly hiding your fabric from view. This could mean hanging fabric in a closet, folding it into a dresser or wardrobe, or using bins or baskets on a bookshelf. If you have a small space, storing fabric in ottomans is helpful. These places are hidden from view but still allow you the flexibility to organize your fabric by color or type.
You can actually combine this with the long-term, short-term storage method. So, for example, you could use a piece of furniture for short-term storage and keep the rest of your fabric tucked away in another room for long-term storage. Or you can use the furniture for long-term storage and keep a few cuts of fabric in a basket displayed in your sewing space.
Is this the best method for you?


This is an ideal method if you want to use vertical space on a bookshelf or in a closet.


If you get overwhelmed by too much stuff in your sewing space, create as many hidden storage systems as possible.


Use a swatch book, spreadsheet, or online tool to track your entire stash to make the most of this method.


If you prefer tidiness to any sort of chaos, this is definitely a very tidy method.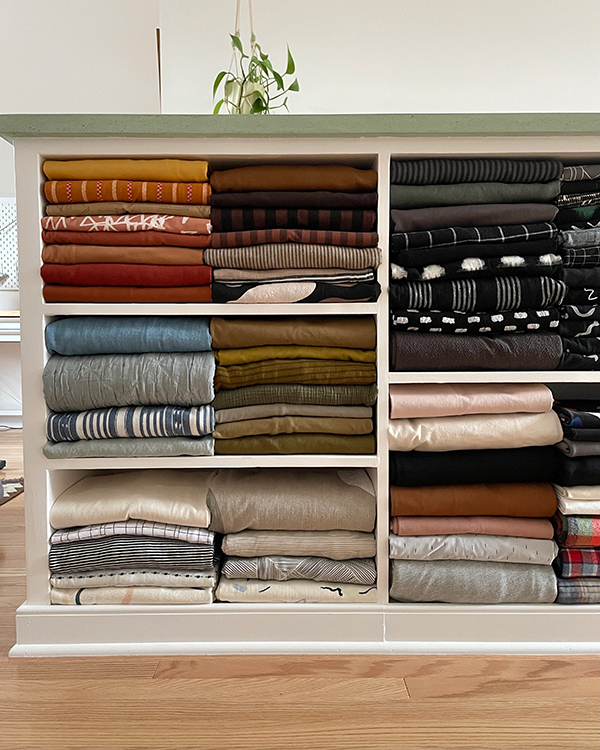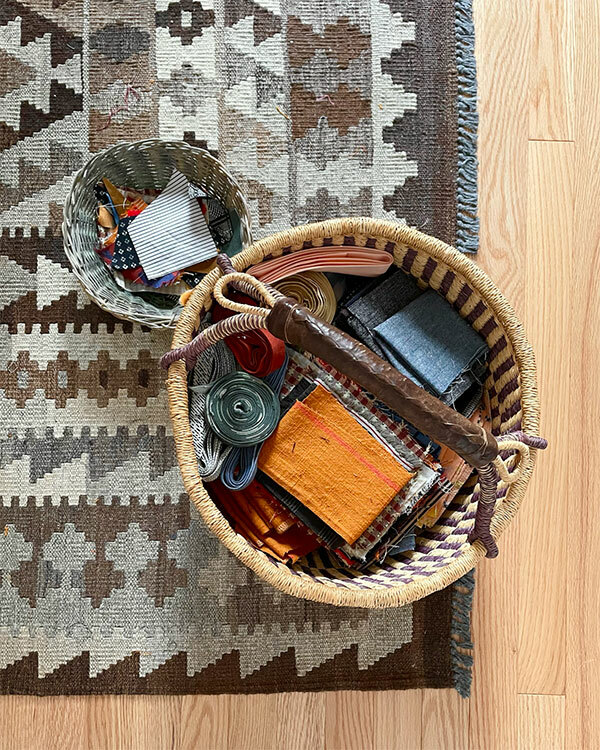 3. Create accessible storage
Open a fabric store in your own home! By creating accessible storage, you're running your own fabric store, with everything on display.
So with this method, the idea is to use space in your sewing room. For example, use shelves, nooks, or other open storage in your sewing room to organize your fabric. Use old tubes to create big bolts of fabric that you can then line your walls with or stack up in a corner. Wrangle things in baskets or create little displays that make it really easy to find things when you need them. If you have a tiny space, you can still do this in small ways, by keeping certain things accessible and on display and keeping others hidden away until you need them.
You could call this method organized chaos, but you can also arrange things so that they inspire you and are available at arm's reach.
Is this the best method for you?


Do you always like to be inspired by your materials? This is a creative and inspiring way to display the things that get you motivated to sew.


If you don't plan your sewing, it might help to have all of your fabric easily accessible for browsing.



Tip: Store your fabric away from the sun, so it doesn't get bleached.


More Ideas for Your Sewing Space
Love the article? Pin it for later.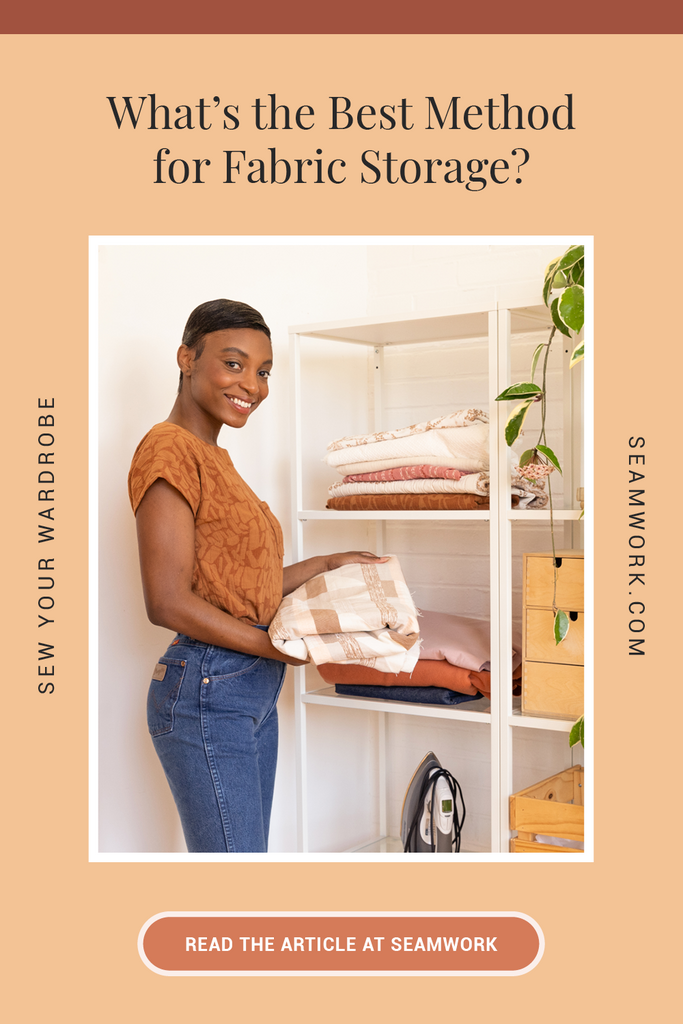 Join the Conversation
Sign in or become a Seamwork member to comment on this article.