Have you been curious about picking up a new creative hobby? Even if you think you might already have enough hobbies, keep reading to learn why there might be room for one more.
In this week's podcast episode, Sarai and Haley share ten hobbies besides sewing that you can incorporate into your creative practice.
They'll cover how these sewing related hobbies can be a source of inspiration for your sewing, what their ten favorites hobbies are, and how each of them can enhance your future sewing projects in different ways.
Below are the show notes for this podcast episode, and a brief summary of what's covered, followed by a full transcript.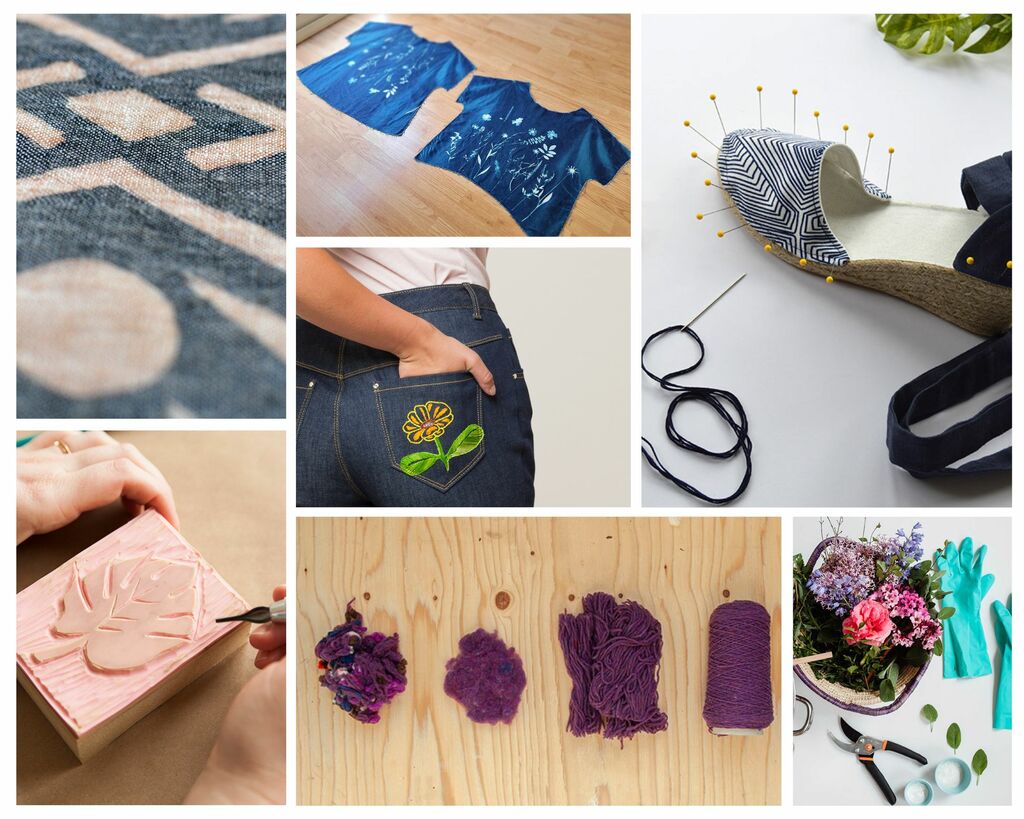 10 Sewing-Adjacent Hobbies to Try
Here are some of Sarai and Haley's favorite sewing-adjacent hobbies. Listen to the full episode (or read the transcript below) to hear why they love them so much.
Knitting


It will teach you patience. You have to be okay fixing time-consuming mistakes.


You'll learn about the structure of fabrics, like knitwear. Ever wonder how rib knit is made? You'll learn.


You get to learn about different fibers. You'll be working with them in a more raw form, so it's an opportunity to nerd out about textiles.


You can style your knit projects alongside your sewing projects, which adds a whole new dimension to your me-made wardrobe.


Crochet


You can't replicate crochet by machine, so every crocheted project was made entirely by human hands.


You can incorporate crochet into your sewing projects. Crochet straps, a yoke, or details.


Granny squares are experimental, portable, versatile crochet experiments you can use for a few minutes of mind soothing handwork.


Crochet is really strong, so try it out for dog toys!


Quilting


You learn a high level of precision. You're working with quarter-inch seam allowances. Piecing will help you practice precise sewing.


You can play with fun tools! Quilters use the best rulers and notions for their craft.


Quilted clothes are classic, whether it's just a patch, am entire quilted garment, or an accessory.


You'll get more adventurous about mixing and matching colors and prints.


Embroidery



If you get impatient or feel prickly when you have to stitch by hand, embroidery will help make it more fun.


You can plan, sketch, and create your own designs for embroidery.


Improv embroidery is just as fun as following a pattern.


The history of embroidery is really rich, dynamic, and a great art to explore if you need some inspiration.


Dyeing


It feels like science! It gets you into that experimental mindset.


There's no guarantees, so you have to roll with imperfection.


If you hate the color of your fabric, dye it again!


There are so many niches to explore. We have a bunch of resources in the Seamwork archives. Links are above in the show notes!


Screenprinting or Block Printing


You get to use a totally new medium—ink!


If you like to draw, this is a cool way to incorporate your art into your me-made clothing.


You get to play with tech depending on how you burn your screens.


Block printing is a more low-investment way to do this


Weaving or Spinning—Make Your Own Fibers!


You learn a lot about structure of fabric and different fibers.


You won't balk at fabric prices ever again. It's hard work!


Weaving on a loom is very physical, and very rewarding of you enjoy hands-on hobbies.


You'll have ownership over the whole process of creating your garment from the bottom up.


Shoe Making


You learn a lot about leather, different tools, and findings, things that maybe you don't have an opportunity to use in your day to day sewing.


You get to wear a literal head-to-toe me-made outfit.


All parts of shoe making feel 3-dimensional. Whereas in sewing you don't see that until the end, when you're crafting shoes, you're working in three dimensions the entire time


We have a leather house shoe and espadrilles tutorial linked in the show notes above.


Leatherworking


Learning about all the different leatherworking tools can be really inspiring.


You can take your bag making to the next level and trade canvas tote bags for leather ones.


You can also incorporate leather elements into your me-made clothing, like straps or accents.


Leather goods are the ultimate scrap projects. The amount of things you can fit on one hide is amazing.


Punch needle


This is a fun, trendy hobby to pick up for instant gratification.


You can bring fiber art into your home for all to see and you to enjoy every day, so it's a good motivation to sew more home decor.


Punch needle bags would look so cute styled with the clothes you sew!


Podcast Transcript
Sarai
You. I'm Sarai.
Haley
And I'm Haley.
Sarai
And this is Seamwork Radio.
Welcome back to Seamwork Radio, where we share practical ideas for building a creative process so you can sew with intention and joy.
And today we're talking about ten hobbies besides sewing that you can incorporate into your creative practice, and and we're going to cover how sewing related hobbies can become a source of inspiration to your sewing, what our ten favorites are, and how each of them can enhance your future sewing projects in different ways.
All right, so, Haley, our icebreaker for today. If you could have one perfect day with the sole purpose of being creative, what would you do? How would you spend it?
Haley
Oh, man. First of all, that sounds amazing. I should really do something like that for myself.
Sarai
Yeah, like a retreat day.
Haley
Oh, I love that. I would say, first of all, I would spend the day alone. That just sounds really delicious to me right now. I would have to start my day by being outside, because I feel very creatively energized if I get to spend a little bit of time in nature. I would probably then spend my morning after that on some sewing projects with listening to podcasts, just taking things really slow.
I'd order some sushi takeout for lunch and read a book, and then I would probably spend my afternoon sketching or doing watercolors or something like that, maybe round off the day by cooking something beautiful, which always feels really meditative and creative to me. Maybe watch a movie in bed, do a little knitting or crocheting. It's my perfect creative day.
Sarai
Yeah. I love how it incorporates so many different ways to be creative, including cooking and crochet, knitting, reading, which can also inform a lot of creative ideas. And I think it's really cool.
Haley
I'm like a little bit too all over the place of a person to just spend the day doing one thing or spend my creative time really even doing one thing, which I guess is kind of the point of this episode that we'll talk about today.
What about you, Sarai? What would you do?
Sarai
Well, I think I'd kind of go in a little bit different direction. I also have a lot of different things that I enjoy, but I'd probably structure my day in such a way to have kind of a warm up, a cooldown, and then spend the bulk of the day on one project. That always makes me feel really satisfied if I can do that.
So maybe I'd start with I like your idea of going for a walk or something, getting outside. That's really important to me. And then maybe doing a little reading or writing just to kind of warm up for the day and then maybe spend the day, I think right now, I would choose drawing as my main project for the day because I'm trying to learn how to draw in Procreate on my iPad a lot more.
So that's probably how I'd spend my time, just because it's something that I'm learning right now, and I'm really excited about it. So I'd probably spend several hours on that and then kind of cool down for the day, maybe with some knitting and an audiobook or something like that before making dinner. I like that idea, too. Incorporating the mealtime into your creativity, that sounds really nice, but I would definitely want to focus on one big project for the bulk of my time, because I feel like that's where I have the most difficulty in life, is just finding big blocks of time to work on things versus little chunks here and there.
So that's what would feel special to me, I think. But I think both of us like having a lot of those different hobbies to incorporate into our practice, and I think that really it helps me stay very refreshed, I think.
Haley
Yeah, especially coming from a place of having sewing is a big part of our jobs, and what we do, we've had to find creative ways to stay engaged in it, and I think that having that variety definitely contributes to that.
Sarai
Yeah. So I think that's a really great icebreaker for this episode and leads us into our topic. But I want to mention before we get into a little bit more discussion, if you have an icebreaker that you want to share for a future episode, you can leave it for us. If you're a Seamwork member, you can go to Seamwork.com/go/icebreakers, and that will take you to a section in our Community where you can leave a question for us.
All right, so getting back to the topic for today, I think when you focus all your creative energy into one pursuit, it becomes a lot easier to burn out and get really creatively stagnant when it comes to that one thing.
I think that's why it's so helpful to have other hobbies, and sometimes that can feel kind of overwhelming. If you already feel sort of crunched for time to dedicate to your hobby, then it can feel a little bit overwhelming to add more things on top of it.
But I think that sense of creativity that you get from pursuing other interests and learning new things can really give you a fresh perspective and beget more creativity in your life as a whole.
So let's just talk about the hobbies that we have outside of sewing. So what are your main hobbies outside of sewing, Haley?
Haley
Well, gardening is definitely a hobby of mine, but that's more seasonal, at least the way that I garden. I spend more time doing that in the spring and summer. And also, I would say I'm a crochet and knit dabbler. I like small, little projects, but it is something I usually have something in-progress. Drawing and watercolors, cooking, baking something I always try to remind myself is that hobbies can be kind of big and small. They can be something that you put down and take back up again.
I think removing that expectation that it needs to be something I constantly engage in keeps it light for me, and then also elevating my everyday things to hobby status, like cooking or baking, I guess. I suppose I don't have to cook, but I do as part of my life. And remembering to kind of spend the extra time being present and enjoying what I'm doing and elevating it to that hobby status brings extra joy to the ordinary tasks in my life.
Sarai
Yeah, absolutely. I think that's a really great way of looking at it and a really great way of framing some of the things that we do in our lives that can bring us joy. But for some people, don't always—cooking is one of them. Not everybody enjoys cooking, but if you do enjoy cooking, I think it's helpful to frame it that way so that it doesn't feel like as much of a chore. It feels like something that you get to indulge in.
Haley
I treat physical hobbies in kind of like a similar way. I love doing yoga and Pilates, and I love going on long hikes or walks, but I just kind of like take the path that feels like best to me in that moment and remember yeah, to elevate it in that same way that I talk about cooking.
And that just keeps me feeling creatively, fresh.
Sarai
Yeah.
Haley
What about you, Sari? Tell me about your hobbies.
Sarai
I have a lot of the same ones as you, but I think I could divide them into a few categories so I have my more physical hobbies, like what you were just talking about. I like hiking, camping, backpacking, all that stuff. I like working out. It's kind of like one area of my life.
And then there's kind of the domestic hobbies, like gardening and cooking and baking. I do all of that too. I like canning, do a lot of things around the house. But when it comes to the things that are more adjacent to sewing, I've always been drawn to textiles. I don't know why, but I've always loved textiles. So I have a lot of textile hobbies that some of which I dabble in, some of which I'm more serious about.
I'd say the ones I'm more serious about are knitting. I love knitting. I've been knitting for quite a while now. Not as long as I've been sewing, but for quite a long time. And I think it is a really great complement to sewing and really makes you think about sewing in a different way. So that's my main, I would say, textile thing that I spend time on besides sewing.
But I also like crochet. I'm kind of getting a little bit more into that lately. I like embroidery. I've been dabbling in that a little bit more lately. And the other thing that I want to spend more time on. I mentioned drawing, but I'd love to get more into textile design and just printing my own fabrics from Spoonflower and using that in my sewing as well, I think, or using it around my home, I think would be really, really cool and really creatively fulfilling and just a really fun, artistic pursuit. So that's something I'm trying to get a little bit more into and learn about right now.
But I've dabbled in a lot of things. I've tried dyeing, I've tried all kinds of stuff, and it's so fun for me to learn things.
Haley
Yeah, you bring up a good point. I definitely am a dabbler, and I've done courses on dyeing and workshops and quilting classes, and I do like, a little bit of everything. And I think that the experimentation, even if it's not at hobby level, is really fun and delightful.
Sarai
Yeah, absolutely.
Haley
All right, so how do you feel like your hobbies feed into or inspire each other?
Sarai
Well, we talked about knitting a little bit, and I think that's the main one that I feel like really inspires my sewing, because when I started sewing, and for quite a long time with sewing, I felt like it was all about the end result for me, it was all about the product.
And I think knitting really forces you to slow down because it's such a slow process, and it takes so long, at least for me, to finish a garment that you really have to love the process as well. And you also have to be very okay with making mistakes and going back and redoing your work, because that's going to happen with knitting. And it's not a matter of just taking a seam ripper to it and spending an extra hour. It could be days of work that you have to take out and redo. And I feel like that has really taught me a lot about sewing and about how to take your time and just enjoy what you're doing rather than always thinking about what the end result is going to be, how you're going to have this extra thing in your life.
And it's more about the process of making it and enjoying that. So I feel like that's the one that really comes to mind for me. What about you?
Haley
I would just say that I just love to be able to make things my own and make my own path. For instance, something that comes to mind is I'm making a flower girl dress for Charley right now. She's going to be in a wedding, and the palette is gray, but finding a dress for a three year old that's gray and special, it's, like, surprisingly very hard unless it's like a Cinderella dress or something. And so I've just had the hardest time finding something that's right.
So of course I'm making it, but I cut everything out. I hacked a pattern. I did all this stuff and I was like, you know what would really set this off is if I found some crocheted lace trim that I could incorporate into the garment that would just make it feel so much better. So I go all over the place looking for this trim. In my mind, that seems really simple. Of course I can't find it anywhere. So I end up buying like three rolls of cotton, natural colored trim and a bottle of dye. And I just love knowing that I have the know-how to be able to do it my own way and figure it out.
And I think that's how they feed into and inspire each other—is that by having this arsenal of skills and tools that I'm constantly dipping into one hobby to serve the other.
Sarai
Yeah. What do you think that is? I feel like there are certain people, and I think most sewers are like this, who just want to be able to do things for themselves. There's this sense of self reliance. I don't know if self reliance is the right word. Maybe it's just a, I don't know, it's a DIY spirit or maybe it's just creativity and wanting to live out the vision that you have in your own mind. But I feel like this is very prevalent among a certain type of person.
Haley
I feel like this feeds into my next question, which is: is there a common thread that runs through all of your interest? And previously I would have said a very keen need to be independent and be able to do everything myself.
The more like I've sat with that, the more I've realized that that's not really it. I think that it's fun to be able to do it yourself, but I don't think it's a major motivator to me. I think that the common thread is that I have a bottomless well of curiosity and I fulfill that curiosity with my creativity. So that's kind of the common thread is I just want to know how do you do it? I want to understand.
What about you? Do you feel like you have a common thread that runs through all of it?
Sarai
Well, I think what you just said is true, but I think for me, there's multiple dimensions to it. There's that there's that curiosity. I love learning new things and I think that's a big part of it.
I think the self reliance and being able to do it for myself and the accomplishment, the sense of accomplishment that comes from that is another dimension. And then I think there's an aesthetic dimension too, where I just really care about what I surround myself with in my life. And I don't think everybody needs to feel that way or not everybody does feel that way. It's totally fine.
For me, I really want to be surrounded by things that I feel like, I don't know, express the way I want to live the vision I have, what I find beautiful, what I find joyful. And I think having the ability to create those things for myself allows me to do that in a different way than I think I would be able to if I weren't able to create stuff on my own. So I feel like it's those three dimensions kind of come together and make these kinds of hobbies important to me.
Haley
Yeah, you bring up a really good point. I think there is definitely aesthetic motivation, as illustrated by my need to have gray crocheted trim for this dress. I could have just ordered whatever thing on the Internet and just been fine with it. But I do put a level of importance onto aesthetics.
Sarai
Yeah. And I think with aesthetics, for me, it's not just looks I'm not just talking about visual aesthetics, but also we were talking about cooking and baking and things like that, but it's just like bringing these pleasures into my life and making life as joyful as possible.
Haley
Totally. And then experiencing those pleasures and experiencing them in the moment, but also as memories. And as I was planning this dress and I'm now making it, it's like I want Charley will look back at those pictures and she'll know that I made that dress for her and it'll feel really special and it can become a keepsake, you know, it just feels meaningful.
Sarai
Right, exactly. I think these are meaningful pleasures. And I think I personally think in our society today, we're very inundated with these kinds of pleasure that are more quick-fix, just like a quick hit of dopamine scrolling through your phone, for example, or watching TV or whatever. Not there's anything wrong with those things. We all do them.
But I feel like some of the more meaningful pleasures in life are not as prioritized because of that. And I think having creative hobbies allows you to bring more of that into your life, which is not always encouraged by outside forces.
Haley
I totally agree. Well, let's get into some of these hobbies. So what we are going to do is we are going to list ten of our favorite sewing adjacent hobbies and then we're going to give you some ideas of the things that you might gain from adopting or exploring these hobbies.
So I'm going to start us off, number one with knitting. I would say that some of the takeaways from knitting, patience, for sure. Knitting is just something that is so much more time consuming than sewing is. So as someone who learned how to knit after I learned how to sew, it was such a practice of patience to get myself to slow down, even just for the little things I make, like hats and mittens and little odds and ends.
Something else that's really interesting about learning how to knit is you learn a lot about the structure of fabrics. Obviously, knitwear in particular, like, how is a rib knit made? Well, if you learn how to knit, you will find out exactly how it's made and why it functions the way that it functions.
You also get to learn about different fibers because you're working with fibers in more of their raw form. So I think it's an opportunity to get a little bit more nerdy about fibers.
And then I think it's really fun that you get to style your knit projects with what you sew and incorporate it into your wardrobe planning. It just adds an extra layer of dimension into your me-made wardrobe.
Sarai
Yeah, this season, I used Design Your Wardrobe to create a plan for my fall wardrobe, including one piece that I'm knitting right now. And that was really fun because I could make it kind of coordinate and the colors go together, and it's something that I can wear with the things I'm going to be sewing. So it's really, really nice to be able to do that. It's really fun.
The next hobby is one that I've been getting into lately, which is crochet. And the cool thing about crochet, if you don't know this, I didn't know this at first, is that it can't be replicated by machine. So everything crocheted is actually done by a person. It's done by hand. And that really helps you to learn the value of something that can really only be made by human hands. And I just think that's so interesting about crochet, because you do see commercially sold crochet pieces in stores, and to know that each one of those is crocheted by a person and not by a machine is really interesting.
I think the other thing about crochet is that it's not as linear as knitting. So knitting is usually a back and forth process. Crochet can be or it can also be crocheted in rounds. There's different ways to crochet, but it's different. And it's easier to do three dimensional objects with crochet than it is with knitting. So it's kind of a fun puzzle for your brain, a 3D puzzle for your brain sometimes.
And you can incorporate crochet into your home sewn projects. You can make straps, you can make lace. So Haley's talking about dyeing, some crochet lace, but you could also make it yourself, which is something I've been wanting to do. You can make a yoke.
Right now, I'm crocheting a bunch of little lacey granny squares, and I'm not exactly sure what I'm going to do with them. I'm either going to make a yoke out of them and then use that to sew a top or a nightgown or something like that. Or I might make a whole top out of them, depending on how many I want to make.
Haley
It will be so cute.
Sarai
That's another great thing about crochet. If you do granny squares, you can just kind of go and make some and try it out, try to some different patterns, and then you can figure out what you're going to make with them later. You can make a top or a blanket or a scarf. There's so many different things you can do with it. And I just love the lacey look of crochet, too. There's a lot you can do with it. And I was just telling Haley before we started recording that I recently bought a crocheted dog toy, and this thing is—crochet is very dense, so if you're not doing lace, if you're just doing, like, a regular crochet, it's a very dense fabric that it creates. And this dog toy is indestructible. It's amazing. She loves playing tug of war with it and fighting with it and squeaking it, and it has held up beautifully.
So crochet is very, very sturdy as well. So I really enjoy crochet. I think it's an underrated hobby.
Haley
Yeah, I'm a fan, too. I also am making little granny squares right now for a blanket, but it's like a fun little bedside project. Make a granny square while I'm watching a show at night or before I go to bed. Just, like, a little way to sneak in, like, 20 minutes of soothing my mind with some hand work.
Sarai
Yeah, it's great for the car, too. Very portable. That's one of the things about knitting. If you're knitting a sweater, it can take up a lot of space. But if you're doing granny squares, then it's very, very portable. And if you know how long it takes you to do a square, that makes it really easy, because this will just be a 20 minutes thing or a 40 minutes thing or whatever. Makes it easy to fit into your day.
Haley
Totally. All right. Our third hobby is quilting.
This is something I would say I heavily dabble in. Something that I think is a really important takeaway that you get from quilting is the level of precision. With quilting, you are usually working with quarter inch seam allowances, so you're getting familiar with those smaller seam allowances. You're working with great precision so that the elements of your patchwork line up in the way that they are supposed to.
You're also taking more precision time for precision when you're cutting.
I think what's really fun about quilting is quilters have the best tools, such cool tools and rulers. I love looking at all the quilting rulers at fabric stores.
I also just think it's really fun to incorporate quilting and patchwork type elements into your me made garments or just making an entire garment patchwork or quilted. I think that there's, like, a lot of overlap that you can embrace there.
Sarai
Yeah, absolutely. It's also really fun to play with color and pattern in quilting. I think that can teach you a lot about your garment sewing, too. It may make you a little bit more adventurous about choosing colors and finding ways to make them go together. I think that's one thing that I really enjoy about quilting.
Haley
And a great way to use up scraps that you create for making your clothing.
Sarai
Absolutely. Even if you're just making little quilted accessories and things. I just made a little quilted sunglass case recently, just with scraps. Took hardly any fabric and very cute and very practical.
The next one is another one that I've been dabbling in a little bit lately, which is embroidery. If you guys follow us on YouTube, you might have seen my video. I made an Aims blouse with some white work, embroidery on the yoke, and I absolutely love it. It's so pretty.
What I like about embroidery there's a lot of things I like about embroidery, but you get a chance to practice your hand stitching because that's something that I've always kind of I've always kind of saw hand stitching when it came to making garments as necessary sometimes if you want to get a certain look. But I never really enjoyed it because it's so time-consuming.
But I think getting into embroidery caused me to really stop and enjoy the process of hand stitching. And that's kind of a theme you see in some of these other hobbies is giving you the opportunity to slow down and enjoy a certain piece of sewing. So that's one thing that I really like about it.
You can kind of mesh, pre-planning, doing some maybe drawing, creating your own designs with more improvisational work, which I also really like. It's true for quilting, too. I think doing some improv quilting is also really, really fun, and you can embroider just about anything you sew.
I think the world of embroidery is really vast. I hadn't really known that much about it going in, but there's so much history behind embroidery, and there's just so many styles and so many intricate patterns and things that you can do with it, which I just think is really, really interesting. So once you get into embroidery, there's just like an endless amount of learning that you can do.
Haley
Yeah, it's a really fun thing to play with. I took some embroidery classes years ago, and I really enjoyed them, but haven't really incorporated it much into my sewing. I'd love to do more of that.
All right. Number five on the list is dyeing. I love playing around with dyes. I always feel like a mad scientist. It gets me into that experimental mindset because, I mean, maybe more advanced, better dyers than me have it down to a science.
But for me, it always feels like there's no guarantees in the way that my dyed projects are going to turn out.
And it kind of helps you embrace rolling with the imperfections, rolling with the unexpected. I think, like 50% of the time, my dyed projects turn out exactly how I think they're going to. Sometimes they're a little darker. Sometimes they're a little lighter. Sometimes, especially if you play around with natural dye, it's just fun. I think if you embrace that irregularity of it.
I think another great aspect of dyeing is that if you hate the color of something, then you can just dye it. It gives you a lot more control over your color palette.
There's also so many areas like embroidery that you can dabble in. There's natural dye, there's cyanotype. There's resist dyes like batik or Shibori or discharge dyes. So many different areas to explore.
Or you could just get a regular old box of RIT. Also recommend that. That's fun, too.
But we have tutorials on our website for a lot of these different styles of dyeing and techniques. So definitely check that out. We can link those in the show notes as well.
Sarai
Yeah. And if you're looking to get into dyeing, check out Dharma trading company. They have a lot of great information about dyeing, and they also sell a lot of different types of dye as well. So if that's something that you want to start playing with, then that's a good resource for you.
I've been encouraged on our community to—I made a pair of Joss pants. We have a video about these joss pants that I made that are a little close to my flesh color, and I'm not super crazy about the color. I kind of thought they were a little bit of a different color in the light of the fabric store than they ended up being. So I have been encouraged on our community to try dyeing them, so I might do that and see how they come out.
Haley
You don't want to look like Winnie the Pooh, like, naked below?
Sarai
Pantsless. No, not exactly.
Haley
Was it's not on your Design Your Wardrobe mood board?
Sarai
No, the pantsless look was not on there.
All right. Number six printing. So we're talking about screen printing or block printing. This is something that I was really into when I was young. I took screen printing classes. I love doing screen printing. I even screen printed my wedding invitations myself. But I also really like block printing. I think block printing is really, really fun and actually very easy to do.
You get to use a totally new medium. You get to work with ink. You get to learn a whole process around screen printing, creating those screen prints.
And if you like to draw, it's a really cool way to incorporate art into your clothing, which is something that I really love because it really lets you create your whole look top to bottom if you can basically create the prints on your own fabric.
And you also get to play around with a lot of different tools and technology depending on how you decide to go about it, if you're burning screens yourself or not. And then block printing is more of a low investment way to do it. And we have a tutorial on that. We'll link that in the show notes below as well. Block printing is incredibly easy to do and can make some really cool designs and I just think it's so fun to play around with these different ways of manipulating fabric to create your own designs that you can then turn into, whether clothing or home goods or whatever.
It's a really way to kind of infuse your creativity into a project from the bottom up.
Haley
Okay, next up on our list is we have weaving or spinning or really just any kind of fiber craft that involves creating your own fiber or turning your fiber into fabric or into yarn if you are spinning.
So this has a lot in common with knitting in that you get to learn a lot about the structure of fabric. You're also learning about different fibers in a more intimate way.
If you ever spend the time to weave something, you will never balk at a fabric price ever again when you see how complex of a process it can be to create a piece of fabric.
If you like incorporating more physical elements into your hobbies, I think that weaving on a loom can be very physical, which is something that I personally find to be a really engaging element in a hobby.
And also you get to have ownership of the entire process of creating your garment. If you are spinning your own yarn and weaving it and then sewing it into a garment, I mean, that really is the ultimate DIY experience.
Sarai
Well, I guess you could raise the sheep yourself.
Haley
You could. That would add a whole new layer.
Sarai
Some people do, which I think is just amazing. If you can do that.
Number eight is shoemaking. This is a really fun one. You can learn a lot about leather, about different tools, about different findings, things that maybe you don't have an opportunity to use in your day to day sewing. And you can create a whole head to toe, me made outfit, which I just think is absolutely amazing.
I know Robin has come into work wearing the espadrilles that she made with clothing that she made, and it's just amazing to see that, like, from all the way from the tips of her toes to the top of her head, she's wearing her me-mades. So I think that is so cool. And you can use your own fabric. You can make it match your outfit. There's just so much you can do.
We have a leather house shoe and espadrilles tutorial, so if that's something that you're interested in, we'll link that in the show notes as well. And the other thing about making shoes is that it feels really three dimensional. So in sewing, you don't really see that three dimensionality until the end.
But when you're crafting shoes, you're working in three dimensions the entire time, which I think is really, really cool and a little bit different. Sort of similar to crochet in that way.
Haley
Yeah. When I took a shoemaking course, it felt like one half sewing to me and one half sculpture. It just this very three dimensional element that I found way more intuitive than I thought it would be, and I just really enjoyed it. And it was also so fun to if you're making leather shoes, all of the different little fun machines you get to experiment with. I'm a nerd about that kind of stuff, so I loved that.
If you can find a community college or place that offers classes in shoemaking, it can be a really fun experience to play with that kind of equipment.
Sarai
Yeah, that sounds really fun. I've never made shoes myself, but I have a friend who took a shoemaking class, or she took several shoemaking classes at FIT in New York, and she just made the most amazing shoes, just gorgeous shoes. I just thought it was the coolest thing ever.
Haley
It's so fun. I love it.
All right, well, kind of adjacent to that, we have leather. Working with leatherworking, you get to learn about different tools and techniques, which can be really inspiring. You can take a lot of those techniques and apply them in unexpected ways to your home sewing, your garment sewing.
You can also take your bag making to the next level. Instead of upgrade your canvas tote bags, to leather tote bags.
You can incorporate leather elements into your me made clothing as well. And I think in my experience, leather goods are kind of the ultimate scrap-busting projects. The amount of things that you can fit into a single hide or just buying little scrap bundles of leather at leather stores is kind of amazing.
And because leather doesn't have a grain, you can really Tetris things onto a hide, which I think is really a fun little puzzle all in itself.
Sarai
And the final hobby that we wanted to talk about today is punch needle. I think punch needle is so cool, and it's definitely getting a lot more attention in the last few years. It's a little bit trendy, but it's got that instant gratification. I think you can make such amazing, cool, incredible projects using punch needle techniques, and you can bring that kind of fiber art into your home for everybody to see and for you to enjoy every day.
You can also make bags with it. I've seen some really cool punch needle bags, and they have such beautiful texture to them. So I think it's a really cool way to add a little bit more texture and color and just interest into things that you sew as well, if you think about it that way.
And it's really good motivation just to sew more home decor if that's something that you want to do more of. I'd really love to experiment more with punch needle. I've done a little bit in the past, but I would love to do more of it. Have you done punch needle?
Haley
I have not. I have a latch hook rug in progress, which is different, but I have not let myself buy a punch needle kit, because I have that in progress. I'm like when I finish it, I will let myself.
Sarai
So those are the ten hobbies that are adjacent to sewing that can really add to your sewing project practice.
And we've talked about how each of those can contribute to the way you think about sewing and the things that you make when you're sewing, which I think is just essential. Maybe not essential, but I think it's really, really helpful and fun.
So I'll just read through the ten real quick for you, just to remind everybody. So they were knitting, crochet, quilting, embroidery, dyeing, printing, weaving, or spinning shoemaking leatherwork and punch needle.
And there are even more than these ten, but these are the ones that we've, personally, at least one of us, has done and enjoyed. And I think that hopefully you guys have found something in here that piques your interest that you might want to add into your repertoire and at least experiment with a little bit today.
So what's your big takeaway from today's episode, Haley?
Haley
My big takeaway is I am, like, an expert dabbler just looking at this list. I've done every single one of these things except for punch needle, and that is on my to-try-soon list. And I would even consider myself to be semi proficient in many of these. And I just am reminded of how much joy and satisfaction that brings me to know that I can make it my own way and make it myself. And I just think that's, like, a really good feeling.
Sarai
Yeah, absolutely. I think for me, going back to our earlier conversation, when we talked about kind of the why behind these hobbies and what motivates people like us to enjoy so many of these hobbies and to want to take up some of these things, I think that really stuck with me in that there are these different facets to it. It's not just one thing.
For me, it's about the self reliance. It's about the sense of accomplishment. It's about the creativity, the do it yourself aspect. But it's also about that aesthetic that we talked about earlier. And I think aesthetics in our culture can be seen as very superficial and not important, but for me, in my life, they do bring me a lot of joy, and I think it's worth owning that. If you feel that way, if you feel like having beauty around you is important to you, then I don't think there's anything to feel badly about or feel guilt about or feel like it makes you a superficial person.
I think that's a big part of creativity for a lot of us, and there's nothing wrong with that.
All right, so if you have heard something today that piques your interest and you maybe need some supplies for some of these new hobbies, your local fabric shop probably has a lot of options.
There's a lot of great local fabric shops that you can turn to. And we've mentioned some resources today in the episode if you're interested in checking out some online fabric stores. Seamwork members get discounts at some of our favorite independent fabric stores, and there are some amazing ones that we partner with. You can save anywhere from 10% to 20% off your purchases as a Seamwork member, and a lot of people say that these discounts alone pay for their entire membership.
So if you want to see the list of participating fabric stores where you can get discounts as a Seamwork member, you can go to Seamwork.com/deals. And there really are some awesome stores on there, and they are worldwide. There are just dozens of them on there, and we love them.
Haley
I use them all the time.
Sarai
Yes, absolutely. And they don't pay us any money for this. We just like to promote them, and they like to offer a discount to our members. If you like this episode, we would love it if you could leave us a review.
If you want to leave us a five star review and add a question on there, then we will answer it in a future episode. So if you have a question for us, or maybe it's an icebreaker you want us to use, you could leave that in a review for us, and we will use it. So we love to hear your reviews. It makes our day to hear what you have to say. And for those of you that take the time to leave us either five stars or leave us a review and five stars, we really, really appreciate it and really appreciate the time it took you to do that.
And that does it for us this week. I'm Sarai.
Haley
And I'm Haley.
Sarai
And this is Seamwork Radio.
Join the Conversation
Sign in or become a Seamwork member to comment on this article.