We all make mistakes when we sew. It's normal.
Almost every project you sew might have a few sewing bloopers, but the silly little mistakes you often make are pretty easily avoidable.
In this week's episode, Sarai and Haley talk about some of the most common sewing bloopers and how to avoid them.
Below are the show notes for this podcast episode and a brief summary of what's covered, followed by a full transcript.
5 Common Sewing Bloopers (And How to Avoid Them)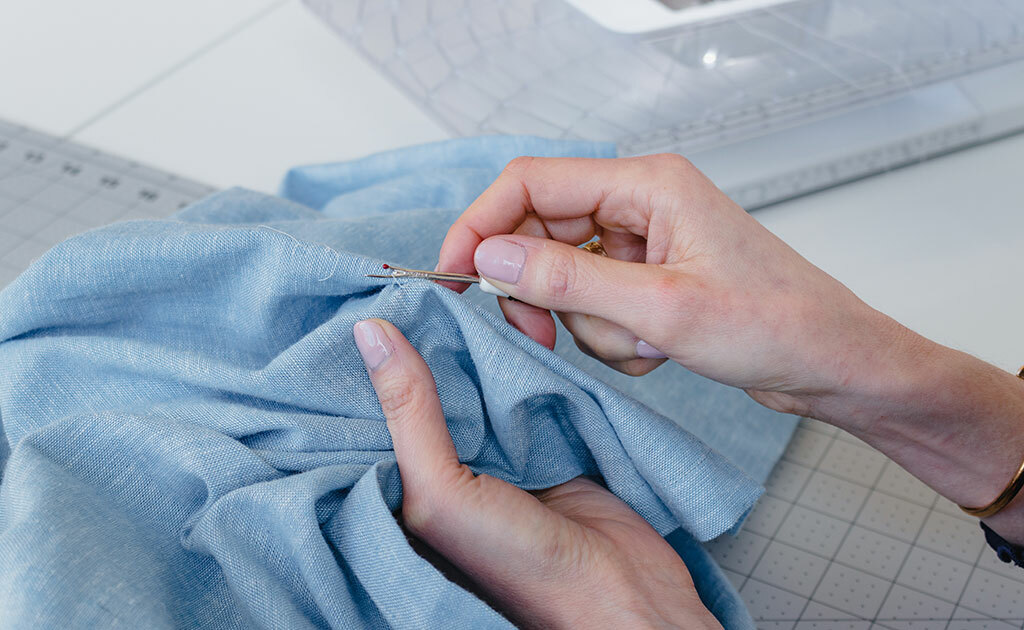 Mistake 1. Neglecting Your Instructions
Even if you think you know how to sew something, it's always worth skimming your instructions and taking a few notes. Sometimes, the order of operations that a patternmaker includes is extremely important. Plus, you might learn a fun new trick!


Don't totally neglect the cutting layouts. At least look at them before you decide to go rogue. Remember to pay attention to directional prints and napped fabrics.


Note the seam allowance—and double-check to ensure your pattern includes them. You can find seam allowances for Seamwork patterns listed on the page with cutting layouts.


Flag the tricky steps. Skim through the instructions and note any new techniques so you can practice them.


Mistake 2. Not Thoroughly Prepping Your Project
Have you noticed that you spend most of your time working on a project away from your sewing machine? Prepping your fabric can sometimes take as long as sewing the garment.


Always measure your test square to avoid printing mistakes. It's always that one time you don't when it decides to print at 95% or 102%.


Pre-treat and press your fabric. This may include washing your fabric to get rid of shrinkage. Do you really need to pre-wash? Read this article to see why.


Transfer all markings. It's tempting to skip this step, but you'll be frustrated later if you don't accurately transfer all your markings.


Test your stitches on a swatch. Make sure your tension and stitch length works for your fabric.


Staystitch to prevent stretching. Do you really have to staystitch? Read this article to find out why.


Mistake 3. Making Assumptions About Fit
Fitting is a whole different subject, but there are a few things you can do to improve the fit of your garments without even learning specific fitting adjustments.


Read the body measurement chart and the finished garment measurement so you understand the ease in the pattern.


Compare the ease in the pattern to the ease you'd like in your project. Make sure you understand the design intent and wether that garment is a good fit for what you're looking for. For example, if you want a fitted button-up top, but the pattern has more than 4 inches of ease throughout, it's better to start with a different pattern than to try to size down.


Take accurate measurements. Need help? Here's a tutorial.


Make a muslin. It's always a good idea. But if you aren't sure about the fit, you're making something fitted, or you are using precious fabric, it's extra important to make a muslin. Read this article to learn how to enjoy the process.


Mistake 4. Flying Blind When You're Confused or Disoriented.
If you need clarification, pause and look up the technique. This is especially important in multi-step techniques like zipper flys, sleeve plackets, or welt pockets. Don't try to persevere through confusion.


Baste a mock-up. If you're feeling really stuck, baste a quick mock-up or cut a little sample out of paper and test it.


Sew a bunch of practice samples before the real thing. This is especially helpful with zippers and collars.


Mistake 5. Letting Imprecise Sewing Wreck Your Project


Sewing is a relatively precise hobby. The world won't end if your seam is a little off, but consistently cutting and sewing slightly off can add up to several inches by the time you're done with your garment.


Imprecise sewing can start with imprecise cutting, so cut as precisely as you are able.


Hand-baste things like zippers and collars to keep things steady while you sew for real.


Aggressively pin. Think of pins as little extra sets of hands.


Double-check your markings. If your markings are off, pause and cross-reference your original pattern piece. It could be an indication that you sewed something incorrectly along the way.


Always match your notches. Notches are there to make your sewing easier!


Clip and notch curves. This reduces bulk and ensures you get a smooth curve.
Use a point turner. It can get into corners that your fingers can't.


What's your biggest sewing blooper? Comment and share the story!
Join the Conversation
Sign in or become a Seamwork member to comment on this article.