It's the final week of Design Your Wardrobe! Sarai and Haley are doing DYW right now, too, and they're sharing their experiences (and tons of tips) with each module in the course.
This week, they're sharing the checklists they made that all of their plans must meet, some details about the outfits they put together, and some of the patterns they plan to make.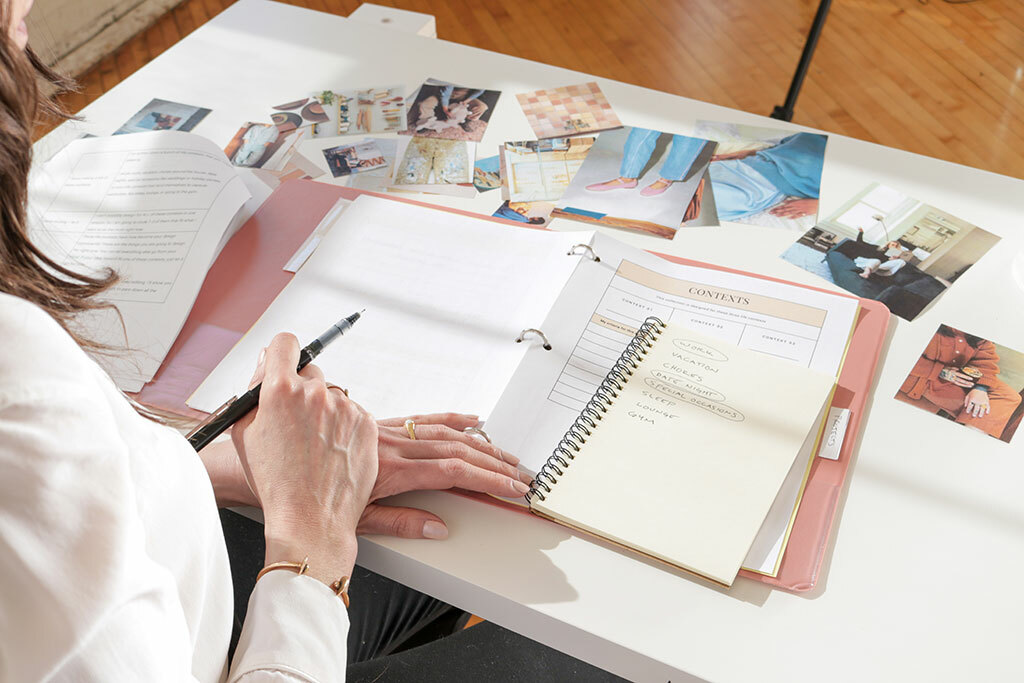 Tips for Design Your Wardrobe Week Four


Listing constraints can help you make decisions. If you make a checklist of everything your garment must achieve, you can cross-check it at any time.


Sarai's constraints are warmth, comfort, layerability, it has to work with boots, and it has to have pockets.


Haley's constraints are warmth, comfort, and launderability.


Sarai wants to make a sherpa jacket and a quilted jacket this season. Her outfits include a sweater dress with tights and boots, high-waisted pants and a knit top,
a mini skirt with a sweater and tights, and a pinafore dress to layer over her long-sleeved blouses. She also wants to knit a sweater vest to wear with a loose dress.


Haley wants to make a quilted coat. Her outfits include straight-leg pants and an oversized button-up. Wide-leg pants and an oversized sweater, and an overcoat. Straight-leg or wide-leg pants, a cropped sweater, and a boxier jacket.


Outfit formulas can help you plan an outfit! What's an outfit formula? It's a simple combination of different garments that combine well to create an entire look. Rather than always trying to put together an outfit from scratch, you can quickly pull garments that complete your favorite formulas.


Alternate your challenges. If you plan some big projects, alternate them with quick, easy wins so you don't get overwhelmed with your plans.


Have your plans in your face. This is when physical project plans come in handy. Keep your mood board nearby at all times!


Podcast Transcript
Sarai
I'm Sarai.
Haley
And I'm Haley.
Sarai
And this is Seamwork Radio.
Sarai
Welcome back to Seamwork Radio, where we share practical ideas for building a creative process so you can sew with intention and joy. So, it's August, and that means it's time for the fall session of Design Your Wardrobe. So, over the last four weeks, Haley and I took you along as we did the entire Design Your Wardrobe program. So you got to see an inside peek at our personal processes. And today, as we're at the end of August, we are going to be talking about week four, which is the final week, and we are going to be planning our looks this week.
So we're going to start with our Icebreaker. So, Haley, what's the one thing you're most excited about making this season?
Haley
I am most excited to make a quilted jacket that's on my queue. It was on my queue last fall, and I did not get to it, and it's going to happen this year, and I'm really excited about it. What about you?
Sarai
That's cool. Mine's also a jacket. I really want to make a sherpa jacket, kind of a teddy coat style jacket this season, so I'm really excited about making that. I think it's going to be something that I will wear a lot. It's going to be super warm and cozy and have that perfect balance of being kind of I don't know, I think sherpa can read a little bit, sporty and fleecy sometimes, and then it can also read kind of faux furry and more glamorous sometimes and also kind of workwear. So it's kind of that perfect balance for me. So I'm excited about making that.
And if you have an icebreaker that you'd like to ask us for a future episode, if you're a Seamwork member, you can go to seamwork.com/go/icebreakers. That's going to take you to a thread on our community where you can leave a question for us, and we will use it as an icebreaker in a future episode.
All right, so, just to recap, if you're not familiar with Design Your Wardrobe, what it is is a four week program that we run twice a year that helps you to design your wardrobe for the upcoming season and create a sewing queue.
So we are at the tail end of our fall season right now. We also have a self-guided, standalone one that's also available for free to Seamwork members if it's something that you're interested in doing and you didn't catch this season.
So this is a really fun program, and a big part of that is doing it alongside our community twice a year and really experiencing that collective excitement as a group. So we wanted to bring a taste of that to the podcast this month by sharing our own process for Design Your Wardrobe. So, between the two of us, we've done this program many, many times, and we're going to be discussing our own plans, and we're also going to be sharing some tips for this week along the way.
So week four, which is where we're at, is really where we solidify our collection plan. So we build outfits, we create our project plans, and we make our sewing queue. So one of the things that we do is create a checklist of the constraints. So these are the constraints that we want the projects that we are going to be making to follow. So what is on your checklist, Haley, for the season?
Haley
Okay, so I have a few things on my checklist. My number one constraint, comfort, because it gets a little cold and I just want to be comfortable.
Second constraint is warmth. I want to feel warm and cozy.
Third is versatility. All three of my contacts have a lot of overlap and for that reason I want most of the things I'm making to at least be able to be wearable for two of my three contacts.
Easy to care for, and launder, which for me oftentimes means natural fibers, but also things I can throw in the wash. I don't care if I have to hang it dry, that's fine. I don't want to be hand washing anything.
Sarai
Ain't nobody got time for that.
Haley
I do not have time for that. I have too many loads of laundry to do. Those are my top constraints. What about you?
Sarai
Those are great. I should probably add the laundry one onto mine. I have like a pile of hand washing that has probably been sitting there for close to a year. I just don't ever do it. Again, I don't mind line drawing either, but I just can't. My checklist. I also had comfort and warmth at the very top of my checklist. Those are really important for me because if something's not comfortable, then I'm just not going to wear it.
Haley
Yeah. And if I'm going to be cold in it, also not going to wear it.
Sarai
Yeah, it's fine for date night stuff. I can have a little bit of discomfort wearing heeled shoes or something like that, but not for my everyday and that's kind of what I'm designing for here.
So comfort and warmth is definitely up there. Layerable. I want things that I can layer with stuff I already have. So that's a really important constraint for me. So I really tried to choose things that I could layer with tights, I can layer with dresses that I already have. I can put things together in new ways. So layering is really a big one for me.
I want to make sure that I can wear it with boots because that's what I wear in the fall. And as it gets muddier and muddier here, it's primarily what I like to wear when I go out. So definitely has to work with boots.
And then the last one, which this process brought up for me, which I think is important and I might not have thought of otherwise is pockets. I just think pockets are really helpful in my day to day life and they're very easy to overlook. But I try to go for a walk each day, so I mentioned in an earlier episode that's one of the contexts I was designing for.
I try to go for a long walk each day, at least once a day, and I like to bring my phone with me in case I want to take any pictures or anything like that, or sometimes listen to music. And I often have to stuff it in my bra because I don't like to bring my whole purse.
Haley
Right.
Sarai
So then it's just kind of weird and uncomfortable. So I want to make sure that most of the things that I design have pockets or can be worn with something with pockets.
Haley
Maybe you need to sew a belt bag.
Sarai
Yeah, I actually want to. That might be on my summer list. I actually kind of want to because I think it would be nice for hiking and walking and all that stuff. Actually have one for backpacking, but it's like a super lightweight thing that packs into a tiny, tiny thing. It's not like an everyday thing. Yeah, so those are mine.
Haley
Those are good ones. I like the layerability one and the shoes one because I think that's really easy to overlook. What shoes are you going to wear with it?
Sarai
Yeah, I mean, boots really go with almost everything anyway, but it's just something I want to keep in mind.
Haley
Yeah. So over the years, how have you used these constraints and context from design your wardrobe?
Sarai
I think in a couple of ways. I think the primary way for me is I keep them in mind as I'm picking out what I'm going to be putting in my sewing queue for the season. So that's the primary thing, is that I think just knowing what they are up front helps you to pick out things that are going to be practical for you. And I think that's the main way I use them.
You can also use them as a checklist and kind of after you've decided or almost decided what you want to make, kind of go through the checklist for each one and make sure that it follows those constraints and it's going to work within that checklist so that's another way you can do it. But for me, it's mostly I just keep it in mind as I'm deciding what to sew. What about you? Do you feel like that's how you use it?
Haley
Yeah, it's definitely a really valuable decision-making tool. I use it during the active Design Your Wardrobe process, but also it's really helpful with wild cards that come up over the next six months between now and when we do spring Design Your Wardrobe. I was considering putting my context up near my mood board this year to kind of help keep that front of mind.
Sarai
Yeah. I think this process really surfaces a lot of things that you might not have thought of. Like, some of them are a little bit obvious, like, maybe comfort. You might have already known that about yourself. But for me, the pockets thing—and pockets have always been kind of like a nice to have for me—ut as I thought about this and I thought about that context I was designing for, and that going for walks is actually something I do every day, and it is very annoying not to have a place to put my phone. I don't think I would have thought of that as a constraint for my projects if I hadn't took the time to write this down.
Haley
So can you tell me about some of the outfits that you designed?
Sarai
Well, this is a fun part. Yeah. I'm really excited about what I'm making this season. So the outfits that I designed, I have kind of, sort of a lot of them. And then I have a couple of outerwear pieces. So those not necessarily incorporated into outfits, but they will go with the outfits that I've designed. So the two outerwear pieces are the Sherpa jacket that I mentioned before. And then I also want to make a quilted jacket. I have a quilted jacket that I cut out, like, maybe two years ago. I never sewed. And I might make that one, but I might want a darker one, so that's a little bit still up in the air. But I definitely want to make a quilted jacket.
So then the outfits are a mini skirt with a sweater. So kind of a looser fit sweater with a short skirt and then tights and boots. That's a look that I really, really like. I have a denim mini skirt that I wear quite a bit, and I have a black one. And so I want to make one in a plaid, like a houndstooth plaid this season.
A pinafore dress with a long sleeve blouse. So I want to find new ways to wear some of the long sleeve blouses that I already have, maybe even some of the short sleeve ones, too. And I don't have, like, a layerable dress, so I want to make a pinafore dress. Probably a Seamwork pattern. Haven't really decided which one quite yet, but I am pretty excited about that one. I think that's something that I'm going to wear a lot.
A loose dress with a sweater vest. This one's interesting because this is a knitting project rather than a sewing project. So I already have lots of dresses, but I want to make a sweater vest. I want to knit a sweater vest to go over them. So that goes back to the layering thing. High waisted pants with a knit top. So my spring designer wardrobe plan, I made a variation on the Chelsea jeans, the Seamwork Chelsea jeans. And I love them so much. They're my favorite pair of pants. The fit is incredible. So I'm really, really excited to make another pair and do it in more of a fall fabric. So that with a knit top, I think that looks really good with maybe a more fitted knit top or even with a looser fit sweater.
And then the last outfit is a sweater dress with tights and boots. I do wear sweater dresses a lot when the weather gets colder because it's a one and done thing. You throw it on, it's knit, it's warm, it's comfortable, it looks chic. You just can't go wrong with a sweater dress. It ticks all my boxes, so I have a few of them, and I want to definitely make another one. I do find them actually a little bit tricky to get right when I'm sewing them, though, as opposed to either something that's like a full fashion knit or ready to wear. Picking out the right fabric so it has that sweater dress look instead of just looking like a baggy sweatshirt can be a little bit hard. So I'm going to work on that and try and get that right.
So those are my outfits. What about you?
Haley
Well, I really heavily lean into outfit formulas, so I would say that my looks that I designed are, like they have a lot of similarities, but I feel good about it. Some of the common themes I'm seeing are a lot of layers kind of leaning into that comfort and warmth that was from my constraints we talked about. Another observation is that I don't have any dresses or skirts. All jeans, trousers, overalls. And another theme I see is that I have at least two layers up top on all of my looks. So one of my outfit formulas is a straight leg pant and an oversized button up or button down. And I always usually layer like a T shirt or something underneath that.
Another outfit formula is a straight leg or a wide leg pant, an oversized sweater, and then an overcoat, something like a long length.
And then I also have a pair of straight leg or wide leg pants, a cropped sweater, and then a boxier jacket. Those are really, when I'm being, realistic, those are the three outfit formulas that I really lean into on the daily. And so I wanted to play with how I can utilize color and fabric there and also just like, elements of styling to make those feel really special and fun.
That leads me into another question, which is, do you tend to lean into outfit formulas?
Sarai
I do. I think I know what I like to wear and what works for me. And so I think it's really helpful to have some of those outfit formulas that you can throw together. I think I have quite a few of them, though it's not just like three or four different ones. I think I have quite a few of them, but I do find that really helpful because it kind of helps me to stick with what I enjoy wearing, what I know that I enjoy wearing. So I think that's really nice.
Like I mentioned the mini skirt and sweater. I have a dark denim mini skirt, and I know that I wear that. I have a black one. I know that I wear that. I own a lot of sweaters already. Like pairing those two things, I know that I feel comfortable in that. So having that as kind of a baseline outfit formula is really, really helpful to me. And then I can make, maybe I'll end up making more than one skirt because I know that I'll actually wear it a lot. And then I mentioned also the sweater dress. That's something I know that I love wearing.
So I find that super helpful. And you already said that you also basically really lean into that.
Haley
Yeah, and I definitely dress outside of that. But when I'm planning my wardrobe, I find it so helpful to lean into those because the wild cards, they come up on their own. I find that that happens really organically for me, but just really being honest with myself about my core formulas really helps me.
When you're sketching or planning your outfits, do you utilize flats or are you drawing on croquis? What's your method?
Sarai
So I, last season, started drawing with a croquis using Procreate on my iPad with an Apple pencil, and I love that I've promised people a video on YouTube about it, but I haven't gotten around to making it quite yet. But it's really easy and fast, and you can really easily trace over the same croquis over and over. You can add a lot of different colors. You can add textures. So that's what I really enjoy using now for doing my sketching, I just think it helps me to create a more evocative sketch than I could otherwise, unless I have a ton of art supplies. So yeah, I really like that.
What about you? Do you do a lot of sketching with a croquis?
Haley
Yeah, I tend to use, like, trace paper and a croquis. I really like using a croquis as opposed to just utilizing flats, because I find that I use a croquis that's me-shaped. I find it really helpful to help me figure out the proportions that I'm most interested in, especially in the fall when we're talking about layering, we have different hemlines and silhouettes at play.
It helps me to kind of hone in on those specific details when I'm in the designing phase so that I have one less decision to make when it comes time to cut out my project.
Sarai
Yeah, that's a good point about it being shaped like you. Also to help you kind of envision what it's going to look like. The same for me, even though I'm a pretty medium size, my proportions are not exactly the mid range so I have like, a high waist. I have longer legs, but a shorter torso, for example. I have broad shoulders.
So what I did is take a picture of myself and then you can just trace it using Procreate. You could trace it just using trace paper, too. Obviously, there's a lot of different ways to do it, but that's a really fast and easy way to have kind of an outline of my own body and be able to fit clothes on it and see, you know, you won't see exactly how they look, but you can kind of get an idea of what it will look like proportionally on you.
Haley
Yeah, especially. And if you're new to outfit formulas or that's something you're exploring, I think that that's a nice way to kind of do a little trial, a mock trial of some of the ones that you're toying around with.
Sarai
Yeah. The other thing I like about Procreate is the color aspect of it because it's very easy to you have layers, basically. So if you're familiar with something like Photoshop, there are layers, and you can delete the layers, add new layers. So you can try on different colors onto your croquis, which is really nice. So then if you have a certain fabric in mind or you're baiting between two different fabrics, you can kind of play around and see what might look better. And I even use it to kind of sketch out the prints of the fabrics that I have, kind of see how they would fall on my body and how it would look. And I just find that really helpful.
Haley
I need to play around with that. That sounds like fun.
Sarai
It's a really fun program.
Haley
So my next question is, we've talked about looks. Now let's get into projects. What projects are you going to be sewing up this season?
Sarai
So far I have six. Along with the one knitting project that I mentioned, I am debating about whether I want to do six projects. I did six projects for spring. It was definitely doable, but it felt like kind of a lot because I had some bigger projects in there, like a pair of pants. And I do have some bigger projects in here as well, but I also have some fast and easy ones in there. So right now I'm at six. So the six projects I have right now are the knit mini skirt. So I already have the fabric for that. I've mentioned the houndstooth double knit. I want to make a pinafore dress. I want to make another pair of the Chelsea jeans, either in denim or in corduroy again. I want to make a sweater dress. I want to make the Sherpa jacket, and I want to make the quilted jacket.
So that's kind of a lot. But that's where I am right now. What about you? What's in yours?
Haley
So the first thing on my project list is a coat. I'm thinking something unlined like the Bad coat. I really love the collar on that and I can't reach for the stars. I would love to, but I got five projects on my queue and that feels a little ambitious.
My next one is like a boxier more workwear style coat. Third project is a quilted jacket of some sort. And then my next project is I want to make, I have a cropped sweater that I really love and I wish I had more of them. So I'm going to make two of those. I'm going to batch sew some.
And then I'm kind of considering making a Roan tunic as well because I think I've been dying to make it and I feel like it fits the mood very well. That's my maybe.
Sarai
Yeah, that sounds great. I'm also thinking about batch sewing some of those mini skirts because I know they'll be really fast to make and that would be fun.
Haley
I always try to consider those, especially with the quick and easy projects, which for me often tend to be more of those staple type things. And if I can stand to batch sew them, it can be a real time saver.
Sarai
Yeah, definitely. I'm also thinking about for the sherpa jacket, I was thinking about making the Seamwork Denise coat for that.
Haley
Oh, cute.
Sarai
Because it's very clean lined, simple, but it has kind of that glamorous 60s sort of look to it. So I think that would be kind of a nice juxtaposition.
Haley
Yeah.
Sarai
But I haven't quite decided yet. I've also seen some really cool sherpa bomber jackets, which I think look really cool, but I'm not sure if I'd wear that as much as a longer coat.
Haley
You could do something like Denise and then bind it instead of like a traditional lining. Depends on if you want to go, like, single layer or if you want it to be lined, depending on the fabric.
Sarai
I wonder if you could make it reversible.
Haley
I mean, that would be very cool.
Sarai
That would be so cool because you could have a Sherpa lining with maybe like a print or something. Maybe like a plaid. That would be so cool.
Haley
Yeah, I think you could totally use Denise to do something like that. Oh, we're getting into the weeds. I love it. So my next question is, how do you set up your sewing queue?
Sarai
My favorite way to set it up is again, I go analog. So I like to print out my project plans from the planner that comes with Design Your Wardrobe. I'll print out the sketches, the croquis sketches I made in Procreate and tape them on there. I'll fill out the whole project plan. I'll put the fabric swatches on it, and then I'll just pin it up on my mood board alongside the mood board.
So I like that because I kind of get a picture of what overall look I'm going for alongside the actual project plan, and it kind of brings everything together for me. So that's how I like to set up my queue. And then again, just like with the mood board, it's nice to just have it in front of me all the time because it's real easy to forget about the projects you planned and get distracted. So I just like to have them in my face and inspiring me all the time.
Haley
Yeah. In the past, what I've done is I turn my Pinterest board into a project queue, so I make sub boards with the flats of the pattern I'm going to use some inspiration photos, maybe fabric, if it's fabric I need to buy. But I do find that it can get a little bit, like, forgotten. This time around. I am going to go with a physical project plan that's, like, pinned up on a cork board or something in my office just so I can see it a little bit more frequently.
It can taunt me until I actually sew it.
Sarai
Yeah, that's what I do. And I like having the physical fabric swatches there too, because it also helps me to remember what's in my stash already, what I need, what I have. I find that to be really helpful.
Haley
What about wild cards? What kind of wild cards do you usually find yourself attracted to?
Sarai
I think that I have two kinds that come up for me. One are the quick and easy projects. So I'll sew something like, I sewed the Seamwork Goldie, for example, in my spring design. Your wardrobe plan. And it was so fast, I did it in a couple of hours, and it was really cute. And so I bought a bunch of other rib knits to make it again.
So I feel like those quick and easy projects are definitely things that pop up and then pretty dresses. I love a pretty dress, and I'll get an idea for one or get a fabric that I really want to make into something. And I think that works because dresses are kind of standalone as outfits. They're pretty easy to incorporate with other things, as long as they somewhat go with your color palette and the shoes you have. So I definitely feel like those pop up as wild cards for me. What about you?
Haley
I would say kind of along the lines of pretty dresses, just like special occasion things, like a wedding happens and I'm like, I need to sew something for it. I mean, I don't, but I do. And then the other kind of wild card is I just find, like, a fabric, and I need to make something out of it.
Sarai
Yeah, that definitely has come up for me as well. Although a lot of times those fabrics, I'll buy something just because it's beautiful, and then they'll just sit there, to be honest with you.
Haley
Yeah, I mean, it's like 50/50 for sure. So in Design Your Wardrobe we have people make a commitment at the end of the process. What is your commitment that you made for this round?
Sarai
What I would like to do for this round is make at least three Seamwork patterns that have interesting details or something new about them.
Haley
Okay.
Sarai
I'm really interested in kind of both using what I have and also incorporating some creative ideas into existing patterns. So that's what I want to do. I want to really explore details. So that's my commitment for this particular season. What about you?
Haley
That's a good one. Mine is more of a time-oriented thing. My commitment is to get in two to three consecutive sewing hours in every weekend. I tend to be able to have little bits of time here and there during the week to sew a seam or set a sleeve or something like that. But I've been less good about longer lengths of time, so that's my commitment.
Sarai
I think that's a great one. You know something I did that was helpful when I was making my Chelsea jeans was I took the pattern and I divided it into three chunks, like three time blocks, and then wrote down, okay, what step I want to get to in the first time block? What step I want to get to second one? The third, I didn't always get to them in the allotted time I gave them, but it really helped me to kind of, like, piece out the project. And I felt less overwhelmed when I got to that final stage because I felt like, okay, I have one more stage to go. I'm doing from this point to this point, instead of feeling like, oh, my goodness, I worked so hard on this already. Because pants are always they take a while, and especially it has a lot of top stitching, so you have to change the thread a lot. So I felt like that was a really helpful thing for me. With a more complicated project.
Haley
Giving yourself some milestones, that's a really great idea. What do you find tends to interrupt your plans or where do you get stuck?
Sarai
So one thing I found with my last Design Your Wardrobe plan, what got me a little bit stuck was that I saved the most difficult project for the end, or difficult projects, I should say, for the end. So I did the fast and easy ones first and then did the more difficult ones at the end.
And I had reasons behind that because I was making YouTube videos and I wanted to get those done. So we had some stuff to put on YouTube, so that might not be an issue for other people. But I do find that pacing them out and making sure I'm mixing up the more difficult and challenging and time-consuming projects with the quick and easy projects is a lot better for me and keeps my motivation flowing versus doing all the easiest things first and then, "Oh, no, I have this project. It's going to take me weeks."
I think at the end is when you're going to be most prone to losing your motivation in the beginning is when you're probably going to have the most motivation. So I think starting with something that's a little bit more challenging or at least doing that a little bit earlier would have been good.
Haley
Yeah, I like alternating my challenges. Then you get a little rest lap.
Sarai
Yeah, I like that.
Haley
I think what tends to interrupt my plans is that I have a lot of steam for my first couple of projects and then it fizzles out. Part of that is because as a designer in the fall and the winter, I'm working on spring and summer, so sometimes it can feel a little like it's hard to be in the moment, but I honestly don't have any advice for that.
I think just revisiting your plan and getting re-excited about it is the best thing that you can do.
Sarai
Yeah, for me, I mean, I've already said this a million times. I think just having it in my face is the best thing for me to stay motivated to do it.
Haley
Yeah.
Sarai
It just makes it feel fresh to me instead of sitting in a binder somewhere or on Pinterest somewhere, and then I forget about it and I get excited about something else. And for me, that's what works. It might work for you guys too, might not, but no promises. That's my experience.
Haley
Okay, my final question. What is your biggest takeaway from this round of Design Your Wardrobe?
Sarai
Well, I think after going through all of it, I think my biggest takeaway has just been to reuse what already works for me, and that's manifested in a couple of ways.
So both reusing things that I already have in my closet, reusing outfits that I know work for me, reusing color palettes that I know that I enjoy, not trying to reinvent the wheel every time works for me.
For some people, they might need more excitement and want to do things a little bit differently each season, and that's totally fine. But for me, I find that reusing what I enjoy and what works really helps me to kind of slim down and focus on what I care about, but also what I'm actually going to get use out of and what I feel good in, and that's really a big part of it for me.
So that's my big takeaway. What about you?
Haley
I think that my big takeaway is not super dissimilar from that. My big takeaway is just less is more. I was really trying to be conscious of how much time I have, and when you start building your project queue, it's really easy to do eight projects or something.
But I really wanted it to feel approachable, and I wanted to focus on some more impactful projects and less filler. And I find that that's making me feel more excited for the plan overall. That's kind of my takeaway.
Sarai
Yeah, it's a good one. Okay, well, just to recap, we talked about our plans that came out of this entire Design Your Wardrobe process. Really cool to see it all come to life.
We talked about constraints and our own checklists for constraints. That's something you can take away, too creating a list of constraints that all your projects have to meet.
We talked about the outfits that we designed and how each of us are approaching that and how we use outfit formulas to help us.
We talked about sketching and some different ways you can do that, either with a tool like Procreate or just with pen and tracing paper.
We talked about the projects we're actually going to be making and how to keep our queues manageable. We talked about the benefits of having a physical mood board for just kind of keeping you on track and reinvigorating your inspiration and what you wanted to work on and keeping that in mind.
And we also talked about the things that can derail us and how we kind of work around those things. So those are our biggest takeaways from Design Your Wardrobe. I hope you guys enjoyed this entire process and going through it with us whether you were following along with Design Your Wardrobe itself or just learning about it and maybe trying out some of the tips and the exercises that we shared, you are totally welcome to do that, as well.
You can also follow along with the self-guided program if you're a Seamwork member. If you actually want to go through and do the whole process and all the exercises, it's totally free for you, so you can check it out at seamwork.com/go/DYW.
And if you liked this episode, please leave us a five star review on whatever podcast platform you choose. We would love to hear your review, and we will likely read it on a future episode if you share it with us.
So, we have one here from Drawsaw. This person says, "My new addiction. Love the supportive atmosphere and helpful info for sewing enthusiasts. Worthwhile for beginners and experts alike. Inspiring and thoughtful." Thank you so much. That is such a sweet, sweet comment. Thank you so much.
And if you would like to leave us review if you leave us a five star review, you can also leave us a question in your review, and we will try to answer it on a future episode.
So, we'll be reading through all those five star reviews, looking for those questions, and we'll incorporate them at the end of a future episode.
ll right. I am Sarai.
Haley
I'm Haley.
Sarai
And this is Seamwork Radio.
Join the Conversation
Sign in or become a Seamwork member to comment on this article.