Aside from the changing weather, I have another thing to look forward to as the seasons switch: a new wardrobe plan!
I've just finished my sewing plans for the fall. I made a vlog to show you my entire design process—and as usual, I am using our Design Your Wardrobe course and free sewing planner.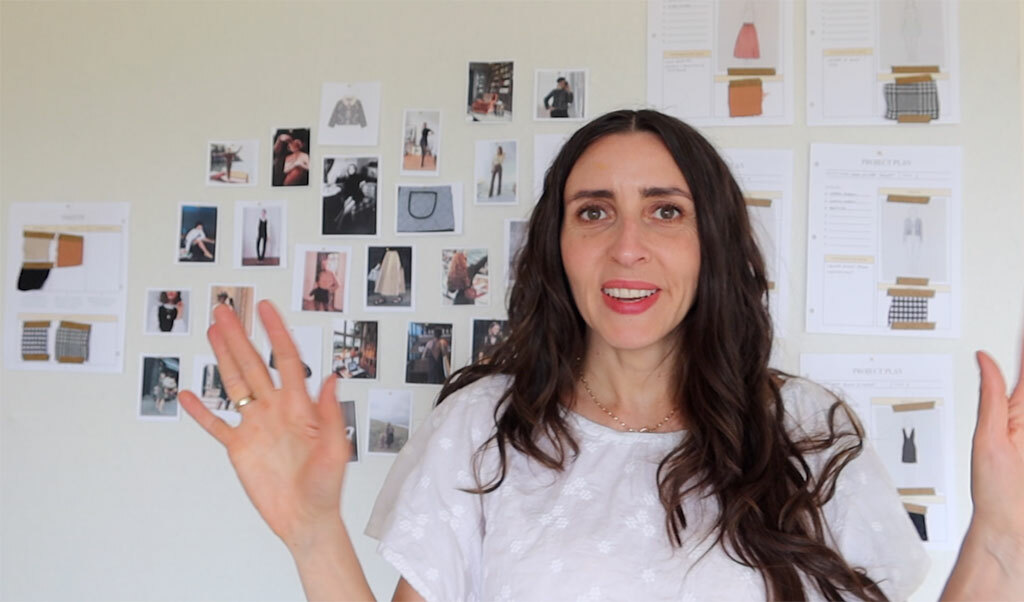 I use this process every season—you can see my spring plans here—and it never gets tiresome. You'll notice some pretty big differences between my spring design plans and this new collection.
In spring, my goal was to create a capsule wardrobe. For this season, my goal is centered more on fabric—specifically, the fabric I already have in my stash.
You can watch the vlog on our YouTube channel or keep reading to see how I approached this collection and the final garments I plan to sew.
My Goal
One of the first things you do in Design Your Wardrobe is set a goal for the season.
My goal this season is: To add a few thoughtful pieces to my wardrobe made mostly of fabrics that I already have.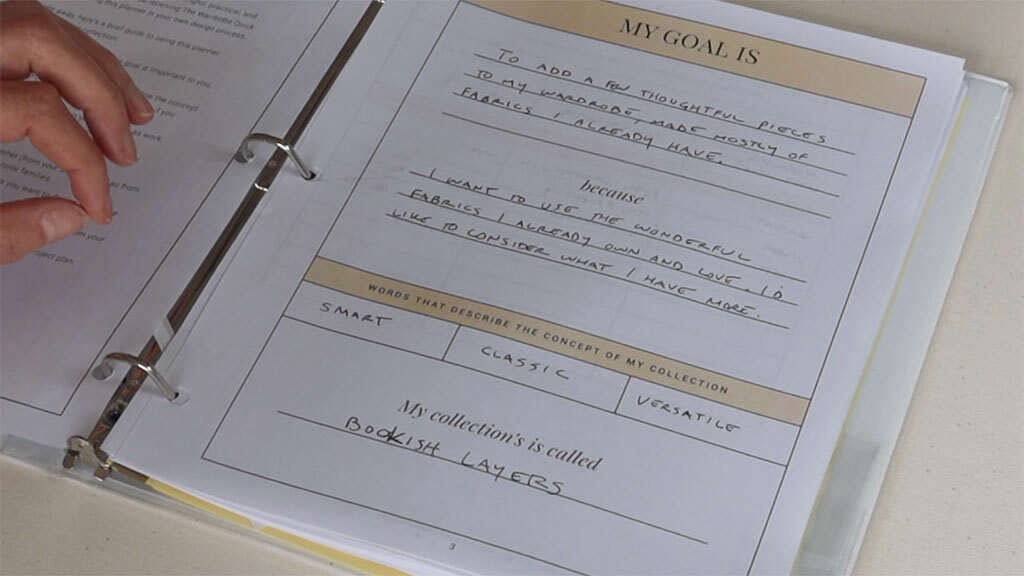 I'd like to think about the things I already own that stood out to me over time. I loved them when I saw them. I purchased them. But I haven't used them yet.
My Story
Once you have a goal, you create a story for your collection.
Before I set my concept, I like to go through all of my inspiration and see what jumps out at this particular moment. It's kind of like a first pass.
Then, I create a Pinterest board for the upcoming season—and you can get all of my Pinterest organization tricks here.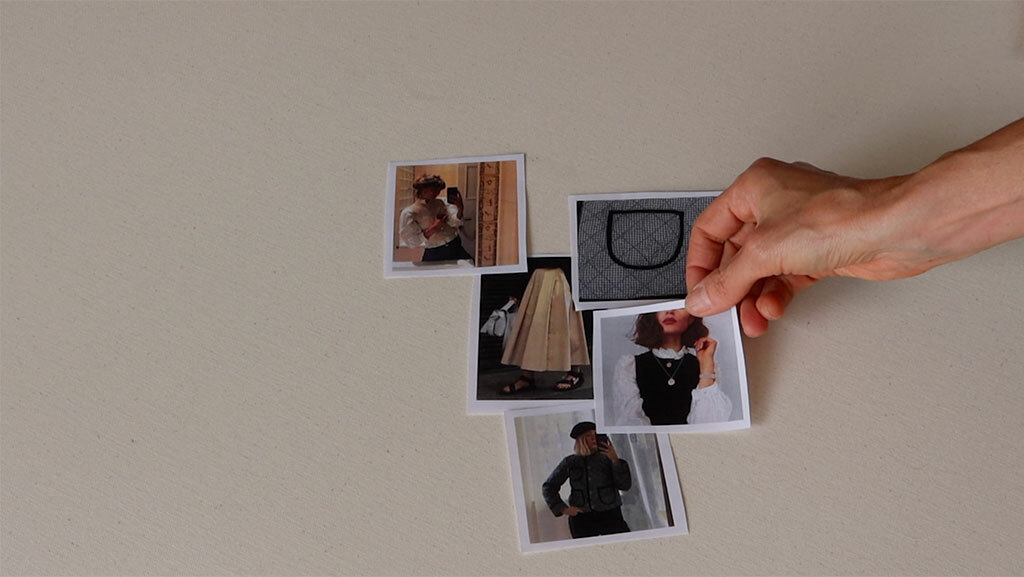 After I have my Pinterest board up and running, I go through all of my patterns, printed and digital. Then, I look through my fabric. Finally, I look through my closet to see what I already own and love to wear. It helps me make sure I am sewing things that integrate into the wardrobe I already have.
The words I came up with for this collection are: smart, classic, and versatile. Once I honed in on this overall look, the collection name that came to me was "Bookish Layers."
My idea is for a couple of sophisticated pieces that offer lots of layers so that I can wear them in various contexts. I want warm and comfy things that I can wear every day.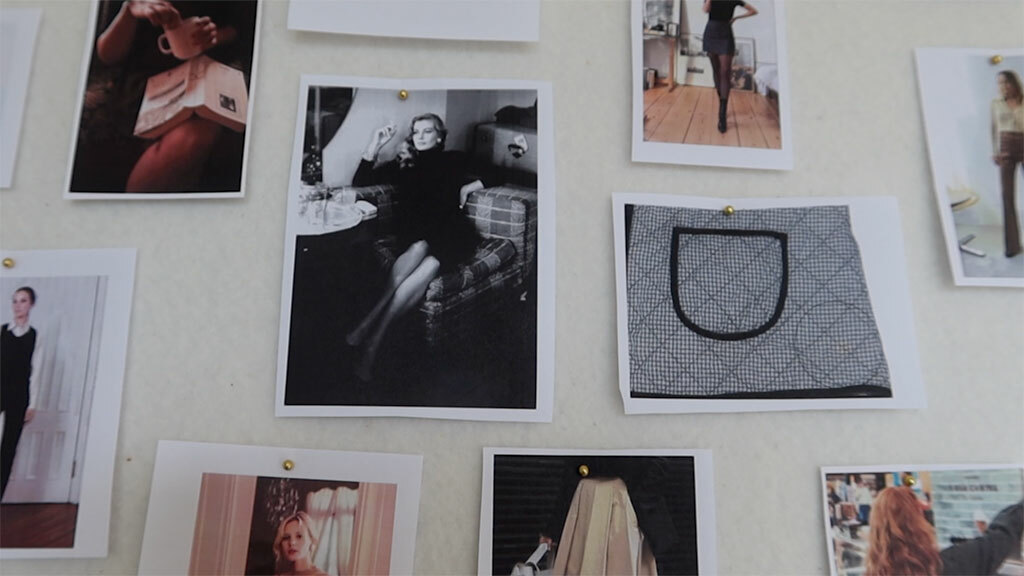 Next, I looked at the life contexts I wanted to design for. The three life contexts I chose are: working from home, collaborating (working with other people in person), and walking. I have a puppy now! And we do a lot of walking. I need clothing that makes sense outside and inside.
For working from home, I want comfort, warmth, and softness.
When I collaborate with others in person throughout the week, I want to feel confident, the clothes need to be mic-friendly, and I still want to be comfy.
When walking, I want the clothes to be warm, layerable, and to look good with boots and sweaters. Oh, and I need pockets.
My Mood Board and Fabrics
My mood board goes up on my big mood board wall. If you remember, my wall has batting, so I can pin things all over it. The previous owner of my house was a quilter, and she built it. But you can always put your mood board in a journal, in the free planner, or keep it digital.
I noticed a limited color palette in my mood board, a lot of black, beige, and caramel. The images of clothing I chose have many classic details, and a neutral color palette will help bring those details forward.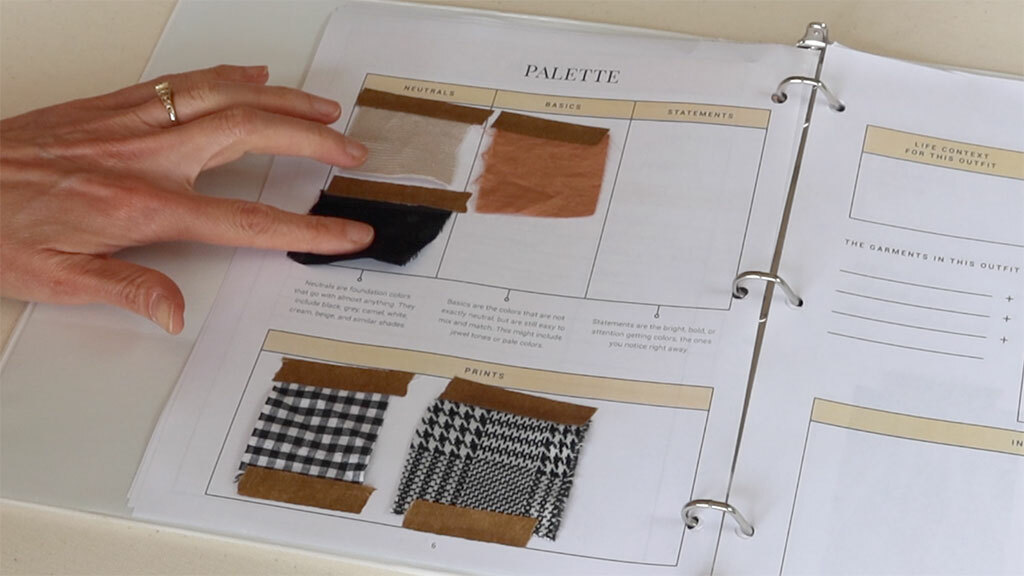 Now, I take my fabrics and build a palette of neutrals, basics, and statement colors. Then, I pick a few prints.
Only a few things were missing from my palette—some corduroy and a black fabric—but luckily, I had everything else I needed in my stash.
My Outfits
After building a mood board and color palette, I created some outfits. The great thing about designing outfits first is that it gives you a sense of how you will wear the clothes you plan to make. It helps you see how they fit with what you currently own.
I used Procreate to sketch my outfits. It's my favorite digital tool, but there are a bunch out there. You can search the Seamwork Community to get ideas or make a post with the app that you use.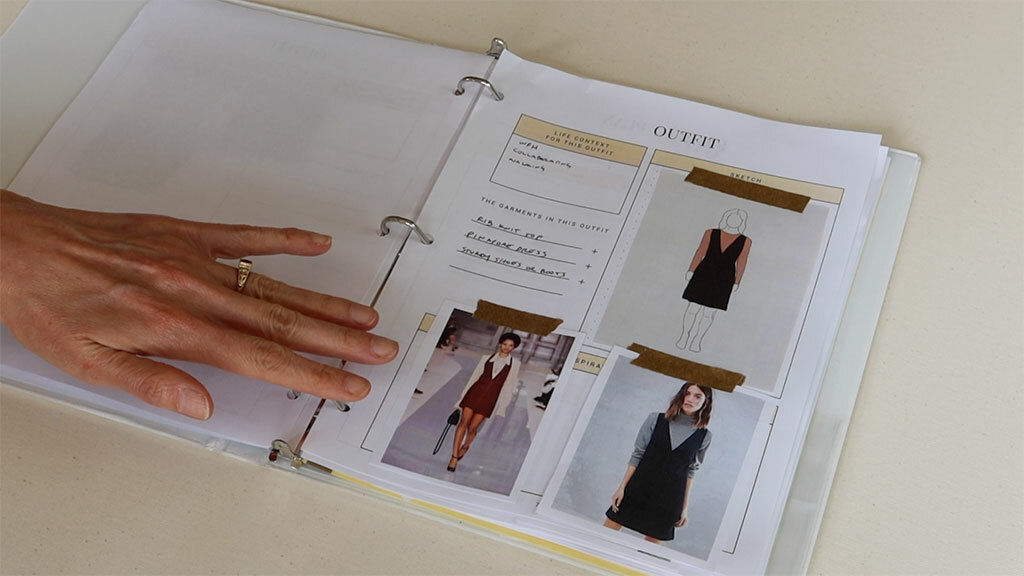 For my first outfit, I have a long-sleeved rib knit top and a pinafore dress. Spoiler: This rib knit top pops up a lot in my collection—actually, it's in every outfit.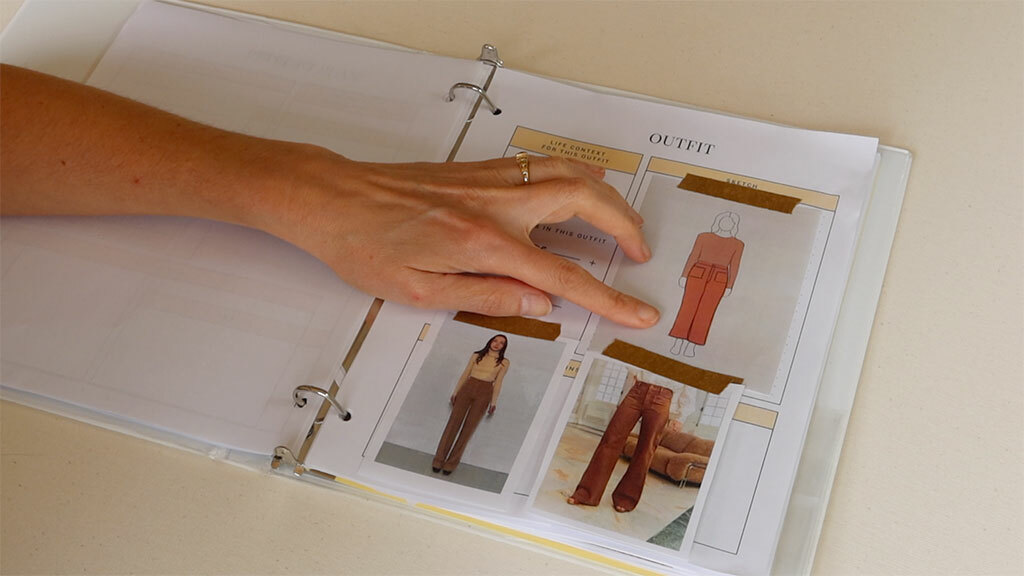 My next outfit is the rib knit top and corduroy flares. I will use the Chelsea jeans with the same modification as the blue ones I made in spring. You can see that project diary here.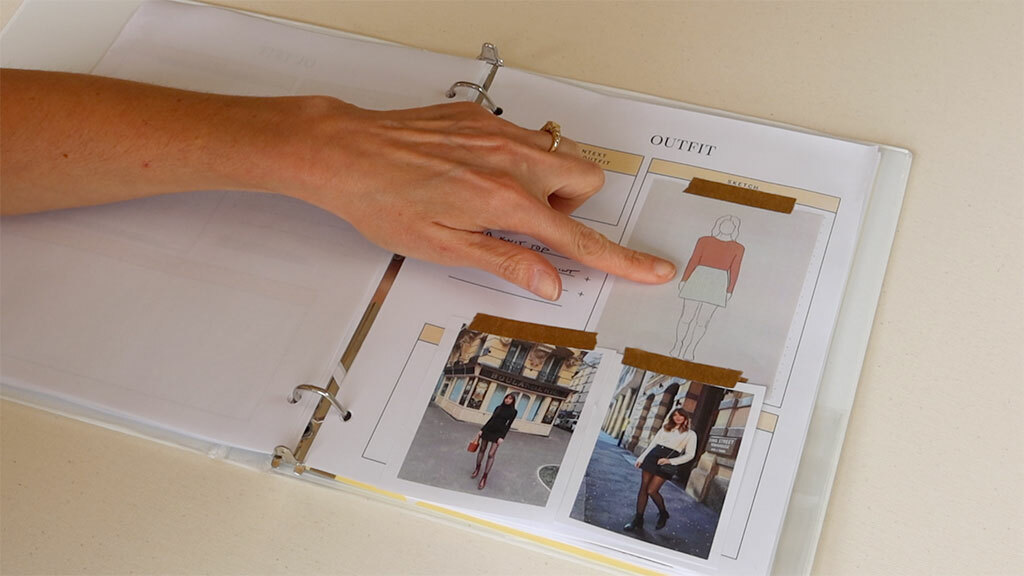 Up next, I have that trustworthy rib knit top and an A-line mini-skirt.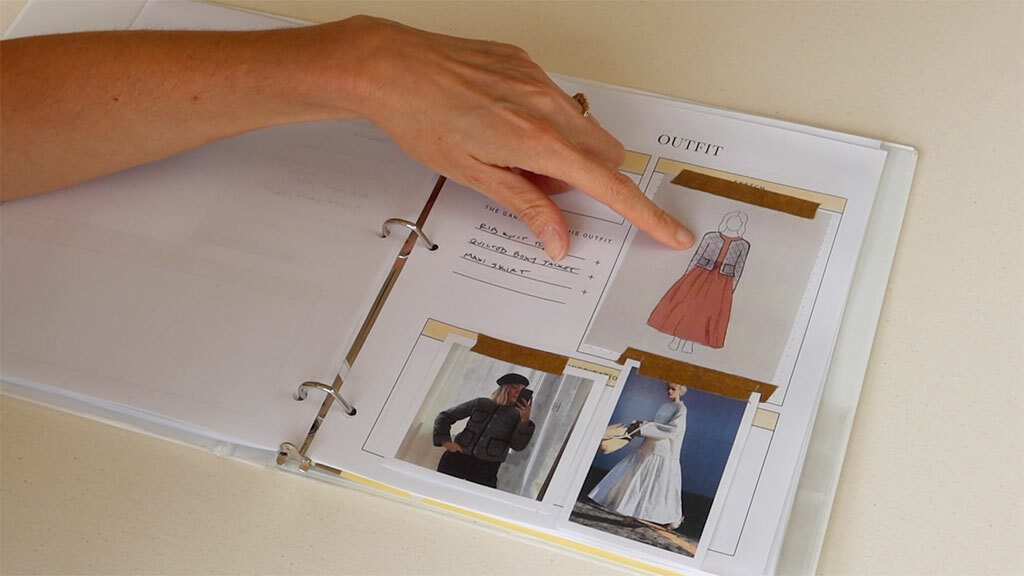 The last look is the rib knit top layered under a quilted jacket made in black and white gingham check. I'm pairing them with a billowy maxi-skirt with a drawstring and elastic waist.
Those are all the outfits I plan to make, and they mix and match really well. So now I can break each outfit into individual projects I need to sew.
My Sewing Projects
My first project is called "Caramel Maxi-Skirt." I will self-draft this (keep an eye out for a tutorial on YouTube soon!).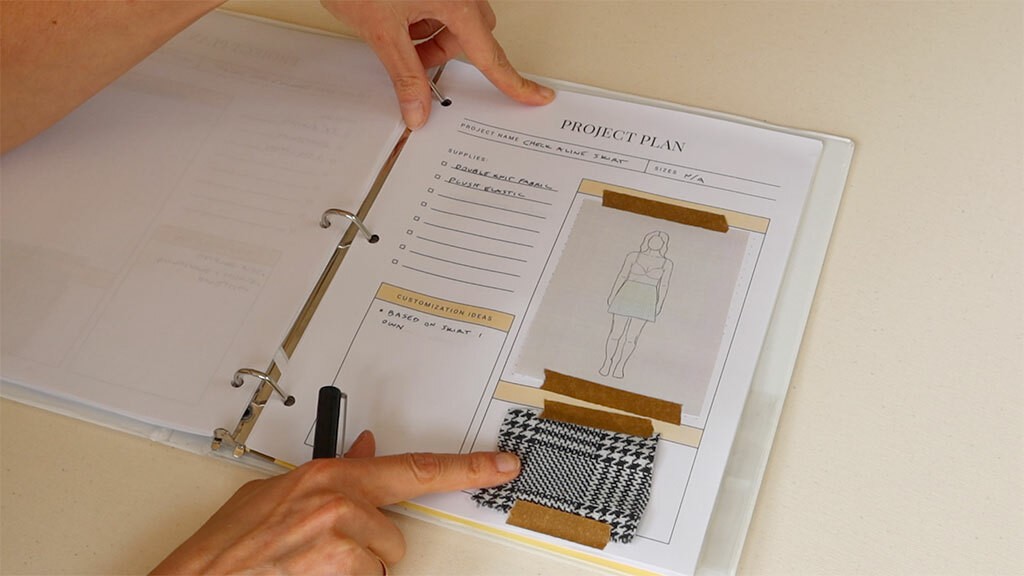 My next project is the checked A-line mini-skirt. I am not using a pattern for this one. I'm just basing it off a skirt I already own and sewing it in a thick double knit from my stash.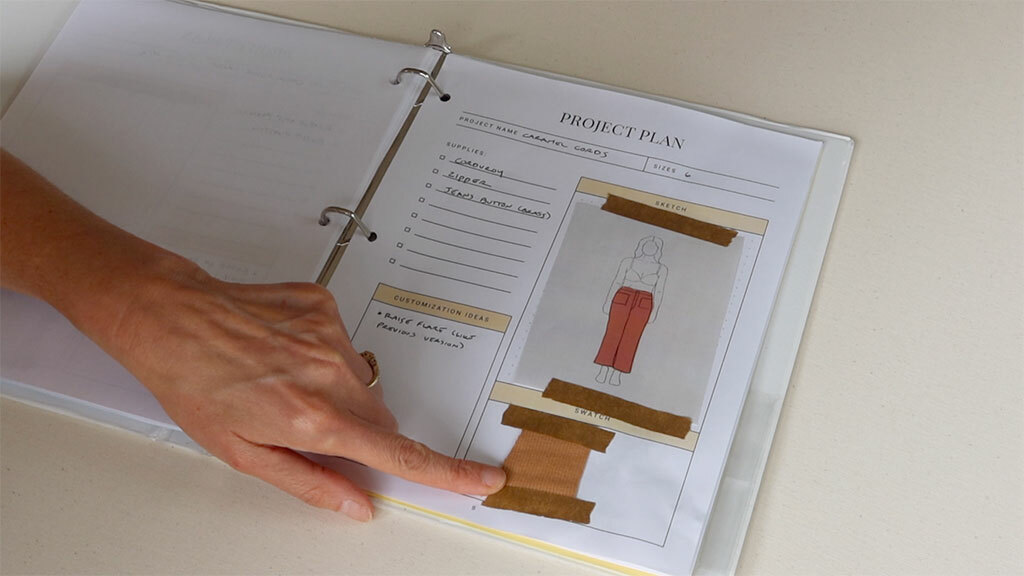 Then I am going to make the corduroy Chelsea jeans. I loved the ones I made in the spring so much that I can't wait to sew a fall version.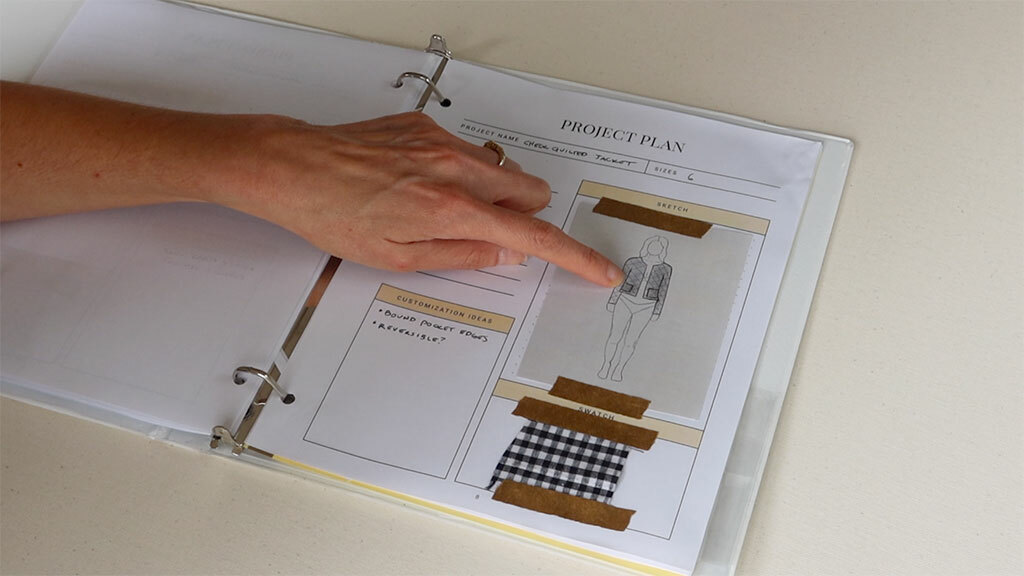 Next is a gingham quilted jacket with patch pockets on the front. I might make it reversible, not sure yet.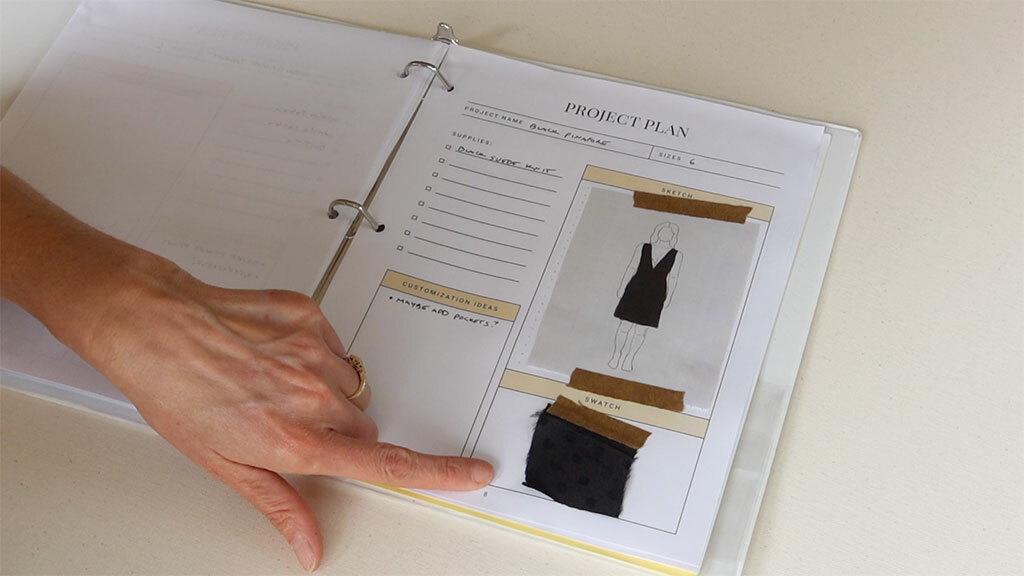 Then I am making a black pinafore dress. I will use the Seamwork Dani pinafore pattern, and I love its pockets.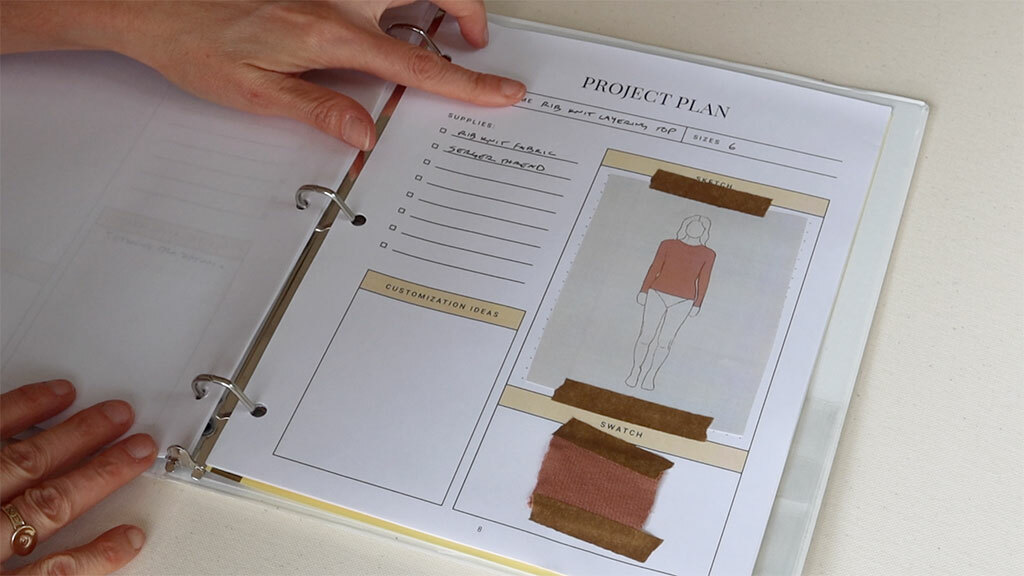 The last project is, of course, the rib knit top I will wear in every outfit for this collection. I'm using the Seamwork Alice top.
I like to add my project plans directly to my mood board wall. It helps keep me focused, and I can remind myself of my overall goal for the collection.
I'm Ready to Sew
I'm so excited to make these projects, and I love having a process like this to help me figure them out. There's so much we can do when we sew. It's easy to get analysis paralysis or make things you don't actually wear.
Do you have any plans for the upcoming season? Comment and let me know!
Love the article? Pin it for later.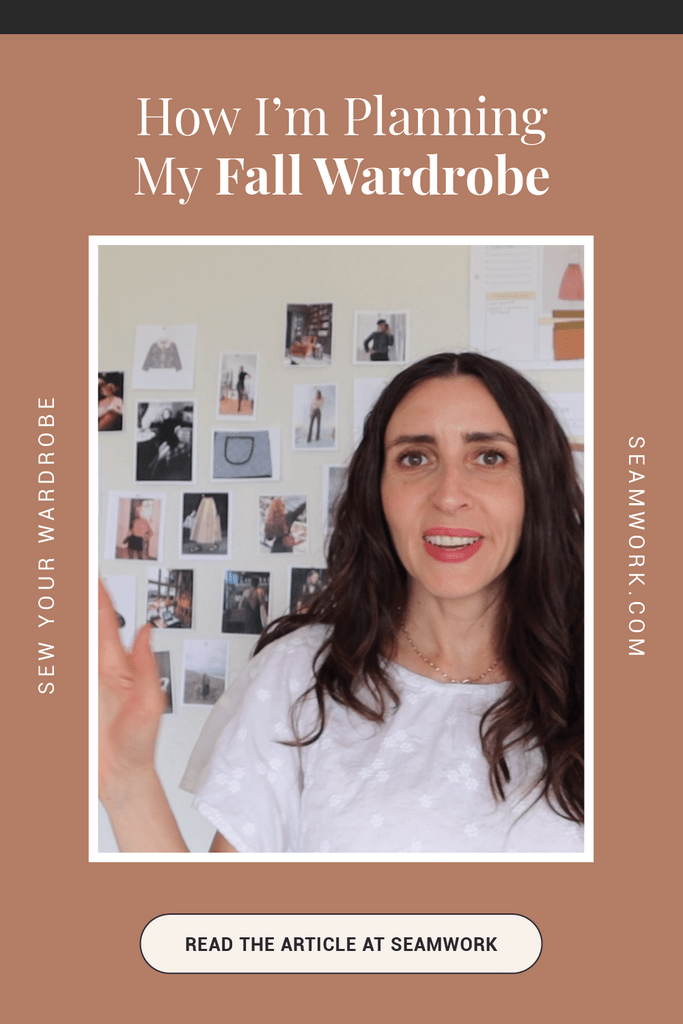 Join the Conversation
Sign in or become a Seamwork member to comment on this article.