Have you ever seen someone's capsule wardrobe and wondered how they narrowed down all their options to come up with it?
If you need help narrowing down your choices or making practical garments that you actually wear, we have a trusted approach that will break down this whole process into a few simple steps. Seven steps, to be exact!
You will learn how to turn all the inspiration you've gathered for your wardrobe into a final plan that really fits your life.
And if you're even a little bit familiar with how we work here at Seamwork, you'll notice that this is a streamlined process pulled from our Design Your Wardrobe course, where we walk you through a more detailed way to design a collection of projects for a single season. You can find out all about it here.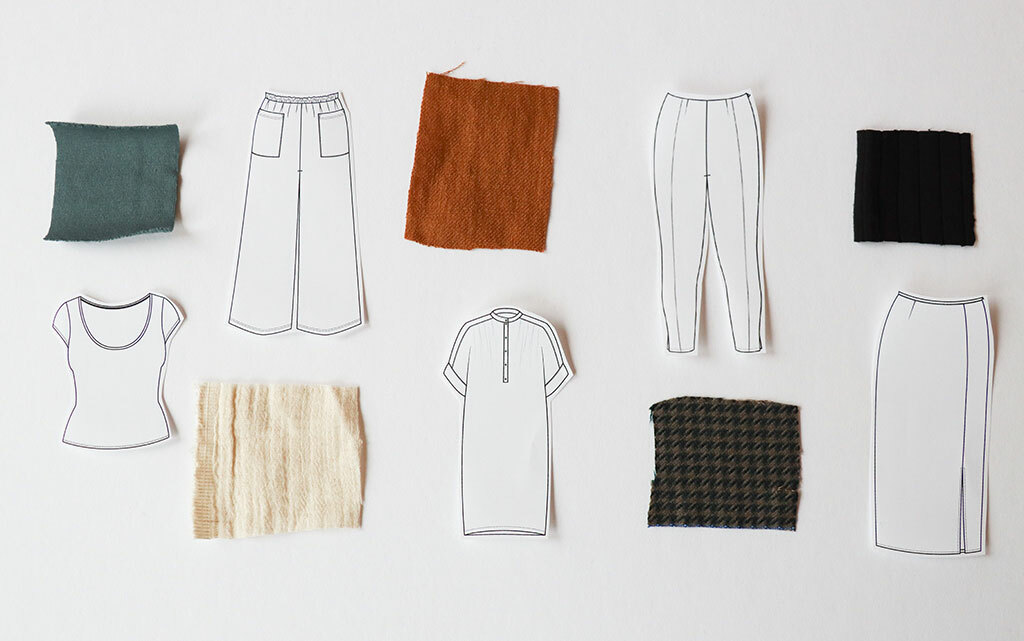 Step 1. Organize Your Inspiration
If you're creative, you likely get daily inspiration from social media, runways, or window shopping. You might even feel a little overwhelmed by it all!
There are a few ways to approach organizing your inspiration, but your overall goal is to make it easy for you to filter. The simplest way to do this is to have one general place to keep your inspiration (like a Pinterest board). You can call this your wishlist or general inspiration mood board and put anything in there. Then when it's time to create, you'll pull relevant inspiration from everything you've gathered.
Step 2. Notice What You Wear
When you are gathering inspiration, you might fall in love with some fashion that doesn't really match your style. Take a look at what you're actually wearing day to day. Look for patterns, like comfort, tailoring, or the colors you wear most.
Speaking of colors, creating a color palette is a cornerstone of our Design Your Wardrobe process, but you can also list the kinds of colors you wear the most or want to bring into your capsule. Again, this could be broad, like neutrals or prints. If you really want to get into colors, Design Your Wardrobe is an amazing resource.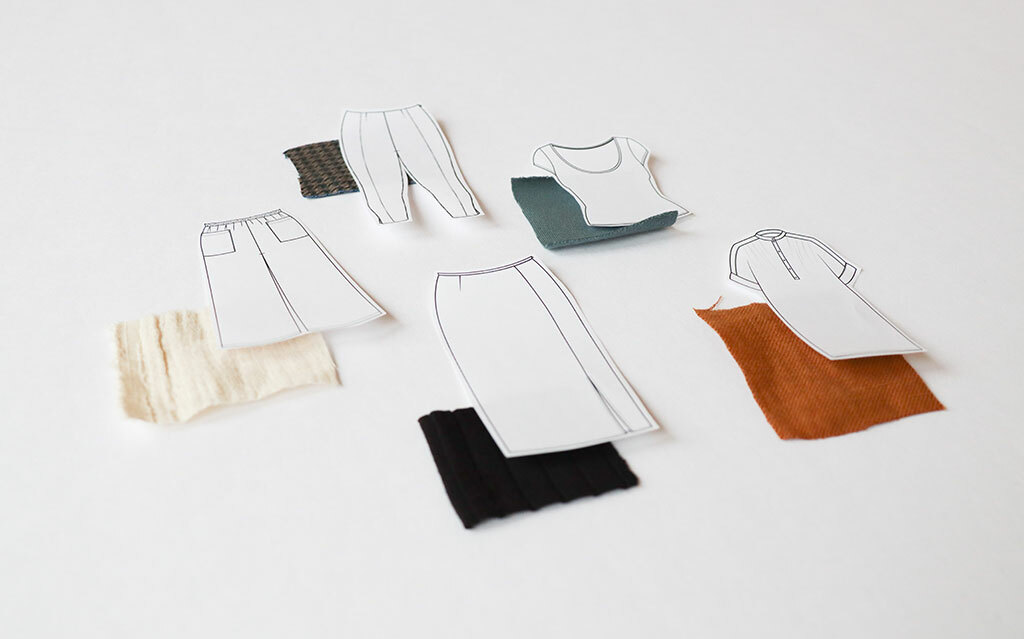 Step 3. Decide How Many Pieces to Sew
This is another step when you want to be honest and realistic. For example, how many garments have you sewn in the last 6 months? If you've only made one or two things, you might not want to plan a 10-piece capsule wardrobe, or it will take you too long to make, and you'll get discouraged.
A 5-piece capsule wardrobe is achievable if you sew regularly. It gives you the opportunity to include a few separates in addition to a single-garment outfit, like a dress or jumpsuit. Or, if you want to maximize the possibilities, you can choose all separates.
If you want to hear Sarai talk about how she put together the 5-piece capsule wardrobe pictured in this article, listen to episode 125 of Seamwork Radio. Her capsule includes the Pauline skirt, Dexter and Joss pants, the Jo dress hacked into a top, and an Orlando T-shirt.
Step 4. Design a Few Outfits
Why would you plan an entire outfit before picking out the patterns you want to sew? When you're putting together an intentional capsule wardrobe, it's easier to start with an entire look. Then, once you've designed a few looks that match the context of your life and your intention for this capsule, you can pull out the individual garments that will help you achieve those looks.
A helpful trick is to start with outfit templates—or formulas. So what's an outfit formula? It's a simple combination of different garments that pair well to create an entire look. Rather than always trying to put together an outfit from scratch, you can quickly pull garments that complete your favorite formulas.
This can be as simple as pull-on pants and a tee or jeans and a blazer. Or, a skirt and a blouse. Analyze your favorite outfits that you currently wear and see if you can break them down into a simple formula.
To get some ideas, read 5 Fall Outfit Formulas You can Sew Again and Again (you'll also find the video on our YouTube channel).
Step 5. Edit Your Outfits into Projects
Now you can take your outfits and break them down into individual projects. List out the kinds of garments you'll need to create all your looks, and think about how they all fit into your color palette.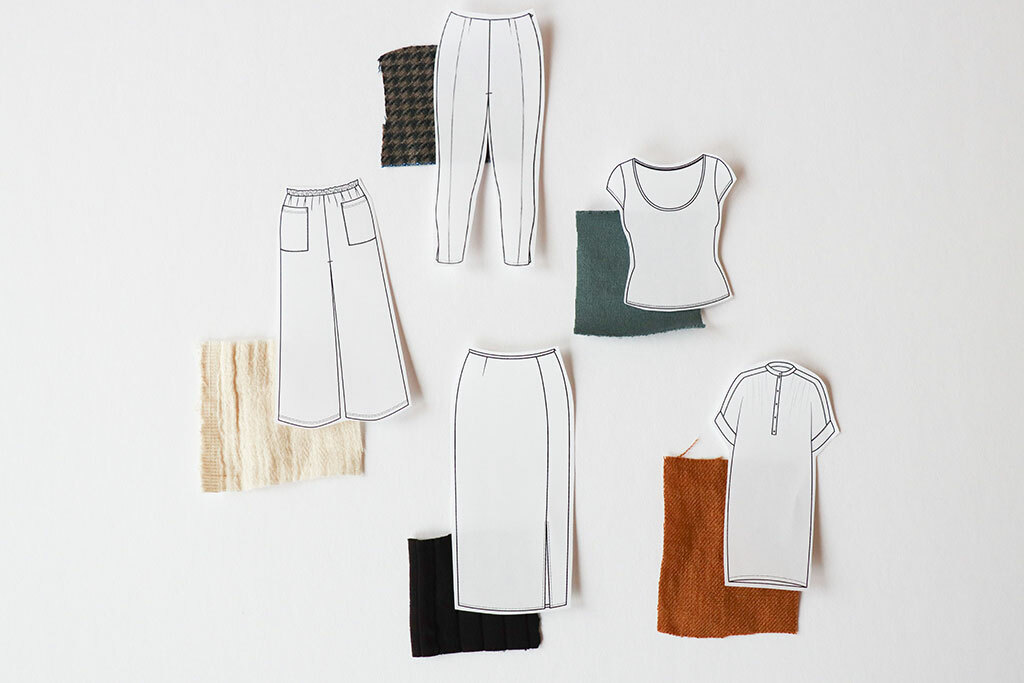 Step 6. Sketch Your Ideas
This part is really fun! Once you know the garments you need for your capsule, you can find patterns and start sketching out each project.
If you download our free planner, there is space to sketch your project, add a fabric swatch, list what you need, and include some inspirational images from the first step of this process.
Think you're not an artist? You can still sketch your clothes. Watch this video to learn tricks for sketching your clothes on a custom croquis.
Step 7. Queue Them Up
Once you have your project plans, create a sewing queue! It can help to start with a project you are really excited about so you build momentum. Another tip is to batch sew any projects that use similar fabric. For example, if two of your projects use black thread, batch sew them, and you won't need to switch out serger thread.
And that's a simple process for creating a capsule wardrobe. You'll find it so easy to get dressed in the morning, but you won't feel like you're wearing a boring uniform because all of these projects were designed and made by you!
If you need more support throughout this process, jump into the next Design Your Wardrobe session or listen to Sarai and Haley chat about designing a 5-piece capsule wardrobe in episode 125 of Seamwork Radio.
Love the article? Pin it for later.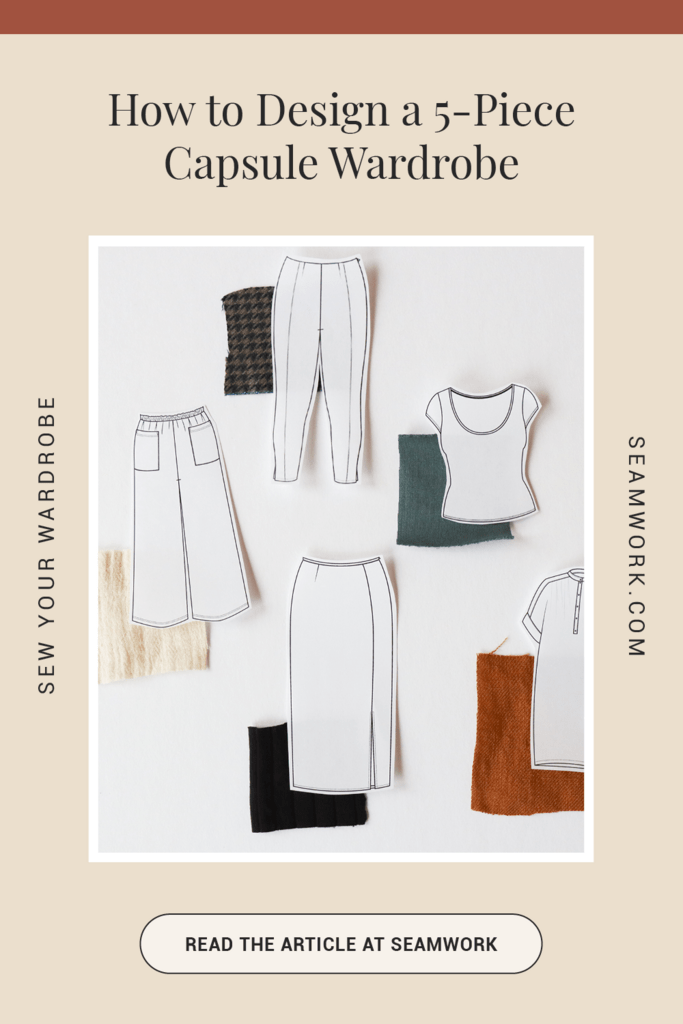 Join the Conversation
Sign in or become a Seamwork member to comment on this article.