If you take a peek into most closets, you'll find some denim, maybe jeans or a denim jacket. Similarly, peek at most fabric stashes, and you'll find a cut or two of denim.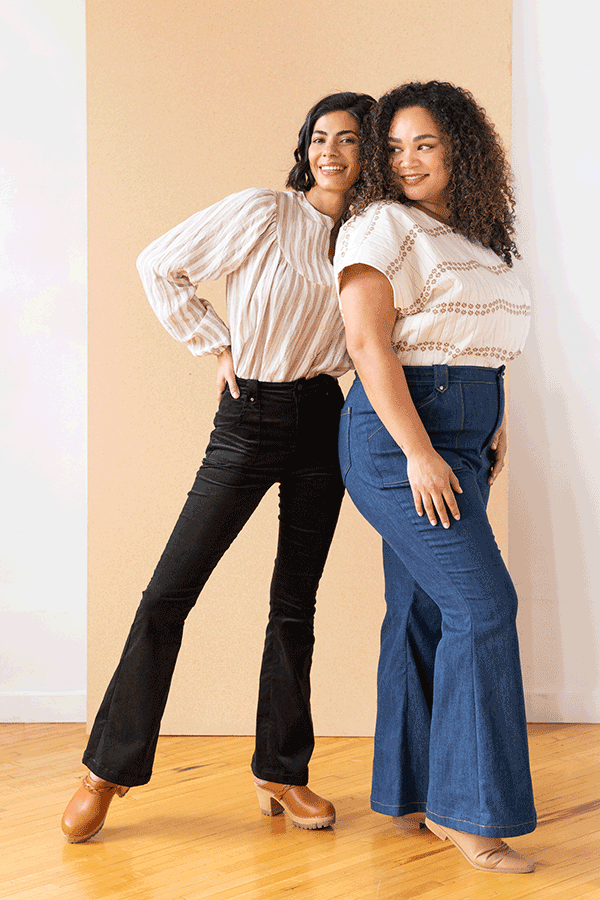 Denim is a fabric stash essential! This workhorse fabric comes in a wide variety of weights, washes, and colors, and sewing it is just as much fun as wearing it.
In this guide, you'll learn everything you need to know about sewing with denim.


How to choose the right denim


Choose your sewing pattern


Sew with denim


Care for denim


What is denim?
Denim is a yarn-dyed twill weave cotton. Let's break that term down.
What is yarn-dyed? Yarn-dyed means that the yarn is dyed before the fabric is woven together. So with denim, the warp threads that run along the length of grain are dyed—traditionally they're dyed indigo—while the weft threads that run on the crossgrain are left bleached or un-dyed.
The dyed warp threads woven together with the un-dyed weft threads give denim it's signature variegated look.
And what is twill? A twill weave is a strong and flexible weave that lends denim a lot of strength and resilience. You can read more about twill here.
In a twill weave, there are typically 2 or 3 warp threads for every single weft thread. This is what gives denim those small diagonal ribs.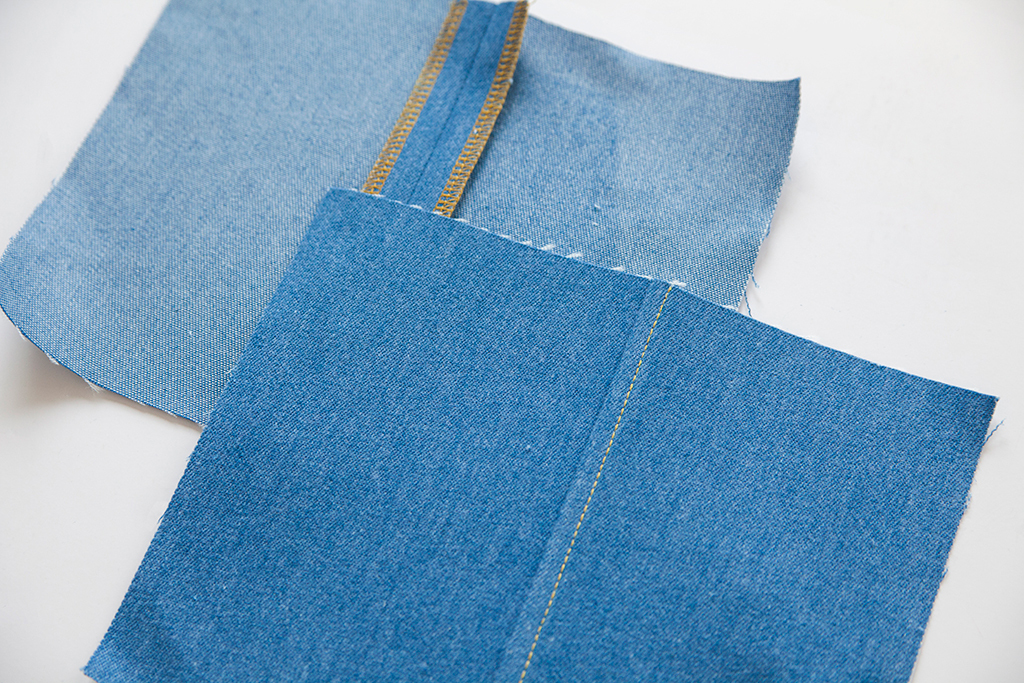 What are the different kinds of denim?
You can pick out denim in different colors, weights, and fiber contents.
Weight is one of the most common differentiators for denim. Denim is measured in grams per meter or ounces per yard.


Lightweight: 4-6 oz


Medium-weight: 7-9 oz


Heavyweight: 10 oz or greater


100% cotton denim: Regular denim fabric is made from 100% cotton. This is the original denim material and is robust and versatile.
Stretch denim: Stretch denim is blended with synthetic materials such as elastane and lycra to give a slight stretch and fitted shape.
Raw denim: Raw or unwashed denim is a fabric that is not washed after the dying process. It is stiff to the touch but softens with washing and wear.
Washed denim: Unlike raw denim, washed denim is washed after the dying process to avoid shrinkage and color bleed. Most denim fabrics are sold washed.
Bull denim fabric: This denim fabric has a 3 x 1 twill construction, making it strong and durable.
Selvedge denim: Selvedge denim is characterized by a clean edge on both sides of the fabric. The selvedge refers to the self-finished edge of the fabric that prevents it from unraveling. It's what you see when you roll up the cuffs on vintage or selvedge jeans.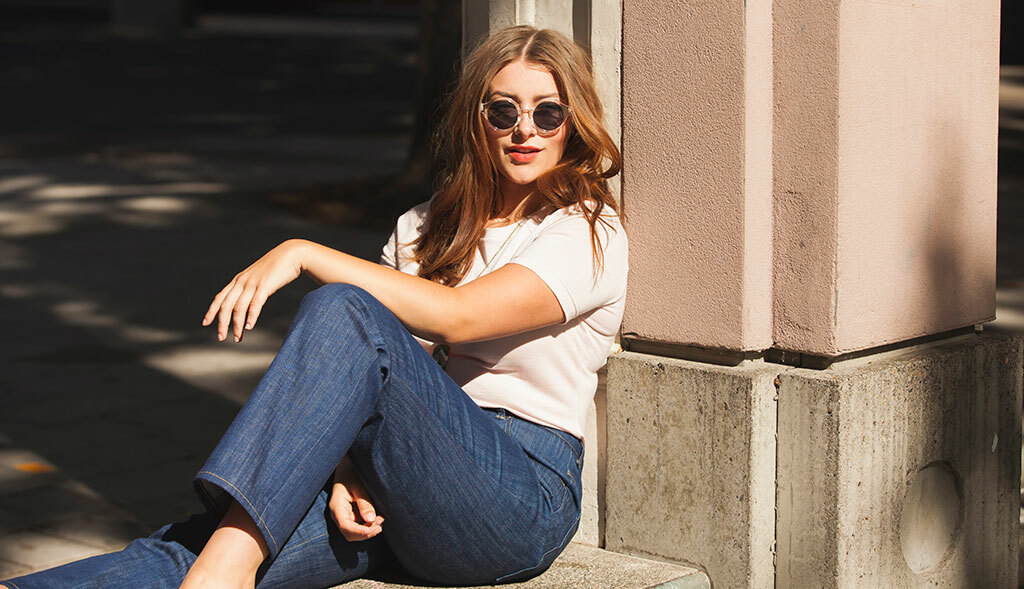 What sewing patterns are best for denim?
Generally speaking, lightweight denim works best for shirts, skirts, and dresses, because it has most drape.
Medum-weight denim is ideal for jackets, pants, shorts, jumpsuits, and more structured dresses or skirts. Medium-weight denim has moderate body, which is what makes it so versatile.
The most heavyweight denim should be reserved for pants and jackets, because it has a very ridged body.
Here are some Seamwork patterns matched with different denims: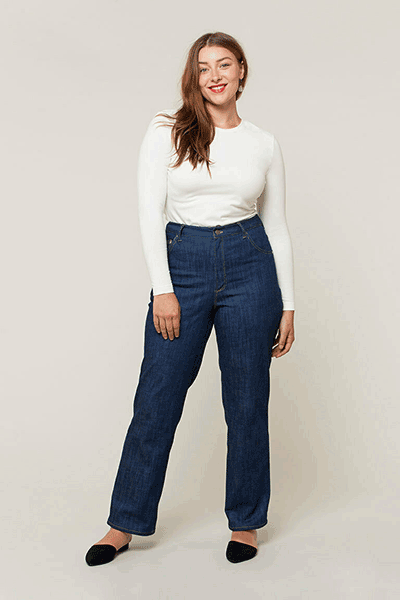 The Tessa jeans are designed for 100% cotton.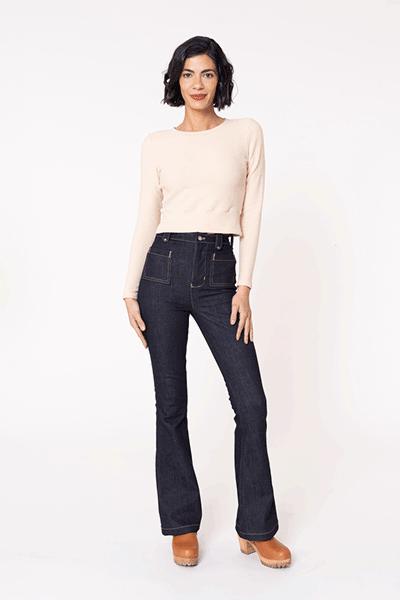 The Chelsea jeans are designed for stretch denim.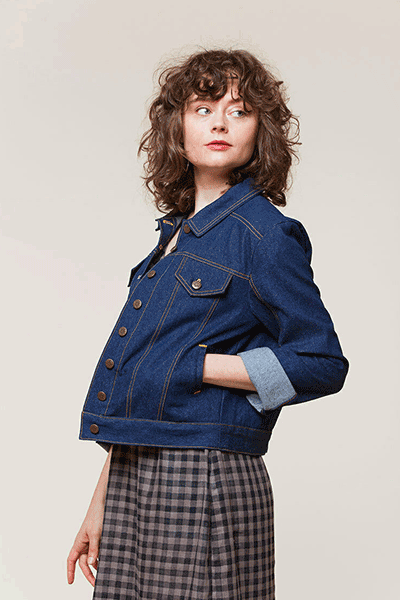 The Audrey jacket is ideal for showing off topstitching.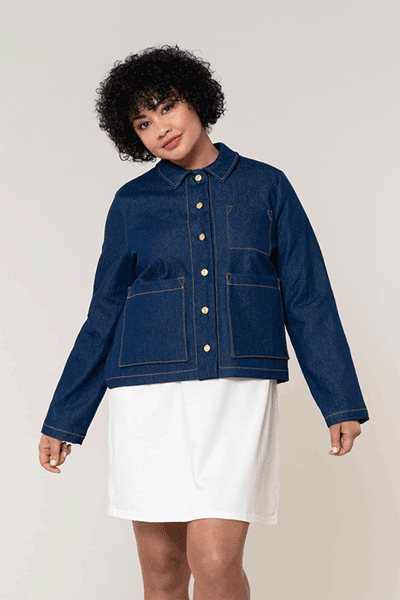 The Rhett jacket works with medium-weight denim.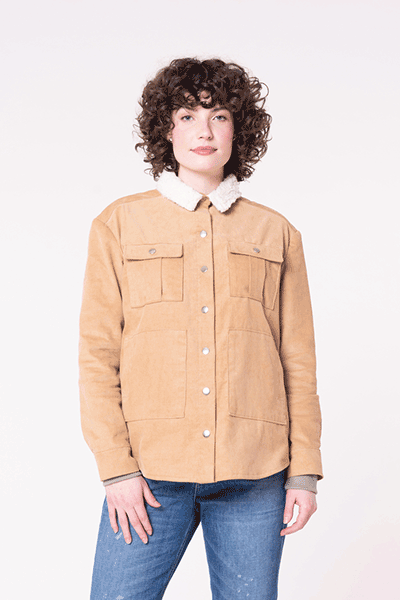 The Bud shacket is great for lightweight denim with more drape.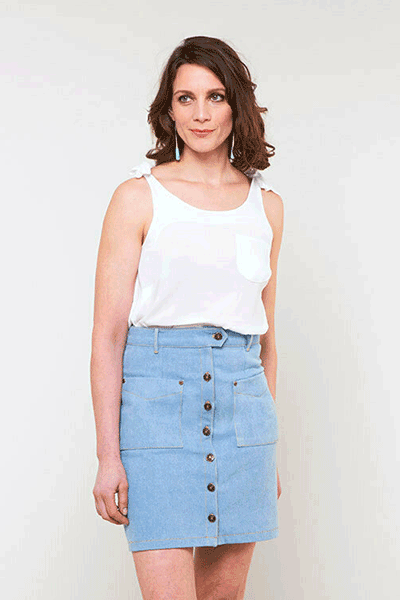 The Leonora skirt is great for showing off denim hardware.
How do I sew denim?
Before you put denim under your machine, pretreat it to prevent bleeding and shrinking. Start by washing your denim separately, using warm water. Then dry your fabric using regular settings. This process can be repeated to eliminate all shrinkage.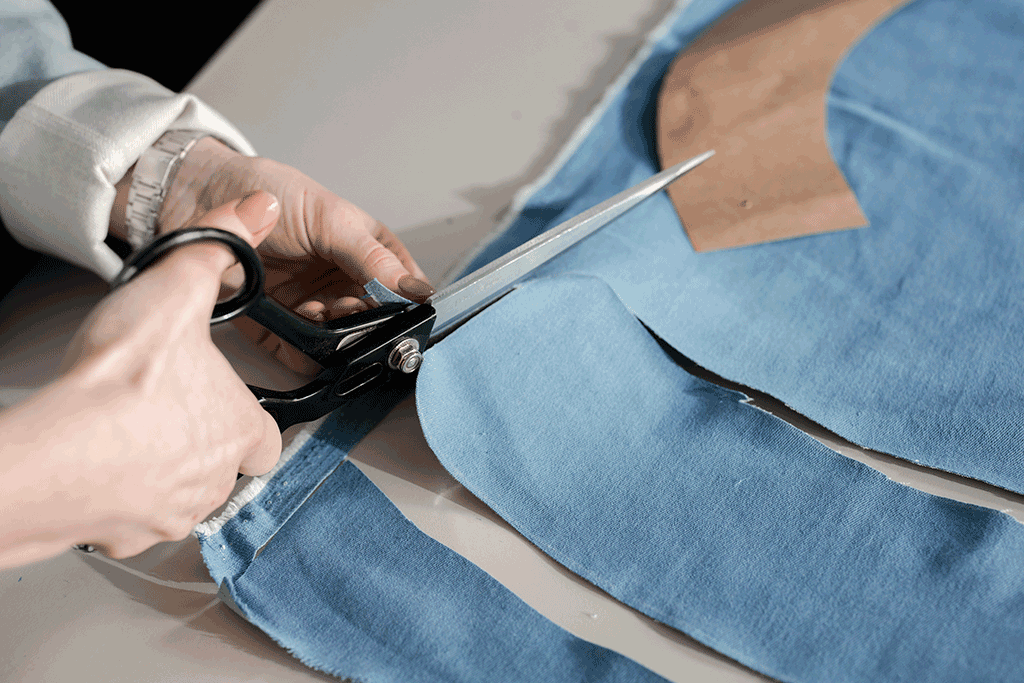 Cutting: Cut lightweight and medium-weight denim on the fold, using sharp shears or a new rotary cutter. Cut heavyweight denim flat (single layer) instead, if it's too thick for your scissors.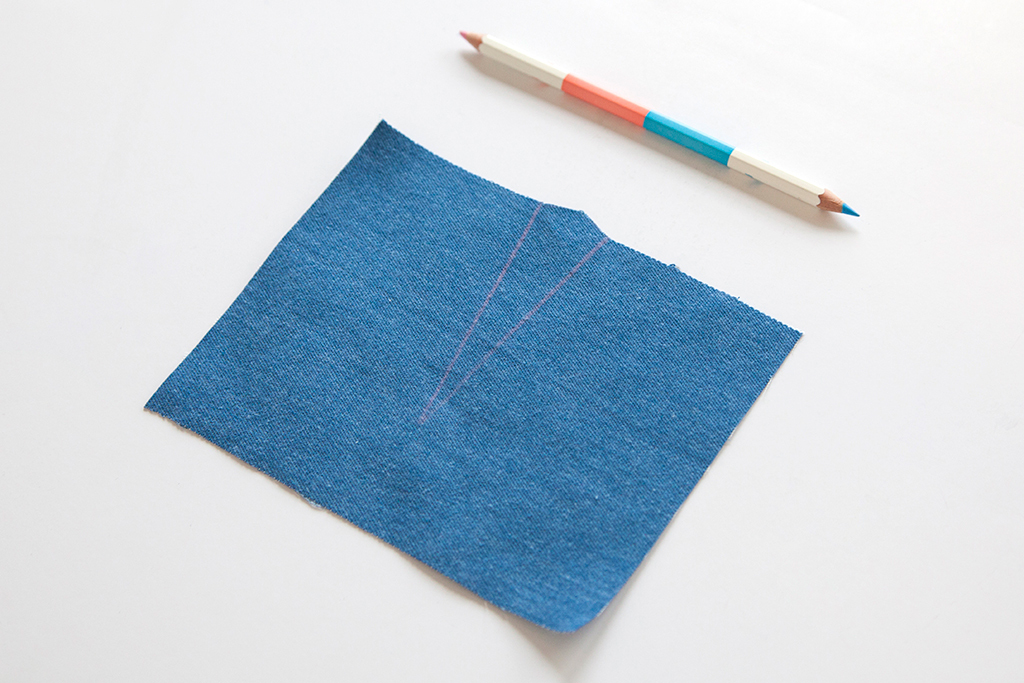 Marking: Use a water soluble chalk pencil in a contrasting color for any pattern markings.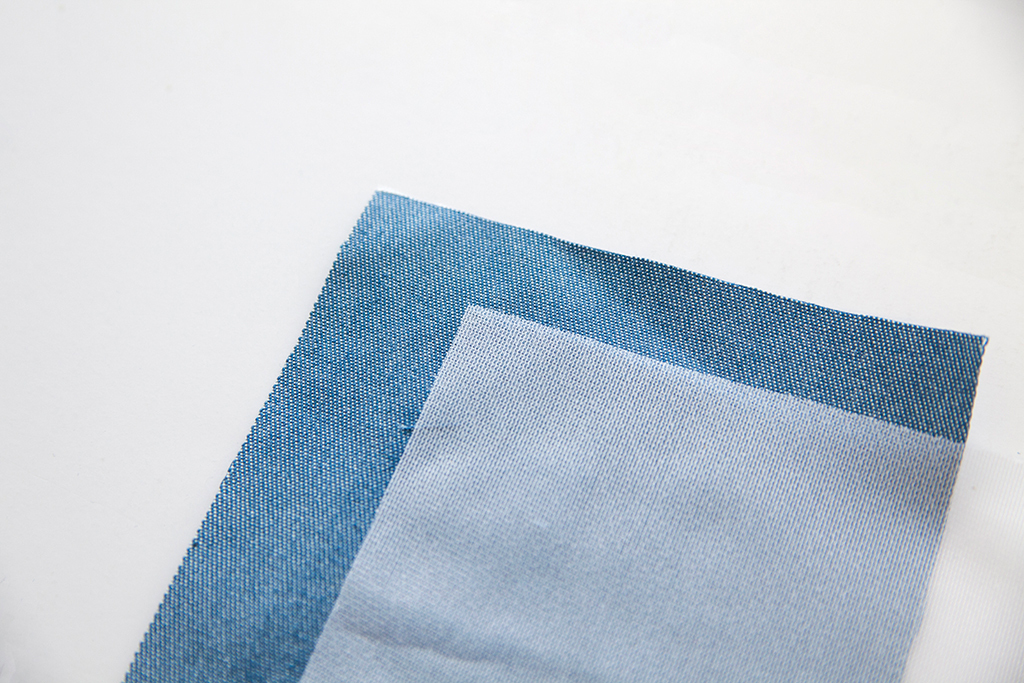 Interfacing: Denim has a little bit of mechanical stretch from the twill weave, so if you need to use interfacing, pick something with a little bit of stretch so it moves with your fabric. Tricot works well. Read this article to learn all about interfacing.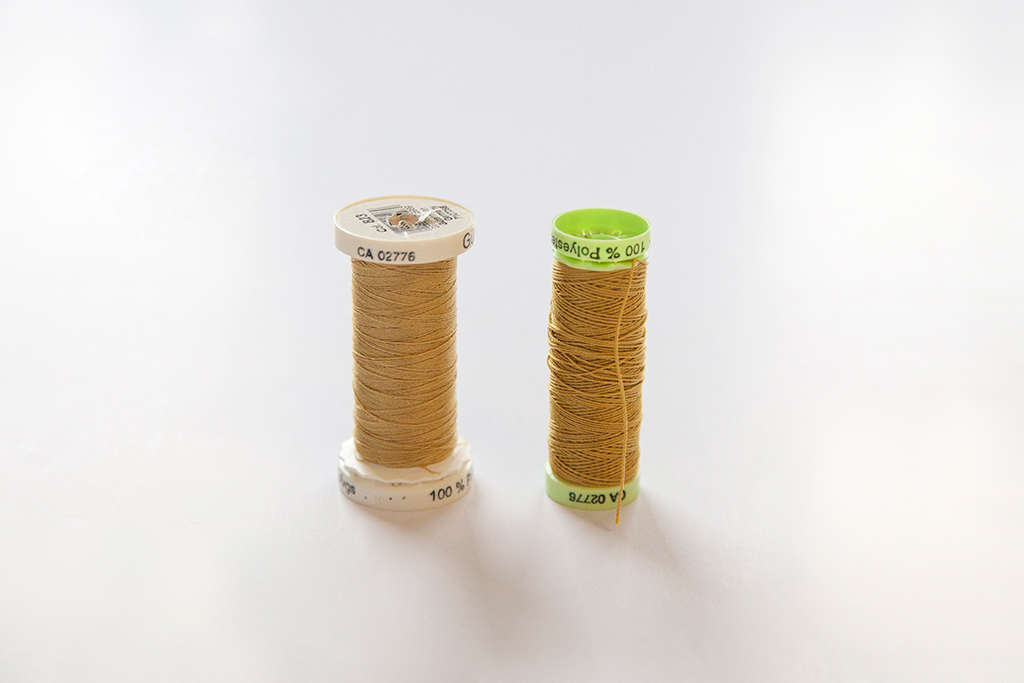 Thread: To construct your garment, use all-purpose polyester thread. For topstitching, switch to a topstitching thread for a professional look. But look out! Only use all-purpose thread in your bobbin. If you use topstitching thread in your bobbin, it will get too bulky.
Needles: Use a 90/14 needle for lightweight and medium-weight denim and a 100/16 for heavyweight denim.
Stitching Tips


Hold denim taut when sewing to prevent skipped stitches.


Switch to a longer stitch length when sewing through multiple layers of fabric, about 3-3.5 mm.


Tools like a hump jumper help your presser foot "jump" over bulky seam allowances. You can also use a pad of Post-it notes.


Finishing Tips


For a factory finish, use a serger to create a contrasting seam finish. An overcast stitch on a domestic machine can also be used for a similar finish.


If you prefer a more high-end look, try flat felled or faux flat felled seams.


Use heavy-duty closures like metal zippers, tack buttons, or snaps for a professional finish. This article will help you install denim hardware.


A wide hem allowance will help you combat any bulk. A 3/4" (19 mm) double fold hem or wider is ideal for finishing denim garments.


Pressing Tips



When pressing denim, use a high-temperature cotton setting with plenty of steam. A clapper can also be useful for setting your seams after pressing.


Use a mallet to hammer bulky seams and hems before stitching.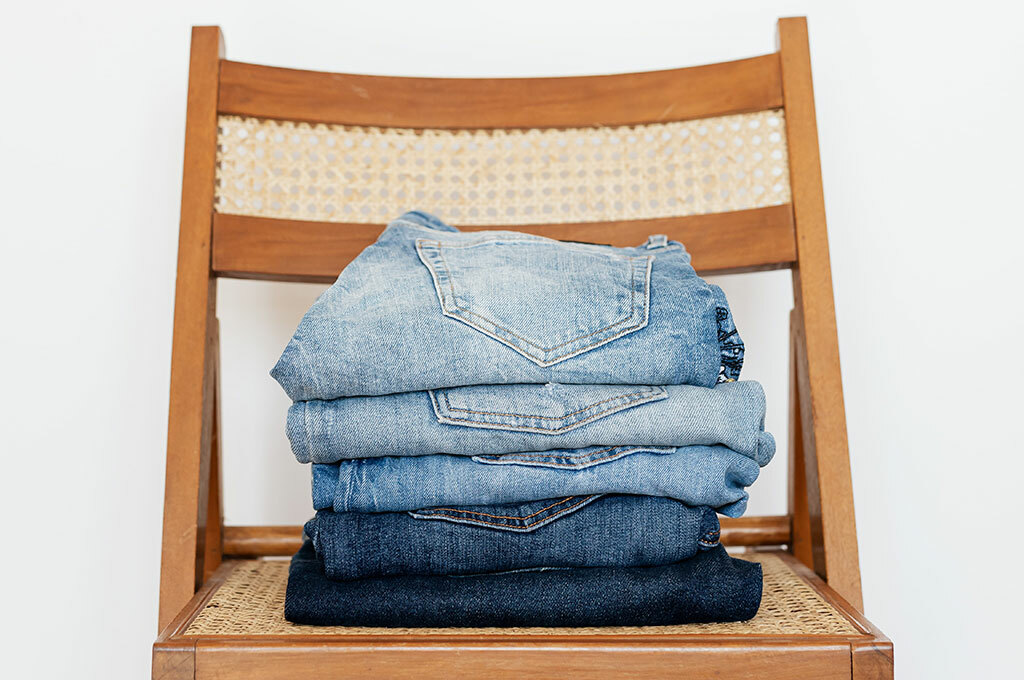 How do I care for my denim projects?
Denim garments are quite easy to care for. To launder, wash in warm water and hang dry to increase the life span of your garment.
If you want to get creative with your denim, experiment with different distressing or mending techniques. Read this article for some ideas.
Have any lingering questions about denim? Comment below!
Love the article? Pin it for later.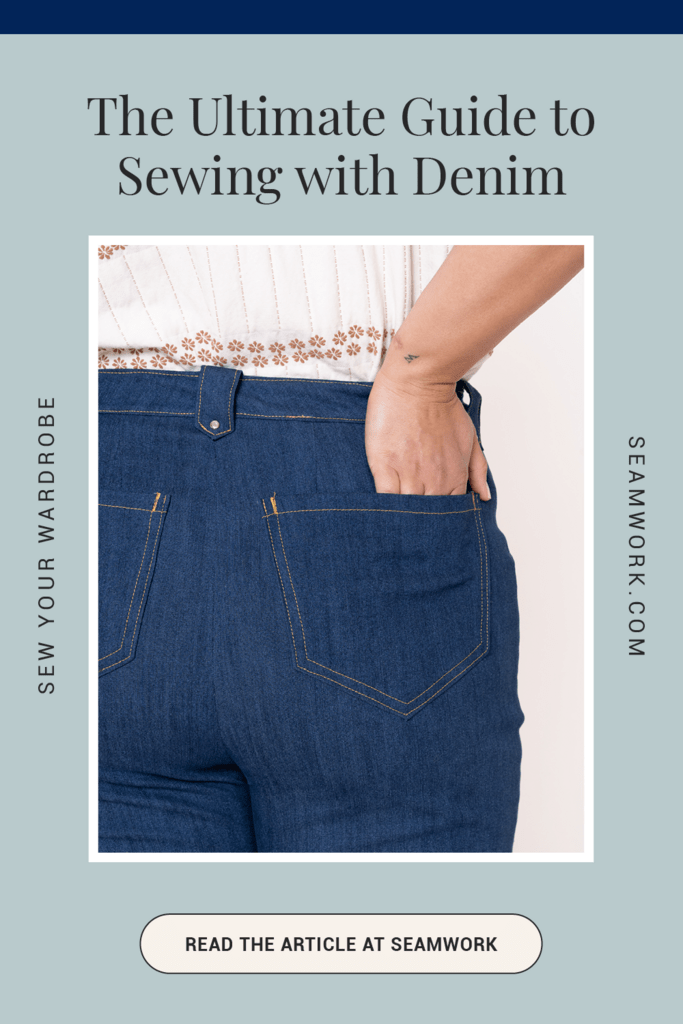 Join the Conversation
Sign in or become a Seamwork member to comment on this article.