Do you have a favorite fabric? Something you reach for over and over because it's so comfortable, or it works perfectly for the weather where you live?
Here at Seamwork, we have a bunch of go-to fabrics for our sample garments. Haley (our pattern designer) is the one on the Seamwork team who shops for fabric for the samples each month. She and Sarai talked about all of these fabrics in episode 98 of the Seamwork Radio podcast, and it's such a helpful list that here is a round-up.
Below is a list of our favorite woven and knit fabrics, the reasons why we love them, and our favorite manufacturers and shops to visit when we need them. If you get familiar with certain fabric manufacturers, you can look for lists of their distributors online to find a store near you.
Seamwork is located in the US, so we typically purchase fabric from the US and Canada. But, if you're a Seamwork member, you can get discounts at more than 50 fabric stores worldwide. Shop our trusted list of stores here—and no, they aren't sponsors. We just trust them! You can find all the fabrics on this list at these stores.
Our 10 Most Favorite Fabrics
The first five fabrics are wovens, and the remaining fabrics are knits. They're organized by weight, starting with the heaviest weight and ending with the lightest weight.
1. Twill
Twill has a signature diagonal weave that is tight enough to make it an excellent fabric for pants, shorts, and jackets. However, if you're sewing bottoms, look for 8 oz or higher (not sure what that means? Read this article). If it's too lightweight, it can be less forgiving and wrinkle into the hollows of your body.
Why we love twill


It's very easy to sew because it's stable, but it still has a nice drape for garments.


It has more mechanical stretch than canvas, making it a great bottom-weight fabric.


Denim is a twill and one of the best all-around fabrics to sew.



Read this article to learn all about twill because that diagonal weave makes it a napped fabric.



Read this article to learn about sewing with denim.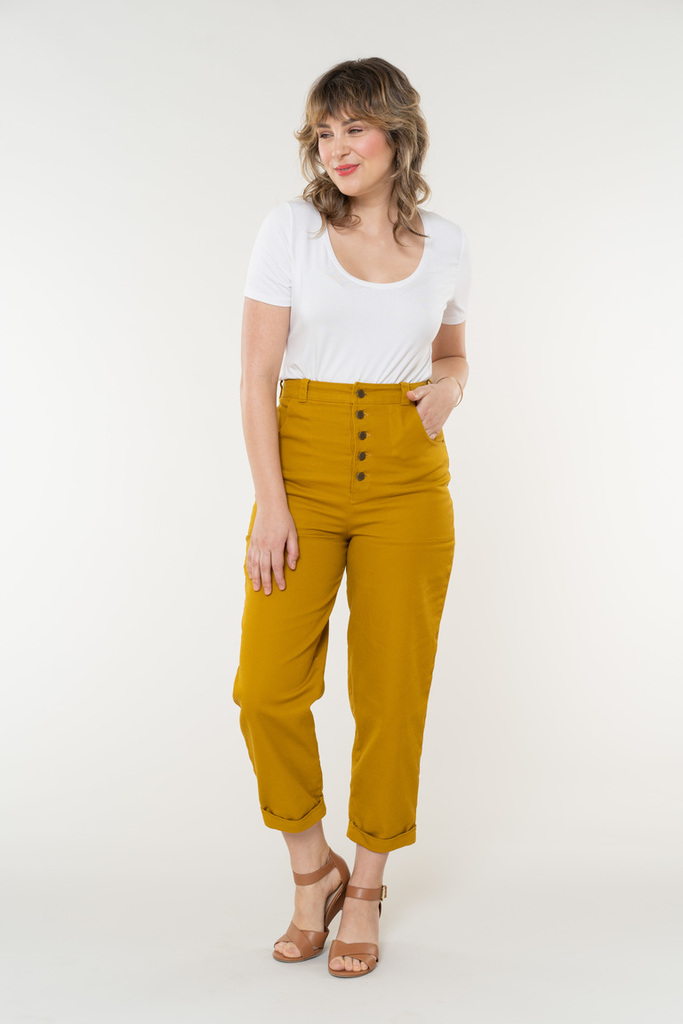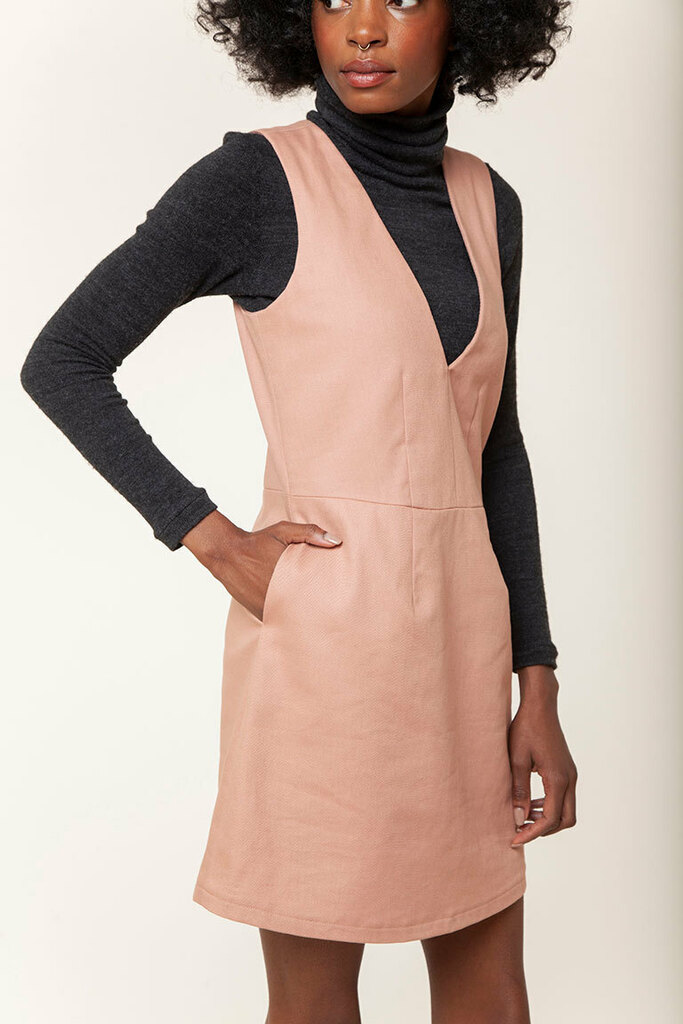 Our favorite places to get twill





Robert Kaufman is one of our favorite manufacturers of twill. We often use their Ventana twill line. Also, look for their Jet Setter if you need some stretch in your twill because it has added elastane. You can find Robert Kaufman fabrics at most fabric stores, including a bunch on our Fabric Deals page.

2. Linen





Linen might reign as the overall most-favorite garment fabric for the Seamwork team. It's woven from flax and comes in different weights, colors, blends, and prints.
Why we love linen


It's easy to sew, so it's beginner-friendly, but it has a far superior drape and hand to quilting cotton.


You can wear it year-round. It's good at temperature control, but it really shines in warmer weather because it's so airy.


It always has an interesting texture, even when blended with other fibers.


You can use all the different weights of linen to create playful silhouettes. There's heavyweight linen, blends with cotton and rayon, or handkerchief linen, which is very fine and ideal for voluminous garments.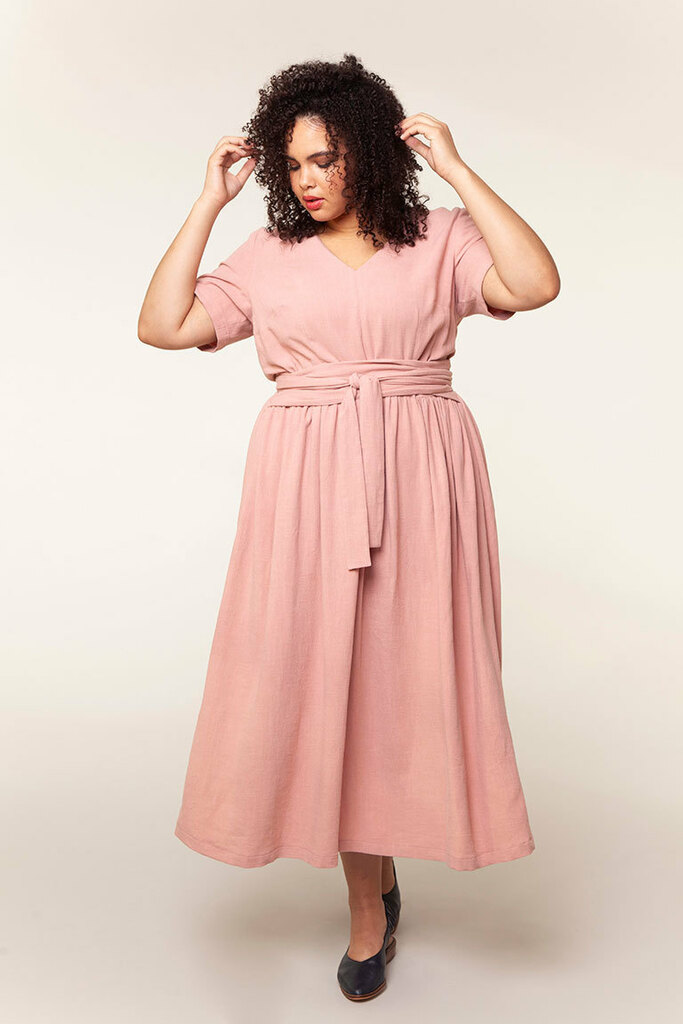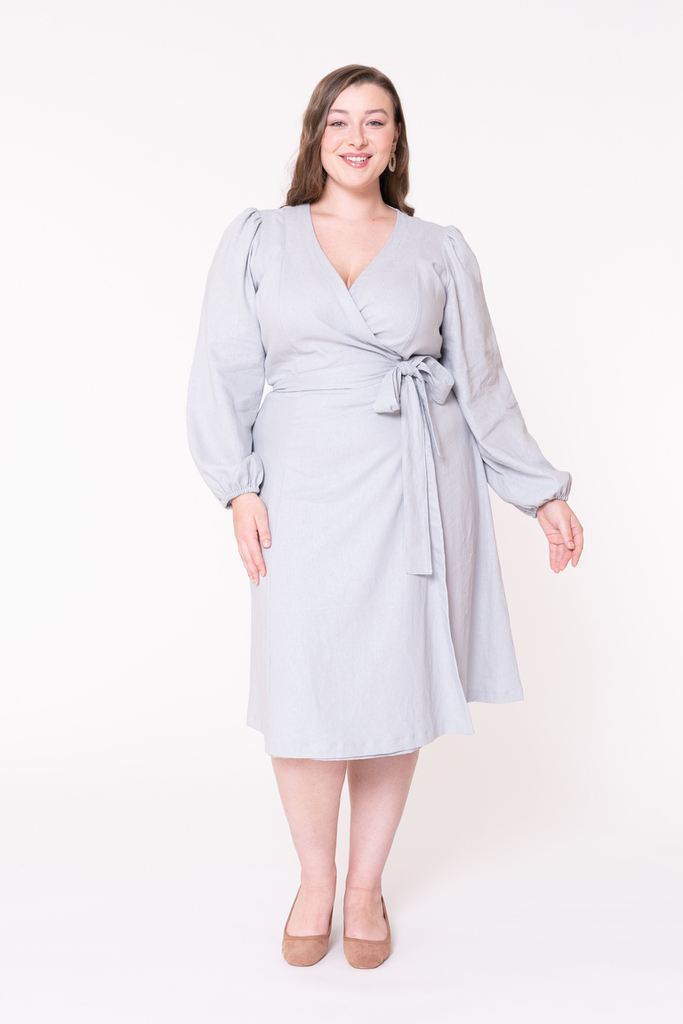 Our favorite places to get linen


Once again, Robert Kaufman is a manufacturer you can find in most of your favorite indie shops. Look for Essex linen which comes in dozens of colors. It is blended with cotton to give it more body, lowering the cost. Or look for rayon blends, like Brussels Washer linen, which provides the linen with a nice fluid drape.



Telio is another fabric manufacturer known for their linen.


3. Lawn and Voile
If you love the ditsy prints on quilting cottons, look for lawn. It has fine, lightweight fibers (usually cotton) with a soft, crisp drape. Voile is a similar option, and it often has a bit more drape than lawn.
Why we love lawn and voile


The threads are so fine that both fabrics have a lovely drape that holds its shape, ideal for garments like blouses.


They are fun for linings, especially if you get prints.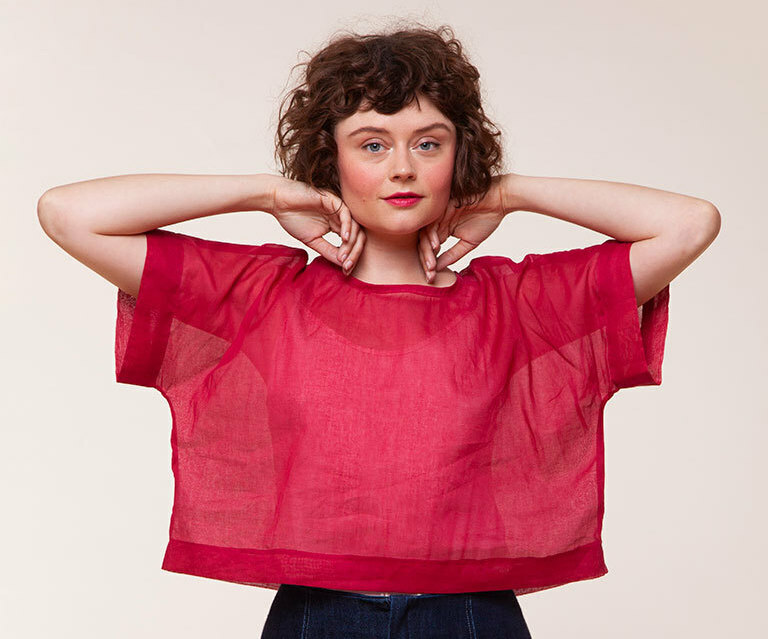 Our favorite places to get lawn and voile



Liberty of London has a Tana Lawn that is so well-loved that it might provide the most pleasant garment sewing experience possible. Joann here in the US recently launched a collaboration.





Robert Kaufman also makes lawn and voile at a lower price point.

4. Double gauze





Double gauze is made from two layers of very fine gauze interwoven together.
Why we love double gauze


It has a very soft, airy hand, making it ideal for garments with volume, like blouses and dresses.


Since it's often used for babies, it also makes the most comfortable sleepwear.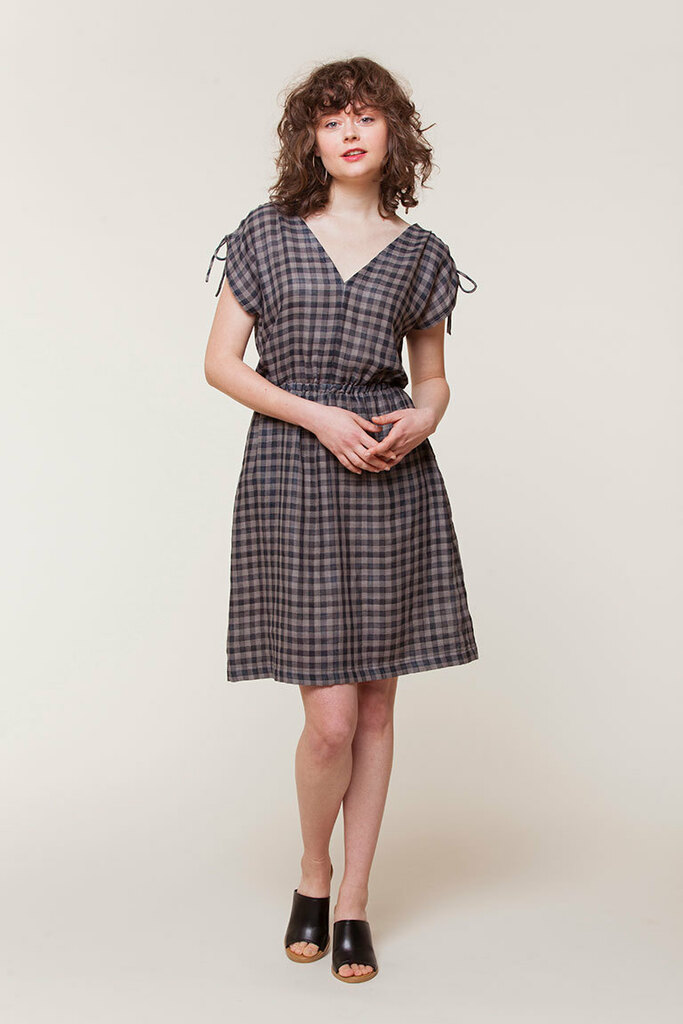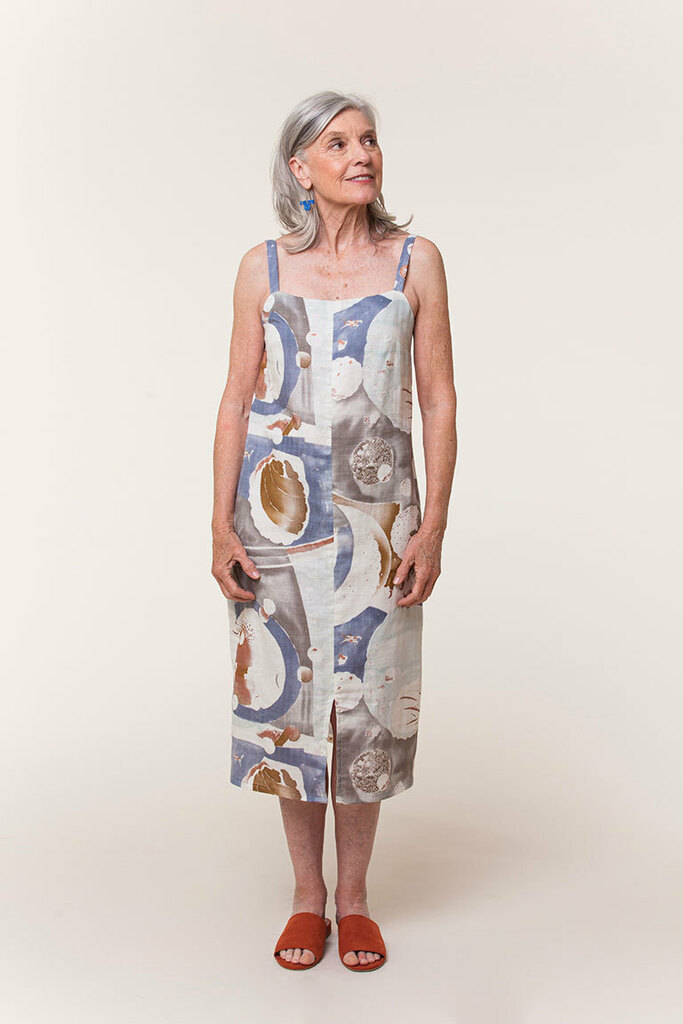 Our favorite places to get double gauze


Nani IRO double gauze is manufactured in Japan. You can shop at Miss Matatabi, many independent garment fabric shops, or Etsy.



Atelier Brunette is a French company that designs double gauze that's manufactured in India.



Birch fabrics has organic double gauze.


5. Rayon Challis
Rayon (or viscose) is a synthetic and natural blend of cellulose fibers woven to resemble the texture and behavior of natural fibers like silk or wool.
The process of creating rayon is not environmentally friendly, and it is a controversial fabric for natural fiber enthusiasts. Blackbird carries an ECOVERO line that attempts to curb some environmental costs.
What we love about rayon challis


It comes in many colors, including prints.


Despite being drapey and somewhat slippery, it's actually quite fun to sew.



Read this article to learn about sewing with rayon.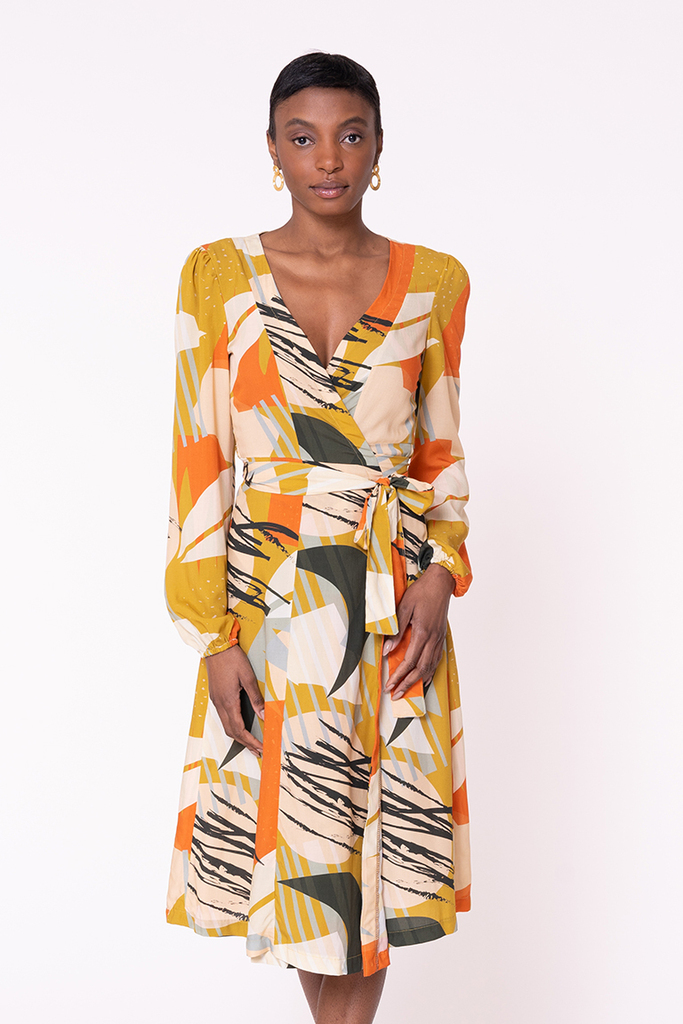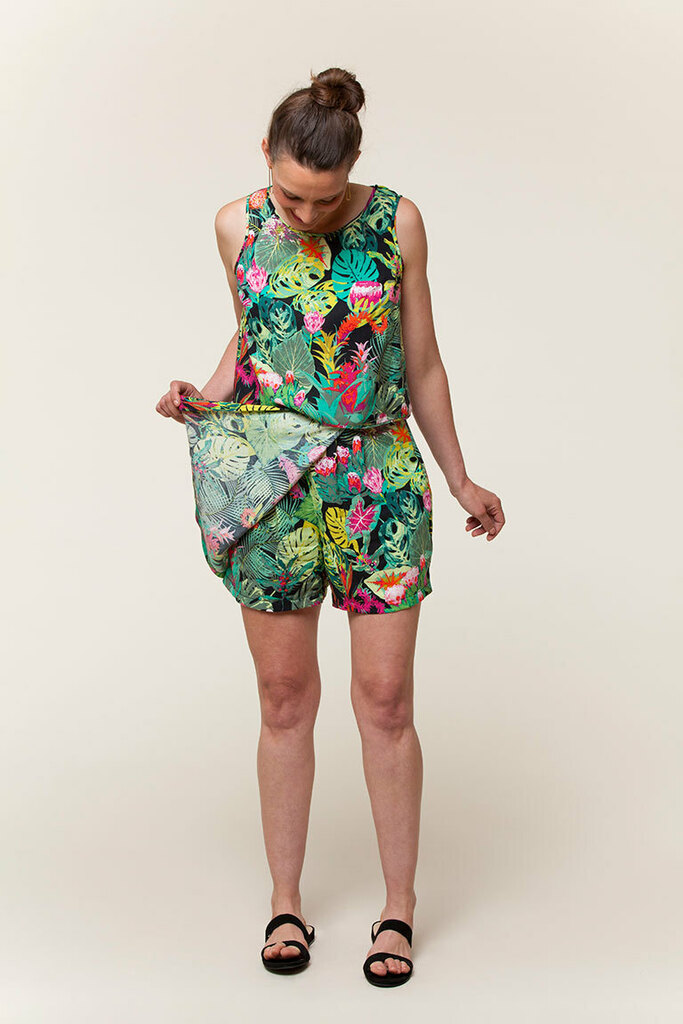 Our favorite places to get rayon challis


Rayon is readily available at stores that sell garment fabric. For Seamwork samples, we often shop at Blackbird or [Stonemountain & Daughter](https://stonemountainfabric.com/product-category/fabric/rayon-tencel-wovens/.


Workroom Social has an exclusive line of rayon challis as part of a design collaboration with True Bias. Be sure to check it out!


6. Ponte
This knit is heavier in weight and very stable. A double knit construction prevents it from rolling as much as cotton jerseys and other knits.
Why we love ponte


It's very friendly for beginners who are new to knits.



Read this article to learn more about working with double knits (like ponte).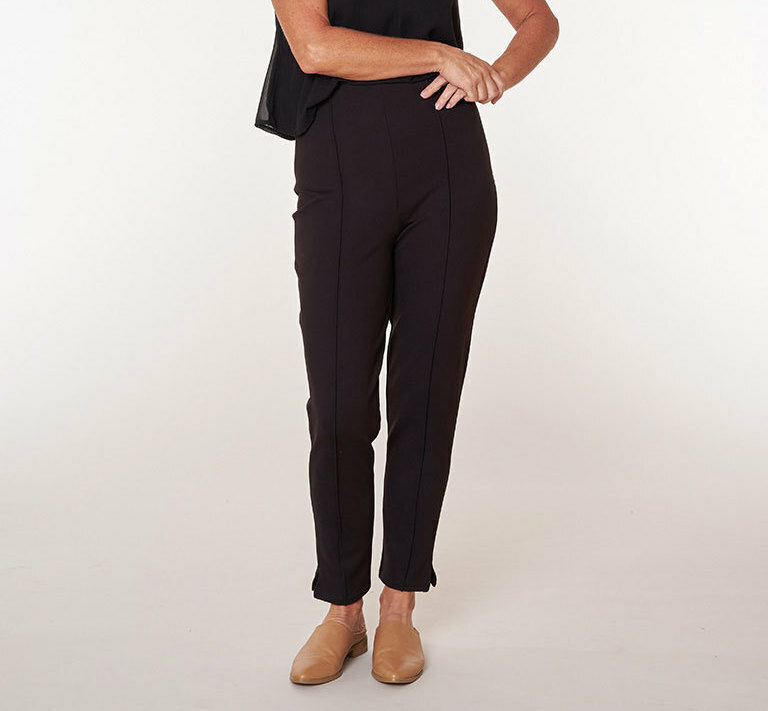 Our favorite places to get ponte
7. Merino jersey
Merino is one of the world's oldest breeds of sheep that prefer colder, harsher climates, so you'll often find in New Zealand, for example. Merino jersey is knit with the wool from merino sheep, and you can also find merino rib knits, ponte, fleece, and sweatshirting.
Why we love merino jersey


It has all the benefits of wool, like temperature control (it's moisture-wicking) and a soft hand and texture, without any of the itchiness.


The colors are amazing!



Read this article to learn more about working with merino jersey.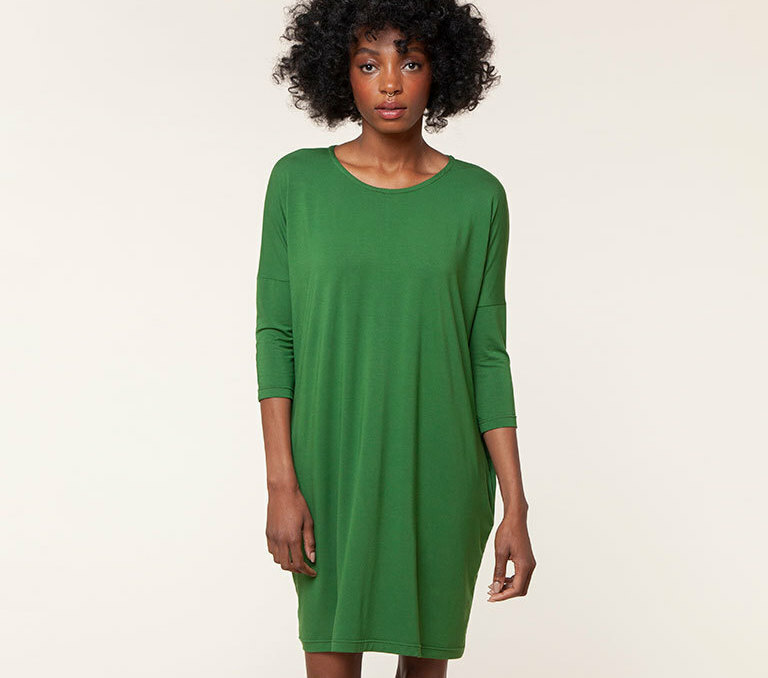 Our favorite place to get merino jersey


For Seamwork samples, the Fabric Store is one of the best places to shop for merino, and we've also purchased it locally at Bolt.


8. French terry
French terry is kind of like terry cloth, but it has a smooth right side, and the knit loops are on the wrong side.
Why we love French terry


It's moisture-wicking and so soft against the skin.


It can be found in various weights, but they are all stable to sew.


For a coordinating loungewear set, there's no better choice.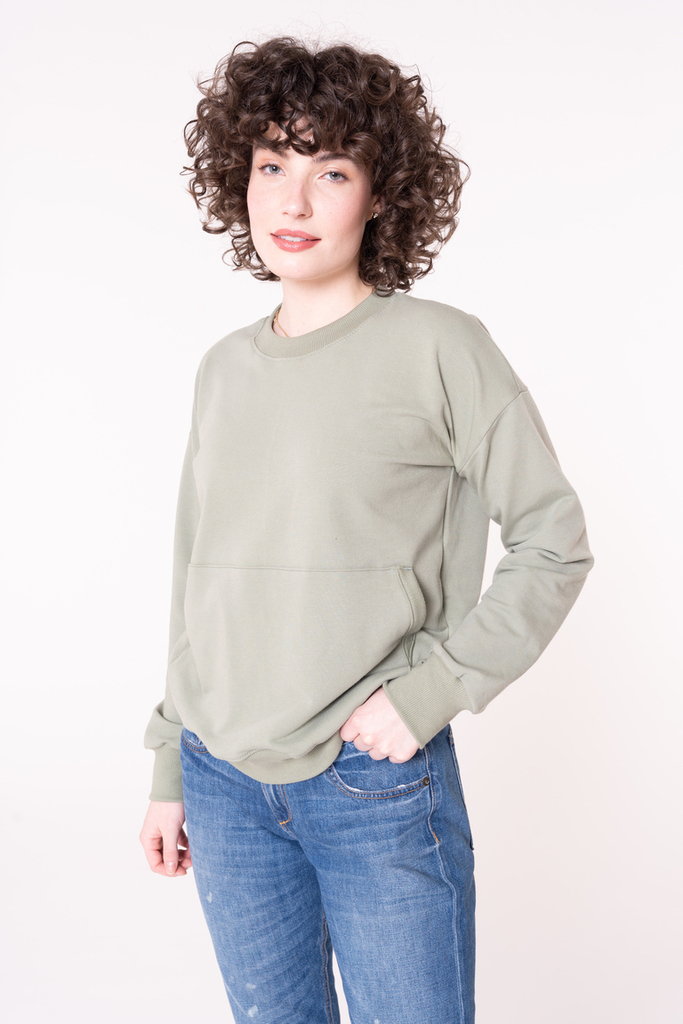 Our favorite places to get French terry


For Seamwork samples, we often shop at Urbankids Fabrics and I See Fabric.


Atelier Brunette and Liberty of London also have French terry prints.



See You At Six is a newer manufacturer that carries French terry and is increasingly popping up in fabric stores around the world.


9. Hemp or linen knits
This is more of a blend of fibers than a particular type of fabric, but hemp and linen knits are so great for sewing clothing.
Why we love hemp and linen knits


Knits that include hemp or linen tend to have more texture and drape than a typical cotton jersey.


They're lightweight and comfortable. They feel a little more special and luxurious.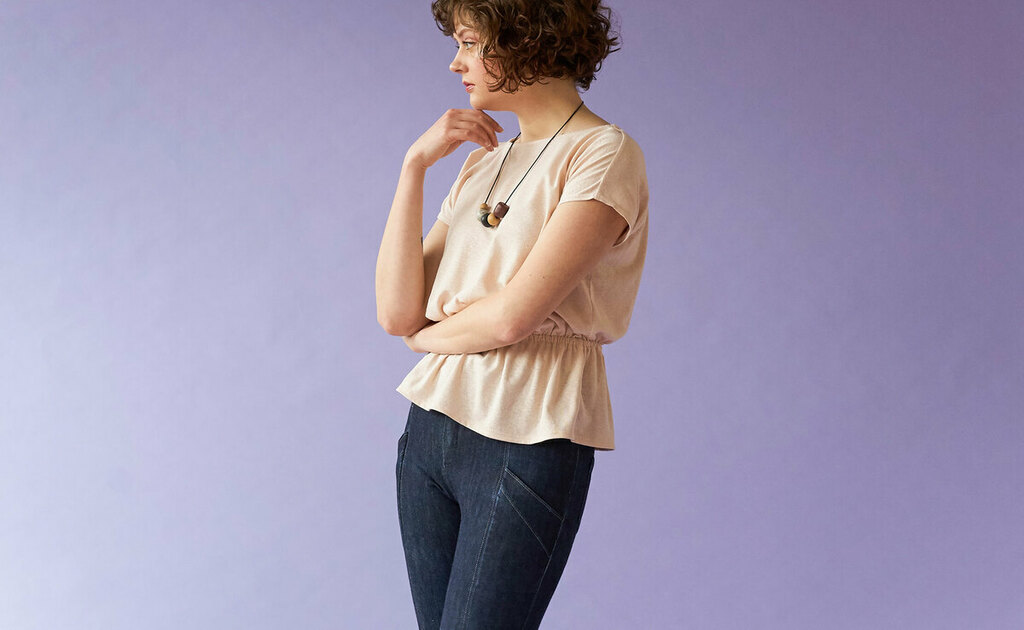 The Rory top (with a hacked elasticized peplum) sewn in a hemp jersey.
Our favorite places to get hemp and linen knits


Stonemountain & Daughter Fabrics and Sitka Fabrics are our go-to stores for hemp and linen knits.


10. Rib Knits
Why we love rib knits


They're so comfortable, stretchy, soft, and ideal for body-loving, curve-hugging patterns.


They have great recovery for a knit due to the alternating knit and purl stitches.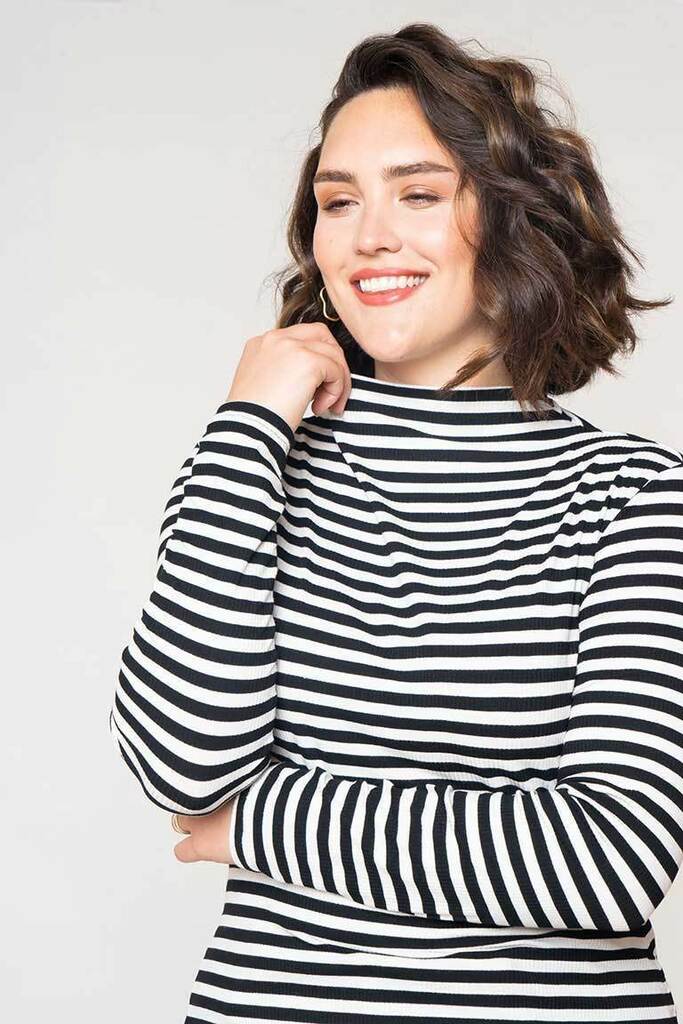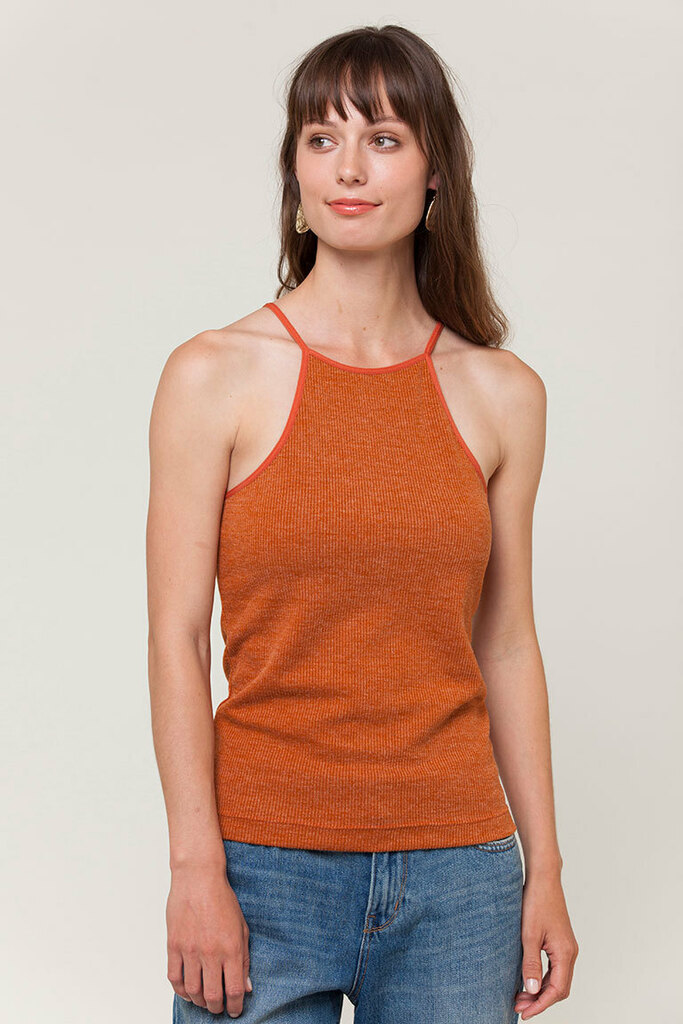 Our favorite places to get rib knits


We often shop at Emma One Sock for rib knits.


So, are you ready to shop for fabric? Again, you can find links to shops we trust on our Fabric Deals page, including discount codes if you're a member. And if you want to see an even bigger list of fabric stores, check out this article: The Best Places to Buy Fabric Online in 2022.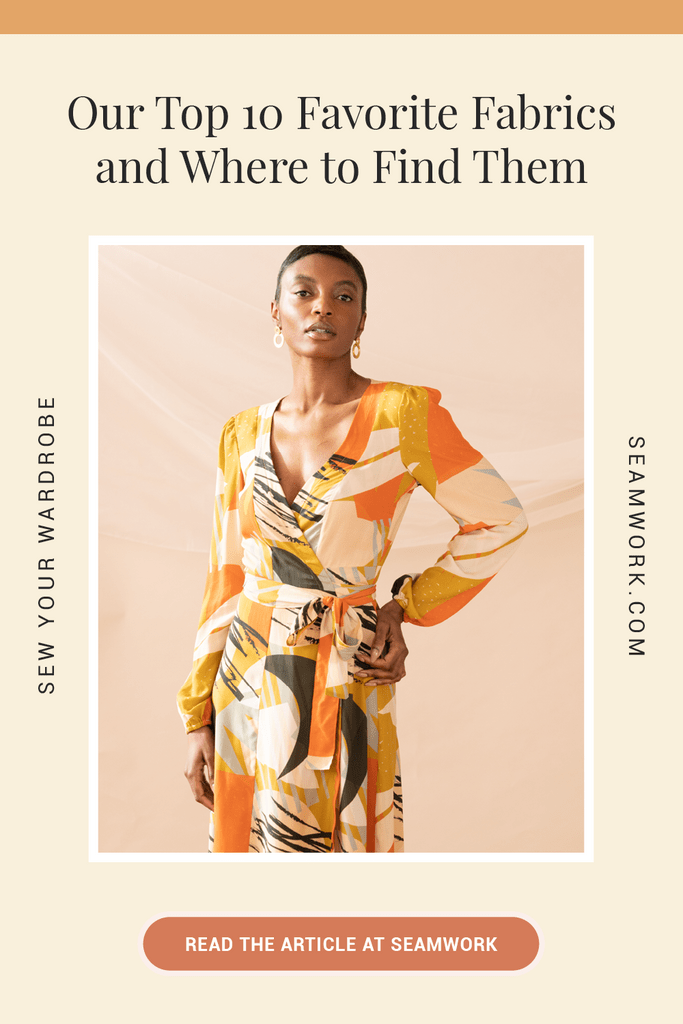 Join the Conversation
Sign in or become a Seamwork member to comment on this article.