If you're the kind of person who likes to get your house all cozy for the holidays or you really enjoy a refreshing spring cleaning session, you'll understand why it's so important to tend to the spaces where you spend your creative time.
The second part in the Sewing by Design framework is really special, because you're going to build a creative practice that keeps bringing you back to your sewing machine.
Oh, and if you need to catch up on the first step of the Sewing by Design framework, you can read about Laying Your Foundation here.
To start building a creative practice, let's return to our sewing-is-like-a-house metaphor.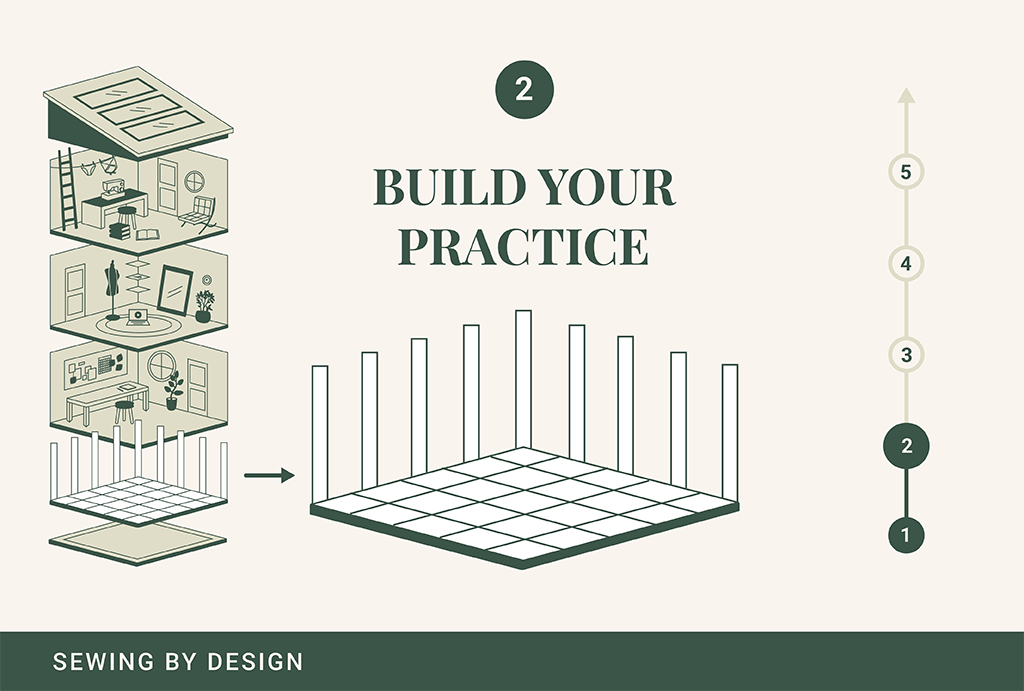 You've set your foundation of 80/20 skills, the most important sewing skills to get you through any project. Guess what? After you've built your foundation, you're no longer a true beginner.
But how do you know if you've exited the true beginner stage? You're probably not Googling something every five minutes when you're sewing a garment. You have a strong foundation of skills to rely on.
So now it's time to build the walls of your house, the frame for everything you will create inside.
How to Build a Sewing Practice You Really Love
Get in the Right Mindset
Your mindset is the first thing to consider in building a sewing practice for yourself.
It's easy to fall into the belief that sewing and making are frivolous and you don't need to prioritize them in your life.
And while creative hobbies might not be the #1 priority for you, above things like family, community, or your spiritual practice, creatively expressing yourself is important. For many of us, it's vital. We don't feel the same without it.
If sewing is one of those ways that you find creativity in your life, then it's important, and it's something that matters to you. Recognize what creativity means to you so that you can treat it as an essential part of your life.
Ok, so you've placed the utmost importance on sewing, but how do you ensure you can keep this momentum? The second tip is to pay attention to when and where you sew.
Design Your Experience
Did you know that time and space are two of the most significant places people get stuck with sewing?
You can design the experience you want around sewing by claiming your creative time and creating your ideal sewing space. You're trying to fall in love with sewing, and you want to build it into your life so that it doesn't feel like a strain but something that replenishes you.
Here are some resources to help you tend to your time and space.
Build Your Skills Intentionally
Next, you will want to work on building your skills intentionally. Don't worry, there's an easy way to do this.
A general rule is to pick sewing patterns with up to three new techniques for you to learn. Look at the pattern's description and count how many techniques or concepts would be new to you. Are there more than three? That pattern might be overwhelming. On the other hand, if there are three or fewer new skills, you'll walk away feeling really proud of the new techniques you've picked up.
And if you're really feeling up for a challenge and find a pattern with FOUR new techniques, at least you are doing it intentionally. You know what you're in for.
Share Along the Way
You can get one of the purest, most powerful sources of inspiration by tapping into the amazing worldwide sewing community. Back in the day, you might have yet to find other people near you who sew. And now, you can instantly connect to makers whenever you feel stuck.
This isn't just a plug for our incredible, supportive, private Seamwork Community—although you'd be hard-pressed to find a more welcoming and helpful group—but rather a suggestion to use your hobby to connect to other creative people. You probably have a lot in common with them. You can give advice and ideas when others need them, and you will get that and more in return.
The most powerful thing about building a creative practice that you love is the fundamental shift it can inspire within you. It's really about going inside and thinking about what makes you feel creative, and designing your sewing experience around that. Then your sewing really does become as comfortable and dependable as your own home. And just like you tend to monthly and yearly home repairs, make sure you're doing the same thing with your sewing practice.
Do you have any questions about the Sewing by Design process? Leave us a comment in the Community and let us know!
Love the article? Pin it for later.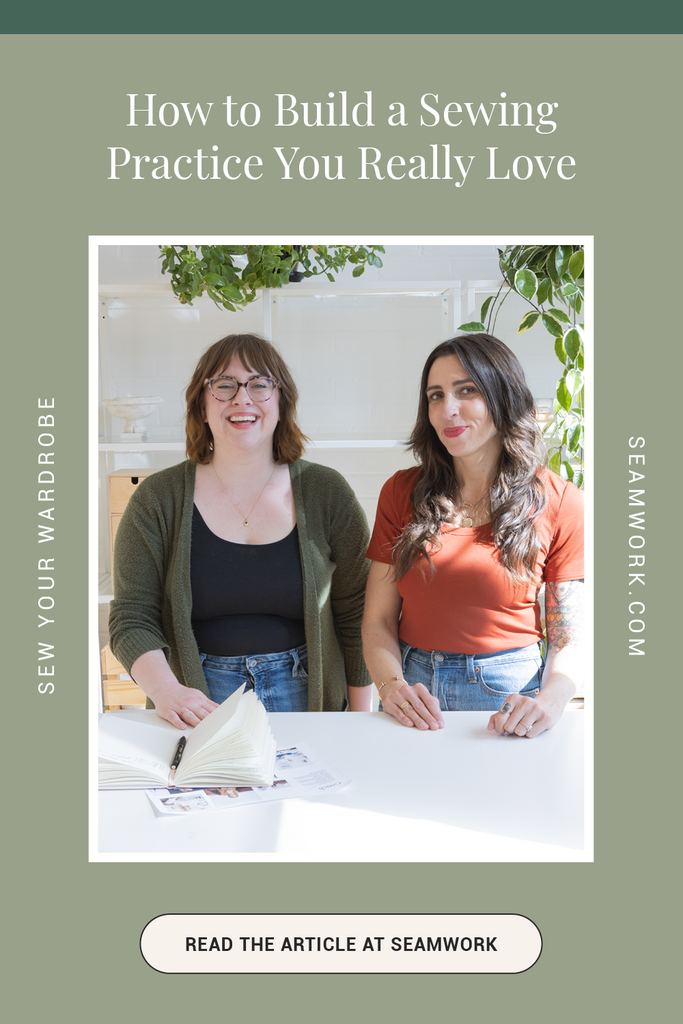 Join the Conversation
Sign in or become a Seamwork member to comment on this article.